Archives
October 2003 November 2003 December 2003 January 2004 February 2004 March 2004 April 2004 May 2004 June 2004 July 2004 August 2004 September 2004 October 2004 November 2004 December 2004 January 2005 February 2005 March 2005 April 2005 May 2005 June 2005 July 2005 August 2005 September 2005 October 2005 November 2005 December 2005 January 2006 February 2006 March 2006 April 2006 May 2006 June 2006 July 2006 August 2006 September 2006 October 2006 November 2006 December 2006 January 2007 February 2007
---
Fund free mammograms at no cost to yourself by clicking on the link, then on the pink button.
---
---
Hall of Shame (NoteUnworthy Blog Posts)
Other Blogs (sorted regionally)
Ontario Emperor Selected del.icio.us Tags
;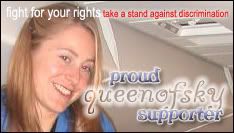 Who Links Here
Friday, November 26, 2004
The Times, They Are A'Changin'
Needless to say, I am interested in
news stories
about Madrid, New Mexico:
---
Greg Conley moved to this old mining settlement in 1973 when it was a ghost town just starting to stir to life, when the people who lived here went by names such as Bear, Buffalo, Morning Star and Thunder.

"You rarely knew anybody's last name," Conley, 52, said of Madrid's old, hippie days. "There was a Little Mike, a Big Mike and someone called Bigger Than Big Mike."

Today, Conley and his wife, Lisa, own Conley Studio Pottery, one of 35 or so independent businesses - most of them art galleries - in this colorful, free-thinking little town on N.M. 14, 22 miles southwest of Santa Fe....

He has watched Madrid evolve from hippie enclave to enterprising tourist destination without losing its distinctive flavor or its free spirit.

Now, more changes are coming to Madrid....The Mine Shaft Tavern, Madrid's oldest business and the heart of the community in more ways than one, is for sale - as are other properties in this town of 300 to 400 people....

Construction started on the Mine Shaft, originally a coal-mining company tavern, in 1944 and was completed in 1946. When you sit at the Mine Shaft bar, you have to raise your arms to rest your elbows on the surface. That's because it was built as a stand-up bar in consideration of coal miners who had been hunched over in tunnels all day.

Oscar Huber, a mining company supervisor, bought Madrid and all its properties, including the tavern, in 1947. When Huber died in 1962, his son, Joe, inherited the town....

In the 1970s, Joe Huber started renting out and then selling old mining company houses and stores to pioneering spirits looking for inexpensive land and property as well as a fresh, pastoral place to make a home and a start.

In 1982, Huber sold five acres - which now includes the Mine Shaft, the Old Coal Mine Museum, Old West Photography and the Engine House Theater, the latter the home to a series of melodramas the past 20 years - to Hank and Ede Salkeld.

The Salkelds divorced a few years later, and the property is owned now by Ede Salkeld and her present husband, Cliff Kitzrow....

For years now, Madrid and the Mine Shaft have been Cliff and Ede's whole life.

In August, however, Cliff, 62, and Ede, 59, put the Mine Shaft, the museum, the theater and the photography shop up for sale. The asking price is $1.4 million.

Cliff Kitzrow said his wife's health is not good now, and they want to take a break from the demands of running a bar and restaurant that's open every day. They plan to retire in Madrid, in their house near the tavern.

He said a falloff in business - to the tune of 18 percent to 20 percent in the past five years - also contributed to the decision to sell. He attributes the decline to 9/11, the national economy, competition from a growing Indian-gaming industry and increasing gasoline prices.

"We don't see as many motor homes on the road these days," he said. "Being at the whim of tourism is a difficult way to live anytime, and it has contributed to stress factors."...
---


Links to this post: