Someone Else Who Wouldn't Shut Up
Here's a version of the Martin Luther story from
greatsite.com
:
---
Luther's Protestant views were condemned as heretical by Pope Leo III in the bull Exsurge Domine in 1520. Consequently Luther was summoned to either renounce or reaffirm them at the Diet of Worms on 17 April 1521. When he appeared before the assembly, Johann von Eck, by then assistant to the Archbishop of Trier, acted as spokesman for Emperor Charles the Fifth. He presented Luther with a table filled with copies of his writings. Eck asked Luther if he still believed what these works taught. He requested time to think about his answer. Granted an extension, Luther prayed, consulted with friends and mediators and presented himself before the Diet the next day.

When the counselor put the same question to Luther the next day, the reformer apologized for the harsh tone of many of his writings, but said that he could not reject the majority of them or the teachings in them. Luther respectfully but boldly stated, "Unless I am convinced by proofs from Scriptures or by plain and clear reasons and arguments, I can and will not retract, for it is neither safe nor wise to do anything against conscience. Here I stand. I can do no other. God help me. Amen."

On May 25, the Emperor issued his Edict of Worms, declaring Martin Luther an outlaw.
---
Here's an account from
luther.de
:
---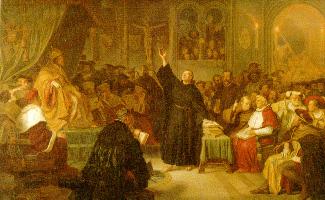 Luther's appearance at the Imperial Diet was described as objective, clever and well thought out. He had to appear before the Emperor twice; each time he was clearly told to take back his teachings. Luther didn't see any proof against his theses or views which would move him to recant: "Unless I am convinced by Scripture and plain reason - I do not accept the authority of the popes and councils, for they have contradicted each other - my conscience is captive to the Word of God. I cannot and I will not recant anything for to go against conscience is neither right nor safe. God help me. Amen."

The infamous saying "Here I stand. I cannot do otherwise." do not come from Luther.

After he left the negotiations room, he said "I am finished." And he was for the time finished; Luther was dismissed, and not arrested because he had a letter of safe conduct (Schutzbrief) which guaranteed him 21 days of safe travel through the land. He headed home on April 25.

When Luther and the princes who supported him left Worms, the emperor imposed an Imperial Act (Wormser Edikt): Luther is declared an outlaw (he may be killed by anyone without threat of punishment).
---