New Button, Slightly (But Not Immorally) Redirected
There was a
post
at the Queen of Sky blog that documented a new "support" button: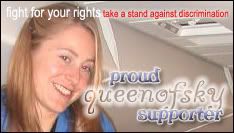 The post suggested to link the button to the
Queen of Sky site
itself, but I decided to link the button to that very post. Specifically, I wanted to make sure that anyone who follows the link reads the following statement:
---
This campaign is an effort to make Delta Air Lines acknowledge that they discriminated against Ellen Simonetti by treating her differently from male employees, such as the gentleman that runs the COMMERCIAL site www.jetcareers.com. Delta gave him a warning and now he has removed all mention of Delta, including logos from his website. It would have been nice if Delta had extended the same courtesy to Ellen, rather than suspending her WITHOUT warning and then firing her a month AFTER she had removed all uniform pictures from her PERSONAL website and 3 weeks AFTER filing a discrimination complaint with the EEOC.
---
This is part of a more general issue that I'm concerned about. The one parallel between the
Ellen Simonetti
(Queen of Sky) case and the
Joyce Park
(Troutgirl) case is that they were dismissed without warning and not given an opportunity to rectify the situation. Another parallel is that in both cases, the dismissing firms (Delta and Friendster) ended up with a lot of egg on their faces.
A funny side note to this - the following
post
appeared on flyertalk.com on November 9, 2004:
---
Starting in January, Delta Air Lines' flight attendants will be required to "evaluate" at least three of their peers a month.

This less than brilliant move by Delta management is meant to improve customer service in the skies. Delta flight attendants, however, have a different perspective, as shown in this top secret petition obtained by Queen of Sky....
---
It then included an e-mail petition, addressed to a Paulette Corbin, in which the signer of the message would emphatically state why mandated employee peer reviews are a bad thing.
This message resulted in the following response from Marc on November 9:
---
Sounds like we have a less than stellar performer who is fearful of what her coworkers will say about her....
---
Apparently Marc doesn't read the BBC news, and hadn't heard of Queen of Sky. She went on to respond (again on November 9):
---
Wrong Marc, I didn't write that letter and I don't even work for Delta, therefore have nothing to gain by posting it.
---
Note that Q of S wasn't lying - Delta had already fired her by November 9. Finally, after a round of posts, DLBIZTRAVELER realized who had launched the thread:
---
So - is Queen of Sky employed elsewhere, now. Or able to capitalize on the publicity from her blog and subsequent termination. Some rumor that she was headed to another airline.
---
I guess one can wonder how Queen of Sky would have responded to Marc's message if the whole blog incident had never happened. On the other hand, one can wonder if Queen of Sky would have posted her comment in the first place if she had been employed. In essence, by terminating her, Delta has removed any shackles on her freedom to talk. And
talk
.