Archives
October 2003 November 2003 December 2003 January 2004 February 2004 March 2004 April 2004 May 2004 June 2004 July 2004 August 2004 September 2004 October 2004 November 2004 December 2004 January 2005 February 2005 March 2005 April 2005 May 2005 June 2005 July 2005 August 2005 September 2005 October 2005 November 2005 December 2005 January 2006 February 2006 March 2006 April 2006 May 2006 June 2006 July 2006 August 2006 September 2006 October 2006 November 2006 December 2006 January 2007 February 2007
---
Fund free mammograms at no cost to yourself by clicking on the link, then on the pink button.
---
---
Hall of Shame (NoteUnworthy Blog Posts)
Other Blogs (sorted regionally)
Ontario Emperor Selected del.icio.us Tags
;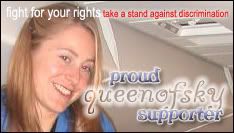 Who Links Here
Tuesday, November 09, 2004
The Final Days, Arafat Style
From
AP/Yahoo
:
---


Yasser Arafat's wife Suha, long dismissed by Palestinians as a spoiled socialite, had not even seen her husband for years until he fell sick last month. But she has suddenly emerged as a major player in the succession struggle for Palestinian power.

In a one-minute telephone call to the Arab satellite network Al-Jazeera, she set off a political storm Monday, accusing her husband's top aides of conspiring to replace the 75-year-old leader in a behind-the-scenes power grab.

The 41-year-old Mrs. Arafat, who until now remained largely outside the political scene, said top officials aimed to "bury" her husband "alive." A Christian convert to Islam, she ended the phone call with "God is Great" — often used as a Muslim war cry.

The comments angered Palestinian Prime Minister Ahmed Qureia and the PLO's number two, Mahmoud Abbas, who nearly postponed a trip to Paris to consult with Arafat's doctors. They later decided to go ahead with the visit and left the West Bank for France on Monday.

Tayeb Abdel Rahim, a senior Arafat aide, called an urgent news conference early Monday to declare the Palestinian leadership's anger over Mrs. Arafat's remarks.

"What came from Mrs. Arafat doesn't represent our people," he said, accusing her of "wanting to destroy the Palestinian leadership's decision and to be the lone decision maker."...

In recent days, she has aligned herself with Palestinian officials opposed to the current leadership....

She's found herself in a common position with the PLO's hard-line foreign affairs chief, Farouk Kaddoumi, who opposed the 1993 interim peace accords that led to the establishment of the Palestinian Authority.

A Nablus-born Christian, Suha served as Arafat's secretary when he was in exile in Tunisia. In 1991, Mrs. Arafat converted to Islam and married the Palestinian leader.

He was 62. She was 28 — and unpopular from the start....

Suha Arafat generated more animosity when she arrived in the largely Muslim, conservative Gaza Strip in 1994 and refused to cover her long blonde hair with the traditional Islamic head-covering.

Her expensive Parisian clothes and the luxury BMW she drove around Gaza's poverty-stricken streets enraged Palestinians....

In 1999, she embarrassed then-first lady Hillary Rodham Clinton by accusing Israel in a speech of using poisonous gas on Palestinians and increasing cancer rates. In her book, Clinton referred to the hug and kiss from Mrs. Arafat at the speech as the "worst" mistake of her senatorial campaign....

Yet in 2000, when violence erupted, she fled to Paris with her young daughter, Zahwa. She returned to the West Bank last month when Arafat fell ill....
---


Links to this post: