Archives
October 2003 November 2003 December 2003 January 2004 February 2004 March 2004 April 2004 May 2004 June 2004 July 2004 August 2004 September 2004 October 2004 November 2004 December 2004 January 2005 February 2005 March 2005 April 2005 May 2005 June 2005 July 2005 August 2005 September 2005 October 2005 November 2005 December 2005 January 2006 February 2006 March 2006 April 2006 May 2006 June 2006 July 2006 August 2006 September 2006 October 2006 November 2006 December 2006 January 2007 February 2007
---
Fund free mammograms at no cost to yourself by clicking on the link, then on the pink button.
---
---
Hall of Shame (NoteUnworthy Blog Posts)
Other Blogs (sorted regionally)
Ontario Emperor Selected del.icio.us Tags
;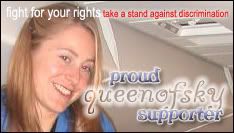 Who Links Here
Tuesday, November 09, 2004
After Arafat?
From
the Cincinnati Post
(November 8, 2004):
---
It would have been impolitic of Bush to say so but Arafat has been the single greatest obstacle to a settlement of the Israeli-Palestinian conflict.

Israeli Prime Minister Ariel Sharon's heavy-handed tactics, and Bush's wholehearted endorsement of them, haven't helped, but at every turn Arafat walked away from the possibility of a settlement. Most notably in the fall of 2000, he left on the table a two-state solution that gave the Palestinians everything they could realistically expect in terms of territory and a capital in East Jerusalem.

In the four years of violence that followed, Arafat made no concrete efforts to halt suicide bombings against Israeli civilians or to rein in the ongoing violence that has made a shambles of the Palestinian economy....

Arafat's great failing was that he was adept at holding on to power but not at leading. He refused to groom an heir apparent and when several possible replacements emerged as part of Bush's road map to peace, Arafat undercut them....
---
And it looks like Arafat won't get his
wish
:
---
Arafat the martyr? Arafat has expressed his wish to be a martyr. Advanced preparation for coming events, I guess. Heretical Ideas wryly observes that "Arafat has vowed that he will continue fighting for a Palestinian state with East Jerusalem as its capital. I guess he regrets turning it down when Barak offered it, huh?"

posted by Howard @ 1/22/2002 04:42:37 PM
---
There have been conflicting stories all day on whether Arafat is alive or dead, and whether life support would be terminated. Here's
this hours's story
:
---
A deeply comatose Yasser Arafat clung to life Tuesday after suffering another downturn, his major organs still functioning but his survival dependent "on the will of God," the Palestinian foreign minister said.

Palestinian leaders made preparations for Arafat's eventual death. They said they would bury Arafat at his sandbagged headquarters in the West Bank and turn the site into a shrine.

But the 75-year-old leader, whose condition has steadily worsened since he was flown to a military hospital outside Paris on Oct. 29, would not be removed from life support, Palestinian Foreign Minister Nabil Shaath said.

"His brain, his heart and his lungs are still functioning and he is alive," Shaath said after he and other Palestinian officials met with Arafat's doctors, his wife and French President Jacques Chirac.

"He will live or die depending on his body's ability to resist and on the will of God," Shaath said.

Shaath's remarks at a news conference underlined that the Palestinian leadership was now in control of information about Arafat after days of confusing and often conflicting reports about his undisclosed illness. Palestinian officials had been denied access by Arafat's wife, Suha, who used France's strict privacy laws that give authority to the family....

Shaath was part of a senior Palestinian delegation led by Prime Minister Ahmed Qureia and Mahmoud Abbas, the No. 2 man behind Arafat in the Palestine Liberation Organization. The group left for Jordan late Tuesday after a 24-hour visit to the French capital....

A top Islamic cleric, Taissir Dayut Tamimi, was rushing to Arafat's bedside....

[Shaath] dismissed speculation that Tamimi, head of the Islamic court in the West Bank and Gaza Strip, could advise on removing Arafat from life support. "No mufti in the world has the right to do that," Shaath said.

The Palestinian deputy Parliament speaker, Hassan Khreishe, told The Associated Press that leaders decided Arafat should be buried at his West Bank headquarters, known as the Muqata....

The decision was likely to head off a fight with Israel's government over a grave site for Arafat. Palestinian officials had wanted to bury their leader in Jerusalem, which they claim as the capital of their envisioned state, but Israel refused....

A Palestinian official stressed that a Ramallah grave would only be considered temporary, with the ultimate goal remaining burial in Jerusalem....

Qureia has assumed some emergency financial and administrative powers and Abbas has presided at meetings of the PLO's executive committee. But neither has much grass-roots support among Palestinians or important militant groups, and it isn't clear whether one of them or someone else might emerge as a replacement for Arafat, who did not groom a successor.

The Palestinian charter calls for the speaker of the parliament to become interim president for a maximum of 60 days after Arafat's death, to allow an election....

The French medical team treating Arafat publicly acknowledged for the first time that he was in a coma, saying he had been comatose for a week....

Shaath said that a dramatic disagreement with Arafat's wife, who had accused the visiting Palestinians of trying to topple their longtime leader, had been smoothed over and that she embraced delegation members during their two-hour visit to the hospital.

"She is the wife of a great man, our leader, and is the mother of his only daughter," Shaath said. "She will always be respected and protected by the Palestinian people."
---


Links to this post: