Archives
October 2003 November 2003 December 2003 January 2004 February 2004 March 2004 April 2004 May 2004 June 2004 July 2004 August 2004 September 2004 October 2004 November 2004 December 2004 January 2005 February 2005 March 2005 April 2005 May 2005 June 2005 July 2005 August 2005 September 2005 October 2005 November 2005 December 2005 January 2006 February 2006 March 2006 April 2006 May 2006 June 2006 July 2006 August 2006 September 2006 October 2006 November 2006 December 2006 January 2007 February 2007
---
Fund free mammograms at no cost to yourself by clicking on the link, then on the pink button.
---
---
Hall of Shame (NoteUnworthy Blog Posts)
Other Blogs (sorted regionally)
Ontario Emperor Selected del.icio.us Tags
;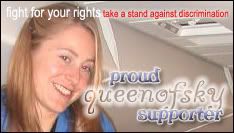 Who Links Here
Thursday, November 11, 2004
They Should Just Play Monopoly To Settle This
From
the Irish Examiner
:
---
Tycoon Donald Trump has poked fun at fellow billionaire Richard Branson after his new reality show The Rebel Billionaire was a flop on its opening night.

Branson's television contest to find someone to run his Virgin empire has been touted as a rival to Trump's The Apprentice, but the New Yorker is laughing at the claims.

Speaking to TV news show Extra!, Trump boasts: "Branson's ratings were terrible, down the tubes...The Apprentice is the hottest show there is. Richard Branson, your ratings speak very loudly, and you just got fired!"...
---
A Boston Globe reviewer trashes the whole
genre
(although it should be noted that Boston Globe employees are probably really grumpy right now):
---
Take these shows and shove them
By Matthew Gilbert, Globe Staff | November 9, 2004

First of all, let me point out that I love my job. (And my boss.) Second of all, let me point out that I hate the Rev. Al Sharpton's dopey "I Hate My Job." The similarly themed "The Rebel Billionaire: Branson's Quest for the Best" doesn't inspire much more affection. Despite the mellow stylings of Virgin tycoon Richard Branson, whose windblown man-of-adventure hair is the yin to Donald Trump's yang, "Rebel" is without a cause to exist.

Tonight, these two new series join the growing genre of go-go reality TV, which asks attractive young people to do stupid things to improve their careers and become Tom Wolfe-ian "masters of the universe," or at least happy from 9 to 5. Trump's "The Apprentice," now in its second season, is the great-granddaddy of these shows, having bred a gaggle of clones in the blink of a TV programmer's eye....

"The Rebel Billionaire"...self-consciously sets itself up to be the anti-"Apprentice." Early on, as the 16 contestants wait to meet Branson, a Trump impersonator emerges from a limousine with something akin to a broom on his head. But it's a reality ruse! Branson himself then gets out of a humble cab, a symbolic statement that he's not from the same cold and pretentious business world as the Donald. He paints himself as a sensitive and experiential boss, one who wants to look his players in the eye and give them a sincere pep talk before kicking them out of the game and stomping on their dreams in front of millions.

Of course, Branson has to be something of a Trumpian egomaniac. To create a show about your own massive success and surround yourself with a group of hungry and smarmy courtiers is certainly not modest. On "Rebel Billioniaire," it's meet the new-age boss, same as the old boss. Rich man Mark Cuban of ABC's "The Benefactor" faced the same contradiction, promoting his just-folks nature while playing a ruthless god with "ordinary people."

Tonight, Branson takes half his players 10,000 feet high in a hot-air balloon, then has them cross to another balloon on a plank. Somehow, their success at this "Fear Factor"-like stunt is meant to reveal their qualifications to run Branson's Virgin empire, supposedly the show's big prize. At least on "The Apprentice," Trump judges its contestants on business-related exercises....

Sharpton isn't exactly a role model on "I Hate My Job"....On the show, which premieres on Spike at 9 p.m., Sharpton coaches eight men who are competing to win career makeovers. Frank shovels manure but wants to be a male model, Jim is a lawyer who wants to be a comedian, Chuck is a handyman who wants to be a hockey coach, and so on. Will Sharpton be able to liberate them from their workaday misery? They're such a bunch of dolts, it's hard to root for them.
---


Links to this post: