Archives
October 2003 November 2003 December 2003 January 2004 February 2004 March 2004 April 2004 May 2004 June 2004 July 2004 August 2004 September 2004 October 2004 November 2004 December 2004 January 2005 February 2005 March 2005 April 2005 May 2005 June 2005 July 2005 August 2005 September 2005 October 2005 November 2005 December 2005 January 2006 February 2006 March 2006 April 2006 May 2006 June 2006 July 2006 August 2006 September 2006 October 2006 November 2006 December 2006 January 2007 February 2007
---
Fund free mammograms at no cost to yourself by clicking on the link, then on the pink button.
---
---
Hall of Shame (NoteUnworthy Blog Posts)
Other Blogs (sorted regionally)
Ontario Emperor Selected del.icio.us Tags
;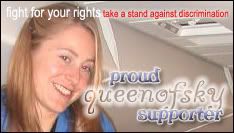 Who Links Here
Thursday, November 11, 2004
Guest Worker II DOA
From the
Washington Times
:
---
House leaders on immigration policy said yesterday that there isn't enough support in Congress to pass a guest-worker program for illegal aliens, despite President Bush's renewed push for such a proposal.

"As far as the House of Representatives is concerned, I don't necessarily see an environment that has changed dramatically enough that would allow for a guest-worker bill to gain majority support," said Rep. John Hostettler, Indiana Republican and chairman of the immigration subcommittee of the House Judiciary Committee.

"In our subcommittee, we have held hearings in the 108th Congress that indicate such a program would continue a long-term downward spiral in the wages of low-skilled and no-skill workers," he said. "The simple fact of the matter is when we bring in individuals who are willing to work at such low wages, we do nothing but displace American citizens."

The Washington Times reported yesterday that the Bush administration plans an aggressive push on its first-term proposal to relax rules against illegal immigration — a move unpopular with the Republican base, which sees such guest-worker programs as a veiled amnesty.

On Tuesday while meeting with officials in Mexico City, Secretary of State Colin L. Powell said there is a better chance of passing legislation to address the millions of illegal aliens living and working in the United States....

"It is highly unusual for an administration to use their political capital that was given by the base against the base," one Republican strategist said.

Mr. Bush drew a rebuke from many House Republicans in January when he proposed creating a renewable temporary-worker program open both to illegal immigrants already in the United States and to new applicants abroad and suggested allowing more legal permanent immigrants to enter the country each year.

After hearing from constituents, Republican lawmakers meeting in Philadelphia a month later gave Mr. Rove an earful and said the program sounded like amnesty. Congressional aides yesterday said opposition in the House hasn't changed....

The White House yesterday defended Mr. Bush's plan, with press secretary Scott McClellan telling reporters that Mr. Bush "does not support blanket amnesty," but will continue to push for his temporary-worker proposal.

Mr. Bush met with Sen. John McCain, Arizona Republican, on Tuesday, and the two men talked about the need for new immigration programs.

Asked whether Mr. Bush was coming around to Mr. McCain's plan, which would give illegals a shorter path to citizenship than the White House has envisioned, Mr. McClellan said, "The president remains committed to the plan that he outlined to create a temporary-worker program."

Democrats have said they hope Mr. Bush's renewed push will lead to action, although Democratic leaders on the issue are looking for a plan that is broader than either Mr. Bush's or Mr. McCain's, including a much faster path to citizenship for those here illegally.

With their support and that of many Republican senators, there is a better chance of the Senate acting next year than the House.

More than 60 senators have signed on as co-sponsors of a bill that would legalize the status of nearly 1 million illegal alien agricultural workers, but the White House has opposed that bill as a piecemeal approach and Republican leaders in the Senate shied away from bringing it up right before the election....
---
More, from
Reuters/Yahoo
:
---
President Bush appears ready to spend some of his newly gained political capital on immigration reform but could run up against fierce opposition from conservatives in his own Republican Party....

Texas Republican Sen. Kay Bailey Hutchison also told an audience at the University of Texas this week that there was a "sense of urgency to deal with the issue and I believe that with the president's resounding victory, his next four years will give him the chance to do what he intended to do."

Bush won 44 percent of the fast-growing Hispanic vote in last week's election, up from 35 percent in 2000 according to exit polls. However, there is a strong element in the Republican Party that opposes any concessions to illegal immigrants and would like to see restrictions placed on legal immigration as well.

Their numbers appear to have been strengthened by the election, especially in the Senate, said Mark Krikorian, director of the Center for Immigration Studies, a group which advocates placing more limits on immigration.

"The White House seems to have taken the wrong lesson from the election. They seem to believe they have a mandate for Bush's amnesty and guest worker program but I cannot see how it's going to go anywhere in Congress," Krikorian said.

He said the strength of feeling in the country was illustrated by a voter initiative that passed by 56 percent in Arizona, despite the opposition of Republican Sen. John McCain and other top state elected officials.

Proposition 200 would require people to produce proof of immigration status when obtaining certain government services and would punish government workers for failing to report illegal immigrants who try to get aid.

The proposition faces legal challenges but already activists in at least five other states are preparing or considering similar measures....

From 2000 to 2002, net immigration to the United States averaged around 1.4 million per year, about half a million of whom entered or stayed in the country illegally, the majority across the Mexican border.

Despite the difficulties, Bush could succeed with immigration reform if he was able to forge a bipartisan coalition around a compromise that gave both sides something, said Robert Deposado, president of the Latino Coalition, a Washington think-tank and advocacy group.

"The only way to get something passed is to craft a bill that helps the illegal immigrants who are here gain legal status while also stopping more illegal immigration by strengthening border controls," he said....

But Dan Stein of the Federation for American Immigration Reform which favors reducing immigration said Bush's proposed reforms had a fatal flaw. There was no mechanism for removing people once their visas had expired.

"Unless you have a mechanism to force people to leave when they are supposed to leave, this has no credibility," he said.
---


Links to this post: