Archives
October 2003 November 2003 December 2003 January 2004 February 2004 March 2004 April 2004 May 2004 June 2004 July 2004 August 2004 September 2004 October 2004 November 2004 December 2004 January 2005 February 2005 March 2005 April 2005 May 2005 June 2005 July 2005 August 2005 September 2005 October 2005 November 2005 December 2005 January 2006 February 2006 March 2006 April 2006 May 2006 June 2006 July 2006 August 2006 September 2006 October 2006 November 2006 December 2006 January 2007 February 2007
---
Fund free mammograms at no cost to yourself by clicking on the link, then on the pink button.
---
---
Hall of Shame (NoteUnworthy Blog Posts)
Other Blogs (sorted regionally)
Ontario Emperor Selected del.icio.us Tags
;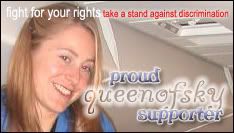 Who Links Here
Wednesday, November 03, 2004
Before I Listen to the Radio...
...I'll read about John & Ken's spin on the failure of Political Human Sacrifice.
Which they say
isn't
a failure:
---
Political Human Sacrifice was a HUGE success! We here at the John & Ken Show need to take a moment and thank all our listeners that joined the fight against two of the most Illegal Immigrant Loving Congressmen in Califronia. Keep in mind that the fight is not over! Stay tuned to John & Ken on KFI for more details.
---
They have assembled some
statistics
(you know, lies, damned lies, and...). Although they don't negate the fact that Dreier won, and Baca won convincingly, they're interesting for a read:
---
FACTS AND FIGURES ABOUT DREIER'S 2004 VICTORY:

In the 2004 California congressional election, 31 Southern California winners won with an average of 68.9 % of the vote in their safe districts. Dreier won with 53.7 %

Dreier's 10.9% victory margin is the narrowest victory margin for any incumbent's congressional seat in California.

Dreier's 53.7% is the lowest percentage for any winner in the 2004 California congressional election

Other Republican Political Human Sacrifice contestants won their districts by an average of 30%. Dreier won with 10.9 %

Cynthia Matthew's 42.8 % is the highest percentage of any loser in the 2004 California congressional election

Cynthia had 10,861 more votes that Dreier's 2000 democratic challenger and 43,090 more votes that his 2002 challenger

The 26th Congressional District had 216,614 votes tallied, the most in any three candidate Congressional race in Southern California

Election returns for the 2000 - 2004:

2004 race
David Dreier, Republican .......... 116,218 votes 53.7%
Cynthia M. Matthews, Democratic .......... 92,665 votes 42.8%
Randall Weissbuch, Libertarian .......... 7,731 votes 3.5%
Dreier's victory margin is 10.9 % , 23,553 votes

2002 race
David Dreier, Republican .......... 94,314 votes 63.8%
Marjorie Musser Mikels, Democratic .......... 49,575 votes 33.5%
Randall Weissbuch, Libertarian .......... 4,029 votes 2.7%
Dreier's victory margin is 30.3 % , 44,739 votes

2000 race
David Dreier, Republican .......... 116,557 votes 56.9%
Janice M. Nelson, Democratic .......... 81,804 votes 39.9%
Randall G. Weissbuch, Libertarian .......... 2,823 votes 1.3%
Lawrence Allison, Natural Law .......... 2,083 votes 1%
Joe "Jay" Haytas, American Independent .......... 1,932 votes .9%
Dreier's victory margin is 17 % , 34,753 votes
---


Links to this post: