Archives
October 2003 November 2003 December 2003 January 2004 February 2004 March 2004 April 2004 May 2004 June 2004 July 2004 August 2004 September 2004 October 2004 November 2004 December 2004 January 2005 February 2005 March 2005 April 2005 May 2005 June 2005 July 2005 August 2005 September 2005 October 2005 November 2005 December 2005 January 2006 February 2006 March 2006 April 2006 May 2006 June 2006 July 2006 August 2006 September 2006 October 2006 November 2006 December 2006 January 2007 February 2007
---
Fund free mammograms at no cost to yourself by clicking on the link, then on the pink button.
---
---
Hall of Shame (NoteUnworthy Blog Posts)
Other Blogs (sorted regionally)
Ontario Emperor Selected del.icio.us Tags
;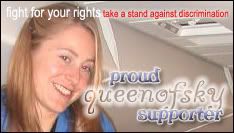 Who Links Here
Thursday, November 25, 2004
Stop Making Sense
Just ran across this
article
:
---

The American stewardess have discharged of job for an Internet - diary

Stewardess Ellen Simonetti working in the American airline Delta Airlines (Ellen Simonetti) has been temporarily discharged of duties after has published the photos in a uniform in the Internet..

...- diary(so-called "Blog", this genre recently is very popular among Internet users).
The diary of the 29-years stewardess is called " Queen of the sky " (Queen of the Sky) and is placed on "Blogs" a site JournalSpace.com. In him it is told about private life of the stewardess, however she marks, that, speaking about the job, never obviously named the company where works, and did not result names of responsible persons. Besides the part "blog" will consist of invented histories.
At the same time, as informs BBC News, about discharge to her informed after she has placed in "Blog" the photos in a corporate uniform. In company Delta comments on this question resolutely refuse. It is known, that the company spends on the given question "investigation", and Simonetti has made the complaint in the governmental Commission on equal in rights work (EEOC).

Experts BBC News mark, that the given history once again reminds of recently arisen problem of influence of personal sites on the Internet on attitudes between employers and employees. Under the statement of lawyers, authors of sites and "blogs", officially working on any company, from the legal point of view cannot use to the full the right on a freedom of speech as fall under laws on corporate regulation which can limit access to a various sort potentially the classified information.
Simonetti marks, that the employer has declared the decision to her unexpectedly and without the prevention, and at accommodation of photos she did not suspect, that does something punishable. Besides the stewardess adds, on the Internet and without her "blog" it is possible to find many photos of employees Delta in a uniform. Nevertheless, pictures called discontent from the Internet have been removed.
---
From the same
source
:
---
America says goodbye to a film actor Christopher Riv

America says goodbye to a film actor Christopher Riv who has died on Sunday in the age of 52 years.

As informs « Radio Freedom », president George Bush has declared, that Рива will remember as the perfect actor and the fighter for rights of people with physical defects.

The candidate for presidents the USA from Democratic party John Kerri has named Riv « the American hero ».
As informs Bi-Bi-Si, in the house he has transferred heart attack after which has run in whom to Sunday, and then has died.
---
However, I must be fair - my attempts to write and speak in any other language are extremely atrocious.



Links to this post: