Archives
October 2003 November 2003 December 2003 January 2004 February 2004 March 2004 April 2004 May 2004 June 2004 July 2004 August 2004 September 2004 October 2004 November 2004 December 2004 January 2005 February 2005 March 2005 April 2005 May 2005 June 2005 July 2005 August 2005 September 2005 October 2005 November 2005 December 2005 January 2006 February 2006 March 2006 April 2006 May 2006 June 2006 July 2006 August 2006 September 2006 October 2006 November 2006 December 2006 January 2007 February 2007
---
Fund free mammograms at no cost to yourself by clicking on the link, then on the pink button.
---
---
Hall of Shame (NoteUnworthy Blog Posts)
Other Blogs (sorted regionally)
Ontario Emperor Selected del.icio.us Tags
;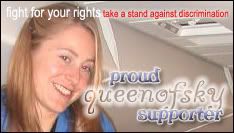 Who Links Here
Thursday, November 04, 2004
A Change Is Gonna Come
At a certain point, a President may choose to reshuffle his Cabinet. Often, a President elected to a second term takes the opportunity to move some people around and kick some people out.
So what's in store for W's second term? Here's what
inq7.net
says:
---
Among the top cabinet officials, Colin Powell, 67, is widely tipped to leave his post as secretary of state, while many questions have been raised about the future of Bush's hawkish Defence Secretary Donald Rumsfeld, 72.

The New York Times on Thursday cited government officials as saying that Attorney General John Ashcroft, 62, and Homeland Security Secretary Tom Ridge, 59, were likely to step down for personal reasons.
---
The Hindu
reiterates
that Powell and Rumsfeld may depart:
---
The big name most likely to leave is Colin Powell. His office has made it clear for more than two years that he does not plan to stay on long into a second term. Mr. Powell has spent the first term at odds with the far more powerful hawks led by Vice-President Dick Cheney, particularly over Iraq. He clearly does not have a warm relationship with the President.

But Mr Powell is the best-liked U.S. official abroad, and at a time when the Bush administration needs allies, he is an extremely important tool. It is possible the President could insist Mr. Powell stay on for at least a few months for the sake of continuity. If Mr. Powell insists on quitting, it could be a difficult job to fill. Richard Armitage, his deputy, is a possible replacement, but he has had an abrasive relationship with the administration hawks and may leave along with his boss.

Furthermore, the President could have two top vacancies to juggle. Opinions in Washington are divided on whether Mr. Powell's nemesis at the Pentagon, Donald Rumsfeld, might also step down at the age of 72. Overseeing two wars has been exhausting. He is unpopular among the armed services and faulted by many conservatives for failing to send enough troops to Iraq. However, Mr Rumsfeld is ideologically at home in the administration, and has the full confidence of both Mr. Bush and Mr. Cheney. One option is that he could stay on for a few months or a year before stepping down.

``I would be very surprised if the Secretary of Defence and Secretary of State would continue very long into the new term,'' Prof. Mackenzie said. ``If one or both of them leaves, this sets off a domino effect.''

Condoleezza Rice, the National Security Adviser, has mentioned her desire to return to academia, but would find it difficult to turn down the chance she covets: to become the first female or African-American Defence Secretary. The State Department might be a tougher culture for her to manage, more resistant to her politics.
---
Fox News
leads
by talking about Ashcroft:
---
John Ashcroft is expected to turn in his resignation in a ritual reserved for second-term presidents, sources close to the attorney general said Thursday. Ashcroft could leave as early as January.

As a formality, when a president earns a second term, his entire Cabinet, which serves at the president's pleasure, resigns so as not to force him to fire them. Traditionally, the president refuses to accept the resignation of those who are likely to stay in their posts.

For months, Ashcroft...has signaled his desire to leave the government. He has struggled with health issues, being hospitalized as recently as March for gallstone pancreatitis....

Secretary of State Colin Powell has frequently been named as a possible retiree. Powell has denied considering his future, saying in September that time will tell.

Powell may stay until after Iraq's national election in January. He already has scheduled in the short term an overnight trip to Mexico next week, a trip to Chile the following week and afterward a stop in Egypt for a major international conference on Iraq's future. In December, he also has a NATO meeting in Brussels in December and a meeting in Morocco to push democracy among Arab nations.

Defense Secretary Donald Rumsfeld has occasionally been mentioned as a possible departure, though some analysts say he will probably stay until there is a successful end to the Iraq war. Another name that has also been suggested for changes is Homeland Security Secretary Tom Ridge.

Bush National Security Adviser Condoleezza Rice has been tossed out as a possible successor to Powell at the State Department. Former New York City Mayor Rudy Giuliani has also been mentioned as a possible replacement for Ashcroft.
---
Here's the take of the
Spokesman-Review
, which also mentions the required departure of Greenspan shortly:
---
President Bush has begun preparing a second-term Cabinet that will likely lose a few well-known faces but will retain most key players and be even more dominated by its most conservative members, say administration aides and GOP insiders.

The expected departure of Secretary of State Colin L. Powell, a relative moderate, will calm the internal debates that have raged between conservatives and moderates since the beginning of Bush's first term. And the new appointments will consolidate the influence of Vice President Dick Cheney in the national security arena, aides say.

People close to the White House predict there will not be a major exodus in the short term. Even Powell is expected to stay in his current position for several more months.

Defense Secretary Donald H. Rumsfeld has made it known that he wants to remain in office to oversee the efforts of U.S. forces to overcome the insurgency in Iraq, officials say....

Condoleezza Rice, President Bush's national security adviser, could take over at the Pentagon if Rumsfeld leaves....Rice could also be appointed secretary of State, but she has let it be known that she would prefer the challenge of running the government's largest agency to making the diplomatic rounds....

Rice has told friends she intends to return to Stanford University, but Republican observers believe she could be dissuaded by President Bush....

Ashcroft's departure isn't a certainty, but current and former aides believe that after nearly four years of unrelenting scrutiny, he is ready to move on. They said he plans to submit his resignation to Bush in the next several days, effective in January....

In economic policy, Bush is expected to stick with Treasury Secretary John W. Snow, who has distinguished himself as a party-liner. But the major economic appointment of the new term is a year away. Federal Reserve Chairman Alan Greenspan's term expires Jan. 31, 2006, and by law he can't be appointed to another term....

Bush's director of Homeland Security, Tom Ridge, is said to be ready to move on to another job, most likely in the private sector. A good prospect to replace him is Rep. Chris Cox, R-Calif., chairman of the House Select Committee on Homeland Security. Another is Asa Hutchinson, undersecretary for border and transportation security.

Norman Mineta, the secretary of Transportation, is not expected to stay for a second term. Mineta...will be 73 in January....
---
(OE UPDATE: Ashcroft out as of November 11.)



Links to this post: