Archives
October 2003 November 2003 December 2003 January 2004 February 2004 March 2004 April 2004 May 2004 June 2004 July 2004 August 2004 September 2004 October 2004 November 2004 December 2004 January 2005 February 2005 March 2005 April 2005 May 2005 June 2005 July 2005 August 2005 September 2005 October 2005 November 2005 December 2005 January 2006 February 2006 March 2006 April 2006 May 2006 June 2006 July 2006 August 2006 September 2006 October 2006 November 2006 December 2006 January 2007 February 2007
---
Fund free mammograms at no cost to yourself by clicking on the link, then on the pink button.
---
---
Hall of Shame (NoteUnworthy Blog Posts)
Other Blogs (sorted regionally)
Ontario Emperor Selected del.icio.us Tags
;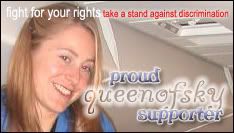 Who Links Here
Friday, November 18, 2005
Tookie Williams in the 1970s
From
gripe4rkids.org
,
streetgangs.com
,
gangsta411.com
,
dailynews.com
,
washington.edu
, and
clarkschpiell.com
:
---
In 1969, a Los Angeles youth named Raymond Washington, 15, organized a group of other neighborhood youths and started a gang called the Baby Avenues. The Baby Avenues wanted to emulate a gang of older youths who had been involved in gang activity since 1964 and provided minor crimes for the Black Panthers of Los Angeles. This gang was called the Avenue Boys since they claimed their turf on Central Avenue in East Los Angeles. Raymond Washington, along with Stanley "Tookie" Williams and several other gang members from the Baby Avenues Gang were fascinated with the hype of the Black Panthers and they wanted to develop the Baby Avenues gang into a larger force. The Baby Avenues Gang began using the name Avenues Cribs since members lived on the avenue (Central Avenue). Crib members would wear blue scarves (now called bandannas) around their necks or heads. The color blue became their representative color.
---
Gang histories and street lore trace the origins of the Crips to Raymond Washington, killed by a rival in 1979, and Stanley ''Tookie'' Williams, now on Death Row in San Quentin state prison. Washington, who was kicked out of Fremont High School and ended up at Washington High, adopted the Black Panther philosophy of neighborhood control to appeal to street kids in his neighborhood around 107th and Hoover streets. That Eastside movement soon merged with Williams' Westside forces.
---
In addition to emulating the Panther appearance, Washington also admired an older gang that remained active throughout the 1960s called the Avenues. He decided to name his new quasi-political organization the Baby Avenues, to represent a new generation of black youths. They were also known as the Avenue Cribs, and after a short time they were referred to as the Cribs, which was a comment on their youthfulness. Their initial intent was to continue the revolutionary ideology of the 1960s and to act as community leaders and protectors of their local neighborhoods, but the revolutionary rhetoric did not endure. Because of immaturity and a lack of political leadership, Raymond Washington and his group were never able to develop an efficient political agenda for social change within the community.
---
In the spring of 1971, when Tookie was 16, he was in a very different situation. He was a high school student from South Central Los Angeles. He had a fearsome reputation as a fighter and as a "general" of South Central's west side. And, around that time, Tookie, along with Raymond Lee Washington, created what would one day be a super-gang, the Crips.

Back in the day when Tookie and Raymond founded the Crips, many of the young people of South Central Los Angeles were involved with small gangs. Those gang members roamed South Central taking property from anyone who feared them, including women and children. To protect the community, Tookie and Raymond organized the Crips.
---
In 1971, several Crib members that were assaulting a group of elderly Japanese women were described by the victims as young cripples that carried canes. These young cripples were the Cribs, but the local media picked up on this description, and referred to this group as the Crips (Los Angeles Sentinel, 2/10/72). The print media first introduced the term Crip, and those that were involved in a life of crime were considered to be Crippin' by other Crib members who were still trying to be revolutionary, with the same political thinking of the 1960s.
---
It needs to be emphasized that this was not merely a gang revival, but a radical permutation of Black gang culture. The Crips, however perversely, inherited the Panther aura of fearlessness and transmitted the ideology of armed vanguardism (shorn of its program). In some instances, Crip insignia continued to denote Black Power, as during the Monrovia riots in 1972 or the L.A. Schools bussing crisis of 1977-9. But too often Crippin' came to represent an escalation of intra-ghetto violence to Clockwork Orange levels (murder as a status symbol, and so on) that was unknown in the days of the Slausons and anathema to everything that the Panthers had stood for.
---
In 1971, Stanley "Tookie" Williams co-founded a street gang in Los Angeles that later came to be know as the Crips. He was 17 years old. Though Williams and Raymond Washington claim to have started the gang as a stand against the random violence in their neighborhood, within a year of inception, the Crips were involved in 29 homicides in Los Angeles. The Crips became one of the most prevalent and violent street gangs in Los Angeles before spreading throughout the U.S. and into Canada and Mexico.
---
[T]he desire for leather jackets led to perhaps the first Crip murder, when a sixteen-year old son of an attorney was beaten to death over a leather coat. The victim, who was not a gang member, was a West side resident who attended Los Angeles High School and played cornerback for the football team. According to the Los Angeles Police Department, the group that assaulted him fled the scene with five leather jackets, two wallets, the victim and his friends. A few days later, nine youths, including members of the infamous Crip gang, were arrested for the murder. The previous month there was a similar incident where 20 black youths had attacked and beaten a 53- year-old white man to death on Figueroa and 109th Street in South Los Angeles. It was believed that the Crips were responsible for this killing, but no arrests were ever made (Los Angeles Sentinel 2/10/72).

---
Meanwhile, Raymond Washington and his collection of young gang members influenced other area youth gangs resulting in the formation of many Crip sets. Some of these sets included Avalon Garden Crips, Eastside Crips, Inglewood Crips and Westside Crips. Crips gangs were violent and constantly expanded their turf. Because of their aggression, several rival gangs joined forces as a gang collective called the Bloods. They adopted the color Red as their representative color. A fierce rivalry between these two gangs existed throughout the 1970's and 80's. By the early 1980's, Crips gangs were heavily involved in the drug trade that they commenced an expansion throughout the United States to sell a new drug product called "Crack".
---
By 1979, the Crips had grown from a small Los Angeles gang to an organization with membership spread across the State of California. By this time, Crips had also become just like the gang members they had once sought to protect themselves from -- Crips had become gangbangers who terrorized their own neighborhoods.

Soon the Crips lost both their leaders: in 1979, Raymond was murdered by a rival gang member, and, that same year, Tookie was arrested.
---
Albert Owens, a former soldier in the U.S. Army, was an outgoing, 26-year old father of two. He was working the night shift at 7-Eleven when Williams and three accomplices entered the store. Williams took Owens into the backroom, made him kneel or lie down and shot him twice in the back with a 12-gauge shotgun. According to court documents, Williams later bragged that he "blew some white guy away, shot him in the back, for $63."

Eleven days later, Williams and his accomplices robbed a motel office and, in the process or possibly after the fact, gunned down the Yang family, who owned the motel. The father, Yu-Chen Li, was shot in the face with a 12-gauge shotgun and died immediately. Yen-I and Tsai-Shai, mother and daughter, each received two shotgun blasts to the chest as they cowered together on the floor in front of their sofa. Mother and daughter were barely alive when emergency personnel reached them. They both died a short time later. Before Williams and his crew left, they remembered to pick up their shotgun shells so as not to leave behind any evidence. They missed one.
---


Links to this post: