Archives
October 2003 November 2003 December 2003 January 2004 February 2004 March 2004 April 2004 May 2004 June 2004 July 2004 August 2004 September 2004 October 2004 November 2004 December 2004 January 2005 February 2005 March 2005 April 2005 May 2005 June 2005 July 2005 August 2005 September 2005 October 2005 November 2005 December 2005 January 2006 February 2006 March 2006 April 2006 May 2006 June 2006 July 2006 August 2006 September 2006 October 2006 November 2006 December 2006 January 2007 February 2007
---
Fund free mammograms at no cost to yourself by clicking on the link, then on the pink button.
---
---
Hall of Shame (NoteUnworthy Blog Posts)
Other Blogs (sorted regionally)
Ontario Emperor Selected del.icio.us Tags
;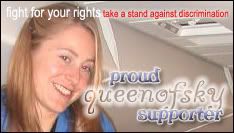 Who Links Here
Tuesday, November 22, 2005
Other Voices on Albert Owens
From
right around here
:
---
Who is Albert Lewis Owens? Was he a young man working on his PhD degree paying for the effort by working nights in a Seven-11 store? Or was he a man a little down on his luck working this job until a better employment prospect was attained? Or could Mr. Owens have been a young family man working a second job to support a wife and child trying his best to attain the American Dream? I don't know. I can't find out anything about him. I sure can find several million links about the "thing" that killed him....

I went to the web page posted by the District Attorney for the County of Los Angeles:

As Darryl and Sims walked to the counter area to take money from the register, Williams walked behind Owens and told him "shut up and keep walking." (TT 2154). While pointing a shotgun at Owens' back, Williams directed him to a back storage room. (TT 2154). Once inside the storage room, Williams, at gunpoint, ordered Owens to "lay down, mother-fucker." (TT 2160). Williams then chambered a round into the shotgun. (TT 2162). Williams then fired the round into the security monitor. (TT 2156-2157, 2162). Williams then chambered a second round and fired the round into Owens' back as he lay face down on the floor of the storage room. Williams then chambered a third round and fired again into Owens' back. (TT 2162).(read)

"you should have heard the way he sounded when I shot him." Williams followed this comment by making growling noises and then laughing hysterically. (TT 2195-2197).
---
Surprisingly, I did find one Tookie supporter who actually mentioned Owens' name. Meet
Tom Hayden
(bonus: illegal alien bash included):
---
Mr. Coward was provided immunity for his claimed role beside Tookie Williams in the 7-11 murder case. The prosecutors failed to disclose at the time that Coward was an illegal alien from Canada who would face deportation because of his [also undisclosed] career of armed robberies. One of his several armed robberies occurred at 104th and Vermont, the location of the motel where the Yang family later would be murdered. Just a coincidence? Coward came off probation on Feb. 5, 1979, three weeks before the 7-11 murder of Albert Owens. In 1984, four years after the 7-11 case, where he admitted an accessory role in exchange for immunity, Coward was convicted of a conspiracy to steal checks; he received five years probation. In 1989, he was twice arrested for narcotics and burglary; the District Attorney declined to file charges against him. In 1990, he was arrested again; charges were declined. Again in 1990, he pled guilty to burglary, but was placed on probation with concurrence of the DA. In other words, the Coward character in this story led a charmed life of crime in the years after his testimony against Tookie Williams. His luck ran out in 1999, when he robbed and killed someone in Canada. He currently is serving a seven-year sentence in Ontario.
---
From
Criminal Profiling
:
---
The crime photos tell a tale of shotgun brutality: The bloody torso of 7-Eleven clerk Albert Owens, shot twice in the back from close range. The blasted left side of Yee-Chen Lin's face. Holes in Tsai-Shai's back and stomach. Yen-I Yang's mangled left arm. His spilling abdomen....

Relatives of Owens want him dead. In an interview with the Contra Costa Times earlier this year, his stepmother, Lora Owens, vented frustration at Williams' growing celebrity.

"He's going to end up a martyr," said Owens, "but I'm not going to let him forget the name Albert Owens. That's the man he killed. That's the man he's going to die for."
---
From
Bruce Armstrong
:
---
Albert Owens, 26
Tsai-Shen Yang, 63
Yen-Yi Yang, 63
Ye-Chin Lin, 43

These are the four people that Tookie Williams, founder of the Crips street gang, murdered with a shotgun in a 12-day period in 1979. No amount of repentance, autobiographies, childrens' books, or Nobel Peace Prize nominations will bring them back. Williams granted them no clemency, showed them neither sympathy nor mercy, and has offered no specific apology to their families.
---
From
The New Underground Railroad
:
---
---


Links to this post: