Archives
October 2003 November 2003 December 2003 January 2004 February 2004 March 2004 April 2004 May 2004 June 2004 July 2004 August 2004 September 2004 October 2004 November 2004 December 2004 January 2005 February 2005 March 2005 April 2005 May 2005 June 2005 July 2005 August 2005 September 2005 October 2005 November 2005 December 2005 January 2006 February 2006 March 2006 April 2006 May 2006 June 2006 July 2006 August 2006 September 2006 October 2006 November 2006 December 2006 January 2007 February 2007
---
Fund free mammograms at no cost to yourself by clicking on the link, then on the pink button.
---
---
Hall of Shame (NoteUnworthy Blog Posts)
Other Blogs (sorted regionally)
Ontario Emperor Selected del.icio.us Tags
;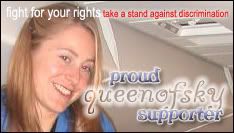 Who Links Here
Thursday, December 22, 2005
Wet and Wild
From
AP/Yahoo
:
---
Houston Lakewood Church pastor Joel Osteen, his wife, Victoria, and their two children boarded a Continental Airlines flight from Houston to Vail, Colo., Monday. The plane's door had been closed when Victoria Osteen and a flight attendant had a disagreement.

"She failed to comply with the flight attendant's instructions, and they were asked to leave the flight," FBI spokeswoman Luz Garcia said without elaborating on the disagreement....

The flight was delayed more than an hour while the Osteens' luggage was retrieved, Garcia said. The family took another flight to Colorado, where church spokesman Don Iloff said they were skiing Tuesday.
---
Previously I
mused
about Joel Osteen and an
Anheuser Busch can
. Since he vacations in Colorado, perhaps a Coors can is more appropriate.
It turns out that liquid (alcohol or no) was
involved
in the dispute:
---
Eyewitnesses say Osteen and a flight attendant got into a disagreement over who should clean up Osteen's first class seat, which was apparently wet.
---
Liberty's Blog goes into
detail
on the matter. It
links
to this story of what happened after the wet seat was discovered:
---
[O]ne passenger tells Eyewitness News she was alerted to the front of the plane when she heard a commotion.

"She violently ran towards the cockpit, scaring everyone around her," said passenger Knicky Van Slyke. "Everyone was terrified about what was going on. And a bunch of flight attendants ran up and had to restrain her. She was banging on the door."

"Of the cockpit?" we asked.

"Yes."...

The Osteens' spokesman denies a physical altercation, denies Victoria ever banged on the cockpit door, and says she left on her own.

"The account of the event which has come to our attention is inaccurate and overblown. The misunderstanding was minor and was resolved when Victoria voluntarily removed herself from the situation," read the statement.

The FBI says it was not voluntary. Though agents are not investigating, they will review the incident as the Osteens enjoy their Colorado vacation.
---
An anonymous
comment
on the blog reads as follows:
---
No one has mentioned a word about what the flight attendant might have said or done to Mrs. Osteen. I have taken many flights in my life in different parts of the world and some of the most rude flight attendants have been in the US. And why is it a mortal crime for someone who helps others, spiritually and financially, and, takes a well deserved vacation, to be "Cruicified", when people think nothing about giving hundreds of millions of dollars for entertainment trash and never say a word. Sounds like a real case of "ENVY" to me.
---
Another anonymous blogger is
offended
(or claims to be offended) at the very fact that the Osteens were flying in first class, and believes it's symptomatic of a spiritual shallowness:
---
The Osteens ought to be ashamed of themselves masquerading as spokesperson of Jesus of Nazareth, preaching a false creed of success and selfishness -- what the heck is a 'pastor' and his 'wife' seating in a first class seat , and excusez moi, being on route to a 'ski-vacation ' in Vail colorado? If he is so annointed with the holy spirit , don't you think the holy spirit which is God's unconditional love will be moving him and his Victoria to be heading for Iraq to minister to the poor soldiers who are in the fore front of danger to bring freedom and democracy to those troubled lands? Don't you think the holy spirit would not be moving him and her to be feeding the hungry, giving water to the thirsty, caring for the sick, clothing the naked and sheltering the homeless. I say to you this, instead the UHOLY SPIRIT OF HYPOCRISY,CHARLATAN ENTERPRENEURSHIP, SELFISHNESS, SELF AGRANDISEMENT, GREED ETC. ARE MOVING THEM TO GALAVANT AROUND THE COUNTRY IN A FIRST CLASS SEAT OF AN AIRPLANE , SPENDING THEIR ILL BEGOTTEN MONEY WHICH THEY HAVE FLEECED FROM MILLIONS OF GULLIBLE FOOLS WILLING TO PAY FOR A BOOK AT WALMART AND SUNDRY BOOK STORES to learn this young men's false preaching and distortion of Lord Jesus's message.

It is an Unholy spirit that had moved Victoria Osteen into a hissy fit - clear testimony that they are not possessed of the Holy Spirit but rather the Spirit of Charlatanship and Hippocrisy and by their fruits and action ye will know them.

I recommend that both Mr. and Mrs spiritual Fraud, sell all their earthly belongings, refund all their ill begotten gains, rend their clothe, put ash on their forehead and wear sack cloths as an outward sign of repentence...then sign up to work in the food kitchens of america for the rest of their lives -- for after all , did not Jesus tell the rich young man to sell all his belongings and to follow him when the latter asked Jesus how he(the young man) could gain the Kingdom of Heaven ?
---
As for me, I don't have a problem with someone flying first class. I don't have a problem with someone going on a ski vacation. (During his years on earth, Jesus often retreated from the crowds, and if Israel had higher elevations, perhaps he would have been on the slopes himself.)
Let's see what Victoria has to
say
about the incident:
---
Wednesday, December 21, 2005

I know that many of you have seen the recent news report on our trip to Colorado. Let me begin by saying that I have received so many of your emails and notes encouraging me and expressing your love and support. Each one of you means so much to me and I love you all dearly.

Regardless of how some have portrayed the situation, please know that it was truly a minor misunderstanding and did not escalate into what you saw or read in the news. Contrary to those reports it was my choice to remove myself from the situation. Nonetheless, it was a most unfortunate event and I truly regret that it happened.

The last thing I would ever want to do is let any of you down. And I promise you that I did not act in any way that would cast a bad light on you, my family, Lakewood Church or our Lord Jesus Christ. I value the position that God has placed me in and I can assure you that I will always walk in love and integrity. While I am not perfect, I will always seek to be a peacemaker and seek the high road.

As many of you have told me, I know that God has me in the palm of His hand. My confidence in God is stronger than ever—and I know that He is faithful to His promises.

Thank you for standing with me and, in spite of what you've heard, thank you for believing the best in me. I know that God causes all things to work together for our good— and I truly believe that when faced with adversities we all emerge better and stronger than when we were before.

During this season, as we celebrate the birth of our Savior Jesus Christ, Joel and I wish you and your family a very Merry Christmas. May peace and happiness embrace all of us and may 2006 be your best year ever.
---
And it should be noted that Victoria Osteen isn't the only person to have encountered a wet seat on an airplane. From a
review
of a British Airways flight:
---
11 October 2005

Boeing 747-400

Business Class



LHR to Vancouver (March 05). Sat on the upper deck in seat 63B. The seat was very comfortable. The tray does not come close enough so had to bend over my food to prevent dropping it. When seat was in the bed position it was too narrow and firm for me. Pillow was good but blanket was rubbish (same as economy). Did not sleep that well. Difficult to get in and out of the seat if you sit by the window because you have to step over someone. Drinks trays are in the wrong place because one of my travelling companions knocked their champagne of onto their seat and consequently had a wet seat for the flight.

Score: 5/5 (review by S Gold)
---
I'm mystified as to why Gold provided a rating of 5/5 despite the tray positioning, the narrow sleeping arrangements, the "rubbish" blanket, and the companion's problems with the drinks tray.
But in some cases, wet seats can be
deadly
:
---
[E]ven as they collected their paychecks from Pan Am Airlines, and later from United Airlines after United bought Pan Am's Pacific routes, Grace and Helen and all the other flight attendants they worked with were paying a price they were unaware of.

Several times a month they were locked in tin cans called Boeing 747-400 airplanes and forced to breathe insecticide. "They told us it was completely safe," says Grace. "They told us that over and over."

Now they know it wasn't completely safe. Now their health has been damaged by decades of direct exposure to chemical pesticides that are banned by the EPA for use in airplanes in America. In spite of that ban, the cabins of many 747-400s used on domestic flights in the U.S. are saturation-sprayed with these banned chemicals every 56 days. Why? Because Australia and New Zealand won't allow planes to land in their countries unless cabins and baggage compartments are sprayed regularly....

In 1994, in response to complaints from passengers and crew members, United and other airlines stopped most in-flight spraying. Instead, they began saturation spraying of cabins when passengers and crews were not present. It appears the new technique has not lessened the health hazard to flight attendants and passengers, according to Judith Murawski, industrial hygienist for the Association of Flight Attendants, a union representing flight attendants. "At least they leave enough time for the spray to settle in the air, says Judith. "But the real problem is, Permethrin is the active ingredient in this residual spray. It's fat-soluble, and that means it can be absorbed through the skin. After these sprays, the cabin is often wet. We have this from reports from flight attendants." In fact, both Helen and Grace have experienced wet seats, galley counters, and other interior surfaces. "If you sit on a wet seat, the chemical is getting into your system," says Judith. "If you touch your mouth after you've touched a surface that's been sprayed" -- or if you eat food that has touched a wet galley countertop -- "you can ingest it. There are all kinds of ways for this stuff to get into your system."
---
And there are other reasons for wet seats, having to do with small children, but I won't go into them here.
But if I can once again use the old tired "isn't it ironic, don't you think" line, these
words
are interesting:
---
Mrs. Osteen has advice for other pastors' wives as well, saying, "Support him, don't be a distraction and help him keep his focus. The more he succeeds, the more you and your family will succeed." In this way, she says a pastor's wife can become an "attraction versus a distraction."
---


Links to this post: