Archives
October 2003 November 2003 December 2003 January 2004 February 2004 March 2004 April 2004 May 2004 June 2004 July 2004 August 2004 September 2004 October 2004 November 2004 December 2004 January 2005 February 2005 March 2005 April 2005 May 2005 June 2005 July 2005 August 2005 September 2005 October 2005 November 2005 December 2005 January 2006 February 2006 March 2006 April 2006 May 2006 June 2006 July 2006 August 2006 September 2006 October 2006 November 2006 December 2006 January 2007 February 2007
---
Fund free mammograms at no cost to yourself by clicking on the link, then on the pink button.
---
---
Hall of Shame (NoteUnworthy Blog Posts)
Other Blogs (sorted regionally)
Ontario Emperor Selected del.icio.us Tags
;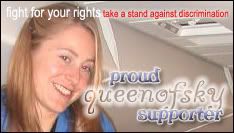 Who Links Here
Friday, December 09, 2005
Saint Tookie Descends (Turn, Turn, Turn)
In a
post
entitled "Tookie Williams...A Time To Die," Jamal links to an old
post
of mine in the course of the statement below:
---
In agreement with the likes of Tin Star, Politik Ditto, Debbie Schlussel, FullosseousFlap, Michelle Malkin, Joanne Jacobs, La Shawn, Right Wing News and GOP Vixen, my opinion is that as have many others before and after him, Stanley Tookie William's has been found guilty of crimes that carry the death penalty. It is not media support, reformation, hindsight, Peace Prize nominations, or criticism of the death penalty that should determine his fate, but whether he is innocent or guilty of murder!
---
I
responded
as follows:
---
Theoretically, one could make a clemency case for redemption, but this assumes that you've been redeemed from something (in other words, that you admit guilt for murder) and that you have repudiated your former ways (in other words, that you will explicitly help law enforcement curtail gang activity).

My hope is that Arnold will have his meeting, then announce that the original court found he was guilty, the appellate courts found no reason to contest this plea, and there is no overwhelming reason to interfere with the judicial process. End of story.

Of course, this means that Tookie will become a martyr and a hero, but that's the price of justice.
---
Note the title of Jamal's post. I don't know if that particular phrase appears in the Quran, but I know it appears in
Ecclesiastes chapter 3
:
---
Ecclesiastes 3:1-8 (New International Version)
New International Version (NIV)
Copyright © 1973, 1978, 1984 by International Bible Society

1 There is a time for everything,
and a season for every activity under heaven:

2 a time to be born and a time to die,
a time to plant and a time to uproot,

3 a time to kill and a time to heal,
a time to tear down and a time to build,

4 a time to weep and a time to laugh,
a time to mourn and a time to dance,

5 a time to scatter stones and a time to gather them,
a time to embrace and a time to refrain,

6 a time to search and a time to give up,
a time to keep and a time to throw away,

7 a time to tear and a time to mend,
a time to be silent and a time to speak,

8 a time to love and a time to hate,
a time for war and a time for peace.
---
Sacred Ordinary
quotes
these verses, and separately
muses
on Tookiemania:
---
I am morally and spiritually opposed to the death penalty, but I am respectful of those in the justice system who feel differently than I do. I can see both sides of the debate. The U.S. Supreme Court, on October 11, 2005 ruled against Tookie and unless Schwarzenegger steps in, Tookie is a goner....

The press and the electronic media in Los Angeles and throughout the state are filled with news about the impending execution and, of course, Tookie himself says he has reformed and is now a deterrent to young men and women joining gangs. In fact, he's written children's books, was nominated for a Nobel Peace Prize, and has an army of famous and average people supporting his clemency....On the other hand, most of the law enforcement agencies feel that Tookie is still running the Crips from his jail cell....

I would like to see Tookie, and everyone on the death rows across the country, jailed for life without possibility of parole--and I'm told this isn't realistic. I'm personally opposed to the death penalty for everyone. I don't believe, I guess, in an eye for an eye. But because we are a free country, I know that in addition to the public expense of permanent incarceration, many of these killers remain influential and downright dangerous. It's a quandry.
---
Meanwhile, in
Snoop land
:
---
Tookie Chat on BET
12/5/2005 3:47:44 PM - by bet.com

Log on for a live chat with Stanley Tookie Williams advocate Babara Becnel on BET.com, Friday, Dec. 9 at 2 p.m. (ET), 11 a.m. (PT). Snoop has been speaking out on Tookie's behalf. Tookie is set to be put to death on Dec. 13, if Governor Schwarzenegger doesn't put a stop to it. Lot on at http://chat.bet.com/ and get the inside scoop on the case.
---


Links to this post: