Archives
October 2003 November 2003 December 2003 January 2004 February 2004 March 2004 April 2004 May 2004 June 2004 July 2004 August 2004 September 2004 October 2004 November 2004 December 2004 January 2005 February 2005 March 2005 April 2005 May 2005 June 2005 July 2005 August 2005 September 2005 October 2005 November 2005 December 2005 January 2006 February 2006 March 2006 April 2006 May 2006 June 2006 July 2006 August 2006 September 2006 October 2006 November 2006 December 2006 January 2007 February 2007
---
Fund free mammograms at no cost to yourself by clicking on the link, then on the pink button.
---
---
Hall of Shame (NoteUnworthy Blog Posts)
Other Blogs (sorted regionally)
Ontario Emperor Selected del.icio.us Tags
;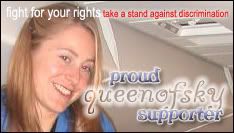 Who Links Here
Saturday, December 03, 2005
It's not just in California
How about a day laborer center in
Herndon, Virginia
?
---
Seven years of police calls and traffic problems were enough for city fathers. They needed a fix for Herndon's eyesore, the parking lot of the local 7-Eleven where every day a horde of day laborers gathered to meet up with prospective employers....The proposed solution is a taxpayer-funded day-labor center--a shelter, trailer, and restrooms--on the edge of town where employers could hire workers each morning in an organized manner. As envisioned, the $170,000 center would also provide training and English classes for the mostly Central American workers, many of them probably illegal aliens.

Herndon officials figured they'd provoke some debate, but what they got was nothing short of stunning. A radio talk-show host in Sacramento lambasted the proposal, telling listeners to flood Herndon's switchboard with calls; the town's system was down for four days. Rep. Tom Tancredo, a Colorado Republican and leading advocate of immigration restrictions, railed against the idea. Republican Jerry Kilgore, in the thick of the Virginia governor's race, threw his support to protesters. A conservative legal group sued to block the center. The public hearing on the proposal, scheduled for one night, lasted two; 150 residents, nearly evenly split on the plan, took to the microphone....

Over the past year, battles like the one in Herndon, which finally approved the center, have been waged from Laguna Beach, Calif., to Jupiter, Fla. Day-labor centers have become a flashpoint in the broader struggle to overhaul the nation's immigration system. As the federal government stumbles in that challenge, local officials find themselves forced to develop their own piecemeal solutions.

"We've been given an unfair burden by a lack of a federal policy," says Herndon Mayor Michael O'Reilly....
---
Herndon has published a
document
(updated in 2004) that describes various day labor issues. Here is what this document says about immigration issues:
---
Immigration Issues

Some day workers are illegal immigrants and/or lack proper work documentation. For this reason, questions have been raised as to why the Herndon Police simply can't remove all illegal immigrants from the informal site. Currently, Herndon Police officers are restricted from enforcing federal immigration laws. This principle also precludes the arrest of contractors at the site who may hire workers that lack
proper employment documentation. State and federal law prohibits the contractors from hiring alleged illegal immigrants. However, the Town may not enforce this federal law; and federal law preempts a similar state law, so that state and Town law enforcement officials are prohibited from enforcing such laws.

Enforcement of Federal Immigration Law – Memorandum of Understanding

Town officials met with a representative of the Department of Homeland Security's Bureau of Immigration and Customs Enforcement (ICE) in March 2003 to discuss immigration enforcement. ICE relies on leads and goes after major players, such as organizers of immigrant smuggling rings or gangs, as well as individuals conducting document fraud and other illegalities connected to the importation of illegal immigrants.

There is legal authority for a locality to enter into a memorandum of understanding with the Bureau to train police officers to enforce federal immigration law in conjunction with the Bureau. The training requires that a minimum of 20 officers participate. However, in September 2003, the Virginia Attorney General's Office explained ICE's position on certifying local police departments for this purpose: "[The ICE representative] stated that at present, ICE has only cross-designated state law enforcement officers in Florida and Alabama. He explained that rigorous training and testing procedures are required as well as a thorough evaluation of all resources available to the respective law enforcement agency…Additionally, factors such as adequate jail space to house detainees are considered…there is significant expense borne by ICE in conducting this training…Given these considerations, only larger departments with significant resources have been successful candidates for cross-designation." An MOU with the Virginia State
Police is under review but has not been executed UPDATE: In early June, the Virginia State Police decided against proceeding with the agreement at this point in time....

Illegal Hiring

It is the responsibility of employers to ensure workers have proper employment documentation such as the "I-9" form. However, this form is focused on large employers and does not fit into the situation in which somebody is hired to do a day's work. Therefore, federal law exempts occasional or sporadic work from the "I-9" requirement though not sustained or frequent (albeit informal) day work, one would argue. The federal government has arrogated to itself to the exclusion of state and local law enforcement officials, the enforcement of these laws. Some employers abuse the exemption and do not file the appropriate paperwork....
---
Funny that ICE's website doesn't include all the caveats that they communicated to Herndon. If you read ICE's
website
, you'll believe that we are strictly enforcing immigration laws in the workplace:
---
U.S. Immigration and Customs Enforcement (ICE) is focusing strategically on combating illegal immigration within the nation's interior. A comprehensive interior enforcement strategy was developed that creates a seamless web of enforcement extending from the border, and beyond, to the worksite. It seeks to facilitate internal coordination among the various ICE enforcement activities and forge closer ties with other federal, state and local law enforcement and regulatory agencies....
---
And here's some
more
, which explains why ICE agents aren't arresting everyone at every Home Depot - it's not important:
---
In accordance with ICE's homeland security mission, our agents prioritize worksite enforcement efforts by focusing on investigations related to critical infrastructure, national security and employers who engage in egregious criminal violations. Unauthorized workers employed in sensitive security sites and critical infrastructure facilities -- such as airports, nuclear power and chemical plants and defense contractors -- are vulnerable to exploitation by terrorists, smugglers, traffickers or other criminals....

PROTECTING EMPLOYERS

Homeland security is more than a federal government function – it's a shared mission for all Americans, including private industry. An employer who knowingly hires unauthorized workers may be criminally prosecuted or be faced with administrative fines of up to $11,000 per person. ICE works with employers to educate them about their responsibilities in this area. In addition, U.S. Citizenship and Immigration Services (CIS) operates the Basic Pilot Program, a web-based application that employers can use to verify the employment eligibility of newly hired workers. The Basic Pilot Program is now available nationwide.
---


Links to this post: