Archives
October 2003 November 2003 December 2003 January 2004 February 2004 March 2004 April 2004 May 2004 June 2004 July 2004 August 2004 September 2004 October 2004 November 2004 December 2004 January 2005 February 2005 March 2005 April 2005 May 2005 June 2005 July 2005 August 2005 September 2005 October 2005 November 2005 December 2005 January 2006 February 2006 March 2006 April 2006 May 2006 June 2006 July 2006 August 2006 September 2006 October 2006 November 2006 December 2006 January 2007 February 2007
---
Fund free mammograms at no cost to yourself by clicking on the link, then on the pink button.
---
---
Hall of Shame (NoteUnworthy Blog Posts)
Other Blogs (sorted regionally)
Ontario Emperor Selected del.icio.us Tags
;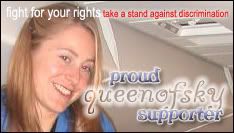 Who Links Here
Sunday, December 11, 2005
If you say something often enough, is it true? Or, William James McLurkin Does Not Exist
At his trial, Stan was found guilty by an all-white jury after the prosecutor removed all prospective Black jurors from the jury pool--a practice he was warned against by judges on two prior occasions.
Stanley "Tookie" Williams' 1981 prosecutor manipulated and removed every Black person on his jury, leaving him with an all-White jury to deliberate his case.
Tookie Williams has always maintained his innocence and claims he received an unfair trial, in part, because he was convicted by an all-white jury.
His prosecutor kicked off all African-Americans from serving as jurors in Stan's trial, resulting in Stan being convicted by an all-white jury.
Circumstantial and/or very bad evidence and eyewitnesses were presented to an all white jury.
Well, if all of these sources are saying that Tookie was convicted by an all white jury, then it must be true, shouldn't it? Ah, perhaps
not
:
---
In his petition for clemency, Williams makes the allegation that the prosecutor "removed the only blacks from Stanley Williams' jury. (Petition for Executive Clemency, Dated November 8, 2005, 10). This statement, apparently made to suggest there was a racial element to the trial, is factually incorrect. In fact, the documented evidence demonstrates conclusively that there was a black juror on the case, and that that juror not only voted for guilt, but also voted for death.

Attached as an exhibit is a certified copy of the court minute order listing the names and seat numbers of the respective jurors. (P. Exh. 16). Also attached as an exhibit is a certified copy of the death certificate of Juror #12, William James McLurkin. (P. Exh. 17). In that death certificate, the race of Mr. McLurkin is clearly listed as "Black." In addition, Juror #1, Larry Sabala, has provided a sworn affidavit which confirms that one of the jurors was black. According to Mr. Sabala, "one of the jurors who served with me was a black man. It was obvious to everyone that he was a black man." (P. Exh. 18).
---
Of course, that
doesn't matter
:
---
The juror, William McLurkin, was born in the Philippines, as was his
mother. The trial record demonstrates that none of the lawyers -- and particularly
the prosecutor -- thought Mr. McLurkin was black. During jury selection, three
jurors were asked whether the fact that they were black would influence them. The prosecutor struck each of these jurors. Neither Mr. McLurkin nor any of the other
79 potential jurors were asked these questions. The only inference is that none of
the lawyers thought Mr. McLurkin was black. Mr. McLurkin looked Filipino. The
District Attorney has supplied Mr. McLurkin's death certificate, which does not
have a picture, as an exhibit. What the District Attorney fails to supply is Mr.
McLurkin's driver's license, which does have his photograph.3 (Ex. 11)
---
Which I guess means that we can continue to claim that Tookie was convicted by an all white jury. And that Ferdinand Marcos was a white man. (Naturally; all despots are white men, aren't they?) And this
article
should be disregarded:
---
According to the author of "peregriNasyon," in 1934 a photo of a Filipino man kissing a white girl was published in a local newspaper in Watsonville, near Central Valley, California. Race riots broke out.
---
Though I don't understand why race riots would break out when a white man kissed a white girl. But I understand the outrage when Versace was murdered by a
white man
:
---
By being the suspect in a string of killings, most notably that of fashion designer Gianni Versace, Cunanan made the covers of the news weeklies. He was the most famous Asian American for several weeks in 1997. People wanted Andrew Cunanan. In terms of coverage, he was our Princess Diana.

But not without problems. Despite the emergence of a multicultural America and Tiger Woods, the FBI seemed clueless when it called this son of a Filipino immigrant "white." While his estranged mother was white, Cunanan's life was typically Filipino American. This fact was brought out in my columns in the ethnic media, but somehow even when the mainstream media was interviewing Cunanan's family in the Philippines, no one bothered to correct the description from white to Filipino or even Asian American. So much for the FBI's accuracy and descriptive powers. This slight also shows how Asian Americans and, in particular, Filipino Americans--the largest group within that designation--are still essentially invisible in America. Even when we're suspected of committing the "crime of the day," we don't exist on their radar. We're white by default. Think Asian Americans made strides in 1997? Think about Cunanan first. Have we really changed the black/white prism through which America views race?
---
And one person argues that the definition of white should be based on
legal perspectives
:
---
For the purposes of analyzing American public policy, the best definition of white is the definition that was constructed by a century of America's discriminatory laws against non-whites. These legal opinions, authored by white judges, provide a crisp boundary that can be followed in efforts to dismantle the illegitimate power structures that were built around the white definition of whiteness. Even in a free market, power persists until it is yielded by the powerful; it does not dismantle itself....

In re Alverto (1912) (persons three-quarters Filipino and one-quarter White are not White)....

De La Ysla v. United States (1935) Filipinos are not White)

De Cano v. State (1941) (Filipinos are not White)
---


Links to this post: