Archives
October 2003 November 2003 December 2003 January 2004 February 2004 March 2004 April 2004 May 2004 June 2004 July 2004 August 2004 September 2004 October 2004 November 2004 December 2004 January 2005 February 2005 March 2005 April 2005 May 2005 June 2005 July 2005 August 2005 September 2005 October 2005 November 2005 December 2005 January 2006 February 2006 March 2006 April 2006 May 2006 June 2006 July 2006 August 2006 September 2006 October 2006 November 2006 December 2006 January 2007 February 2007
---
Fund free mammograms at no cost to yourself by clicking on the link, then on the pink button.
---
---
Hall of Shame (NoteUnworthy Blog Posts)
Other Blogs (sorted regionally)
Ontario Emperor Selected del.icio.us Tags
;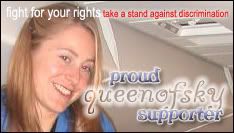 Who Links Here
Sunday, December 11, 2005
Well, we don't let Arafat and Castro into the U.S. Wait, we do.
From
WorldNetDaily
:
---
Aaron Klein, WND's Jerusalem bureau chief, was prevented today from entering Syria, where he planned to interview officials from Syria, Lebanon and the U.S., as well as co-host ABC Radio's nationally syndicated "The John Batchelor Show," because, according to at least one official in the Syrian embassy, he's Jewish....

[Klein] and Batchelor, along with producer Lee Mason, made arrangements with the Syrian embassy in the U.S., in advance of their trip. All three were told Monday by Ammar al-Arsan, the press attaché for the Syrian embassy in Washington, that the applications for the visas were approved, and that Damascus had sent an approval letter that would permit them to enter the country from Amman, Jordan today.

However, when the trio arrived in Amman, they were told there was a problem with the application. They met with Eyad Alarfi, assistant to consul general in Amman, who could provide no information about what was holding up the visa. Later, Alarfi said approval for visas were granted for Batchelor and Mason, but not for Klein.

By telephone, Klein spoke to an official from the Ministry of Information in Damascus who declined to provide his name. At first he refused to suggest why Klein had been singled out and prevented from entering the country. Later, however, he asked: "What religion are you?"

Klein said he refused to answer.

"You know what you are," said the official.
---


Links to this post: