Archives
October 2003 November 2003 December 2003 January 2004 February 2004 March 2004 April 2004 May 2004 June 2004 July 2004 August 2004 September 2004 October 2004 November 2004 December 2004 January 2005 February 2005 March 2005 April 2005 May 2005 June 2005 July 2005 August 2005 September 2005 October 2005 November 2005 December 2005 January 2006 February 2006 March 2006 April 2006 May 2006 June 2006 July 2006 August 2006 September 2006 October 2006 November 2006 December 2006 January 2007 February 2007
---
Fund free mammograms at no cost to yourself by clicking on the link, then on the pink button.
---
---
Hall of Shame (NoteUnworthy Blog Posts)
Other Blogs (sorted regionally)
Ontario Emperor Selected del.icio.us Tags
;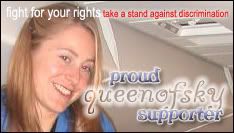 Who Links Here
Sunday, December 11, 2005
Tookiemania Events, December 12
From
nodeathpenalty.org
and
deathpenalty.org
:
---
DECEMBER 12

Cleveland
Save the Peace Maker Rally and Vigil At 5:30 pm at Cleveland City Hall. Sponsored by Peace In The Hood and the Task Force for Community Mobilization. Contact RStandiford9@aol.com for information.

Chicago
Protest and Vigil at 4:30pm at Federal Plaza (Dearborn & Monroe) if Stan Tookie Williams has not received the clemency he deserves.

Denver
Block Party Protest Speakers include Ernesto Vigil (Crusade for Justice), Ward Churchill (American Indian Movement), and Ramona Africa (MOVE). At 3 pm at the Colorado State Capitol, 15th and Colfax. For more information, or to volunteer, contact Earl Armstrong 303-208-9138, Shareef Aleem 720-436-7606 or Steve Nash 720-309-1418.
---
DECEMBER 12, 2005 - AM
Walk for Abolition
The Walk For Abolition begins at the Palace of Legion of Honor in San Francisco at 7am and ends at the gates of San Quentin Prison (around 6pm).

You can join the whole walk of 25 miles, or you can join it in progress at specified mile markers en route, or you can show your support and talk with us at our designated rest stops. We walk peacefully as a large group over the Golden Gate Bridge and through Marin County to San Quentin. Back up van and cars are available to carry backpacks, ferry people back to designated parking and public transport sites and give respite to walkers that are tired.

For Further information on the walk and to volunteer as back-up drivers, please contact Rev. Lyle Grosjean : (510) 895-8203 or email: l.grosjean@sbcglobal.net. On the day of the walk, please call 510-368-3368.

Rallying Points

->6:45am, Palace of the Legion of Honor, in Lincoln Park, 100 34th Ave, San Francisco, 94122. Walk leaves promptly at 7 am.

->8:00am, South End of Golden Gate Bridge.

->8:55am, North End of Golden Gate Bridge.

->10:40am, Head of Bay Trail in Sausalito leading to Mill Valley

->11:45am, Miller Avenue and Camino Alto for lunch and demonstration with members of Mill Valley Seniors for Peace.

->2:30pm, St. Sebastian Church, 373 Bon Air Road, Greenbrae. Rest Stop. Drinks provided.

->3:15pm, St. Paul's Church, 1123 Court Street, San Rafael. Rest Stop. Refreshments provided.

->6:00pm, East Gate of San Quentin Prison
---
San Quentin, Calif.
PROTEST AT THE PRISON -- From the Save Tookie Committee: We believe that Gov. Arnold Schwarzenegger will do the right thing and grant clemency to Stan Tookie Williams. However, if we have not received a decision or if he does not grant clemency, we plan to have a large peaceful protest at San Quentin. At 8 pm at the East Gate of San Quentin Prison. You can park on Francisco Blvd. E, but expect to walk 1 to 1.5 miles to get to the east gate. It will be dark, and there is uneven pavement. We suggest you bring a flashlight, water, and wear good shoes and warm clothing. This will be a peaceful protest. Please listen to security people and don't engage the opposition as it only encourages them. Contact the Save Tookie Committee at 510-253-5418 or 510-333-7966, or e-mail info@savetookie.org for more information.
---
Los Angeles
RALLY AT 6:00 P.M.
WESTWOOD FEDERAL BUILDING
11000 Wilshire Boulevard, Los Angeles, CA 90024 (Corner of Veteran)
MARCH AT 8:30 P.M. from Westwood Federal Bldg. to St. Paul the Apostle Church for a VIGIL (10750 Ohio Avenue,Los Angeles, CA 90024)
Contact: EDeBode@la-archdiocese.org

Sacramento
VIGIL FROM 11PM to 12:30AM
State Capitol Building
11th & L Streets
Contact: stellalevy@sbcglobal.net

Fresno
Vigil begins at 5:30 PM in front of St. John's Cathedral
Mariposa & R Streets, in downtown Fresno
Contact: maria.telesco@att.net

Riverside
Vigil at St. Catherine of Alexandria Catholic Church
Brockton & Arlington
Riverside, CA 92506
Time: 9:00pm

Orange
Circle of Orange
Chapman and Glassell Streets
5 PM – 12:15 AM
City of Orange
Orange County

Tiburon
Panel Discussion on the death penalty from the Jewish Perspective
8 - 10 PM
Congregation Kol Shofar
215 Blackfield Drive
Tiburon, CA

Pasadena
Vigil Against the Death Penalty!
All Saints Church
132 N. Euclid Avenue
Pasadena, CA
8:30-10:00 PM
Contact: mtermaat@earthlink.net

Redwood City
St. Matthias Parish
1685 Cordilleras Ave. Redwood City ,CA
Ecumenical Service from 7-9pm

Palo Alto
4 PM
Vigil in support of Williams' life, on the eve of his scheduled execution.
Bring candles, signs, and warm clothing.
Some participants may choose to carpool to San Quentin.
Corner of El Camino and Embarcadero Streets
Palo Alto, CA

Oceanside
Candle-light Vigil
Mission San Luis Rey
4070 Mission Ave.
Oceanside, CA
9:00 p.m. to 10:30 p.m.
Participants are invited to bring readings to share with the group.

Chico
Silent Candlelight Prayer Vigil
Children's Park - Downtown
Begins at 7pm
contact: amylourunge@earthlink.net

San Diego
Vigil
Hall of Justice
330 West Broadway
San Diego, CA 92101
3:45pm - 7pm

San Jose
March from the Mission Church in Santa Clara University
Starting at 4:00PM
End at the Cathedral in Market Street, San Jose

South Pasadena
AN EVENING OF PRAYER TO END THE DEATH PENALTY
Holy Family Church
1501 Fremont Ave.
South Pasadena,CA 91030
Begins at: 7:30 pm
Opening prayer, Presentation of the play "Prison of the Mind" and discussion to follow the play
For more information call the church at 626-799-8908

San Rafael
Interfaith Service at St. Paul's Episcopal Church
1123 Court Street
San Rafael, CA
7 pm

San Rafael
Interfaith Prayer Vigil at Dominican Sisters' Center
1520 Grand Avenue
San Rafael, CA
8 pm - 10:30pm
They will carpool to the East Gate of San Quentin to join the vigil there at 11 pm. For further information, call (415) 454-6491.

Santa Barbara
Candle-light vigil
7pm to 9pm
Meet in front of Borders
900 State Street
Santa Barbara, CA

Ventura
SILENT CANDLELIGHT VIGIL
Ventura County Government Center
Corner of Telephone Rd. and Victoria Ave.
8:00 p.m. - 12:30 a.m.
Bring candles, warm clothing
Contacts: DavidHoward@aol.com or francisco.romero@csun.edu

El Cerrito
Interfaith Prayer Vigil
St. John the Baptist
11150 San Pablo Ave.
El Cerrito, CA
7:30-8:30pm
Refreshments and Carpool to San Quentin available.

San Bernardino
Candle light vigil 6:00 - 7:00 (outside)
Interfaith Prayer service 7:00 - 8:00 (inside)
Diocesan Pastoral Center
1201 E. Highland
San Bernardino, CA 92405

Apple Valley
7:00 p.m. - 9:00 p.m. Prayer service
9:00 - midnight vigil
Our Lady of the Desert
18386 Corwin Road
Apple Valley, CA 92307

Los Angeles
LA Catholic Worker Vigil
LA Criminal Courts Building
300 N. Spring at Temple
Los Angeles, CA
4pm-6pm
Contact the LA Catholic Worker at 323-267-8789

San Dimas
Catholics Opposed to Prisoner Executions
Vigil from 7-9pm
Holy Name of Mary Church
724 East Bonita Avenue
San Dimas, CA 91773
Contact Curt Feese at (626)339-0170

Ojai
Silent Candlelight Vigil
5:00pm-6:00pm at the "Y" (corner of Ojai Ave. and Maricopa Hwy)
Meditation and Chanting
6:30pm-8:00pm at the Ojai Retreat (160 Besant Road)
Please bring candles to the vigil and a sign, if you like, to respectfully show why you are at the vigil. Keep in mind it will be dark and probably cold. The meditation and chanting is open to all but will have a Zen Buddhist focus.
For more information, email Kenley Neufeld at peace@neuhouse.com or call 805-252-2448

Chino Hills
prayer vigil
5:30 - 6:30pm
St. Paul the Apostle
14085 Peyton Drive
Chino Hills, CA 91709
For directions call: 909-465-5503

San Luis Obispo
Vigil
Noon to 1pm
In front of the Government Center on Monterey St.
More info: fnolan@calpoly.edu

Camarillo
Prayer Vigil of Healing and Hope
7 pm
St. Mary Magdalen's Church - Music Room
At the corner of Las Posas and Crestview in Camarillo,CA
Excerpts from "Redemption" and "Interview with an Executioner" will be shown.
We will then walk 1 mile to St. Columba's in a silent procession (please bring lanterns or flashlights). We will continue with a prayer service at St. Columba's beginning at 8 p.m.
For more information, please call Julie Morris at 805-488-3709
---
Seattle
Screening of "Redemption" At 7 pm at Garfield Community Center, 2323 E. Cherry St. $5 donation requested at the door. Email vjambor@msn.com or call 206-851-4862 for information.
---


Links to this post: