Archives
October 2003 November 2003 December 2003 January 2004 February 2004 March 2004 April 2004 May 2004 June 2004 July 2004 August 2004 September 2004 October 2004 November 2004 December 2004 January 2005 February 2005 March 2005 April 2005 May 2005 June 2005 July 2005 August 2005 September 2005 October 2005 November 2005 December 2005 January 2006 February 2006 March 2006 April 2006 May 2006 June 2006 July 2006 August 2006 September 2006 October 2006 November 2006 December 2006 January 2007 February 2007
---
Fund free mammograms at no cost to yourself by clicking on the link, then on the pink button.
---
---
Hall of Shame (NoteUnworthy Blog Posts)
Other Blogs (sorted regionally)
Ontario Emperor Selected del.icio.us Tags
;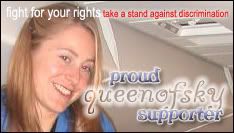 Who Links Here
Tuesday, May 31, 2005
(2) comments
(1) comments
(0) comments
Manny Van Pelt, Take Two
I
just
quoted the following statement from Manny Van Pelt, esteemed obfuscator for Immigration & Customs Enforcement:
---
"We would not create a (memorandum of understanding) that created full-time immigration officers because we have full-time immigration officers," said Manny Van Pelt, a spokesman for Immigration and Customs Enforcement, which negotiates such agreements on behalf of the U.S. Attorney General's Office.

"The way it was meant to be used is as a tool to help officers in the street or in the jails, to help them do their day-to-day jobs in addition to their normal routine."
---
Well, if we have full-time immigration officers working for a so-called Immigration & Customs Enforcement agency, what the heck do they enforce? Free Republic
cites
the following from that hotbed of border problems, New Hampshire:
---
The attorney representing the illegal immigrant charged by New Ipswich police for criminal trespassing will argue state law is being misused and the Vienna Convention was violated when her client was not put in touch with the Mexican Consulate.

During an interview in her Merrimack office, Attorney Mona Movafaghi said the Vienna Convention guaranteed the right of her client to contact the Mexican Consulate, but police failed to provide the opportunity.

New Ipswich Police Chief W. Garrett Chamberlain charged Jorge Mora Ramirez, 21, with criminal trespass and operating a vehicle without a valid license on April 15. Ramirez encountered police on Turnpike Road after having car trouble. A local officer, who stopped to investigate, found Ramirez with several false identification papers and a Mexican driver's license.

When federal authorities would not take Ramirez into custody, Chamberlain added the criminal trespassing charge — a tactic that has gained attention nationally.

"I'm disgruntled that the feds aren't going to follow up. We're stepping up to the plate and doing what the federal government refuses to do," the chief has said.

"We think that it's a misuse of the law and it was not the intent of the statute to be used in that way," Movafaghi said.

"If (Chamberlain) feels like this is his mission in life, he should join ICE," she said, referring to Immigration and Customs Enforcement (ICE), the federal agency charged with enforcing immigration law.

Immigration authorities are "told to target criminals, terrorists and people who are causing trouble," the attorney said.

Manny Van Pelt, an ICE spokesman, disputed the priorities outlined by Movafaghi.

"We cannot turn a blind eye to violations of the law. And we will not," he said.

"We are going to place this person (Ramirez) in deportation hearings. Absolutely. We fully intend to," Van Pelt said in a phone interview yesterday....
---
I'm sure that Manny took care of that before he went home that evening.
---
"The police chief is saying a person who is traveling on public roads has no right to do so if they are in the U.S. illegally . . .," she said. "If you are from Milford, can you be on the roads in New Ipswich?" Movafaghi said. "Where does it end?

"The immigration laws make the determination on who's here illegally, not the police chief," she said.

Movafaghi has been a member of the American Immigration Lawyers Association since 1987 and has focused primarily on immigration and nationality law since 1996. Her law firm is at 419 Daniel Webster Highway in Merrimack....

The matter is scheduled for a bench trial at 10 a.m. on July 12 in Jaffrey-Peterborough District Court.
---
It turns out that the northeastern U.S. is a
hotbed
of enforcement:
---
HUDSON, N.H. -- Police Chief Richard Gendron finds himself in the middle of a national debate centering on immigration laws after citing two illegal immigrants on charges of criminal trespass.

Yesterday, moments before a group of about 20 protesters entered the police station to voice their objections to the policy, a delegation from the Statehouse presented Chief Richard Gendron with a plaque commending his actions.

Applying a state law that governs criminal trespass, Hudson police cited two illegal immigrants on May 10 who were stopped for driving with a broken headlight. The pair, Sergio Robles Ruiz and Margarito Jaramillo Escobar, two Mexican nationals, did not have valid drivers' licenses and no documentation to prove they were in the country legally. Although they were never arrested, the criminal-trespass violation carries a maximum fine of $1,000....

Gendron defended the actions of his officers, adding that the illegal immigrants were never arrested.

"Our position is that if you entered the country illegally, you committed a crime," he said. "The United States government has spent billions of dollars on Homeland Security since September 11, 2001, and it starts with illegal aliens. They should not be here."

Gendron followed the lead of New Ipswich Police Chief W. Garrett Chamberlain, who has used the trespassing law to deal with undocumented immigrants....

According to New Hampshire law, a person is guilty of criminal trespass if he enters or remains in any place knowing that he is not licensed or privileged to do so.

Gendron said reaction to the policy has been positive, but protesters outside in the rain held signs that read, "Stop Profiling," and "Stop Bogus Arrests."

LouAnn Fornataro had harsh words for the police.

"The people of New Hampshire ought to be outraged," she said. "These chiefs of police have become vigilantes. The fact that they wear badges does not make them less than vigilantes. A law-enforcement officer has the responsibility to protect citizens from vigilantes. At the moment the vigilantes in New Ipswich and Hudson are wearing badges."

Cliff Miller of Windham and Tom Stilings of Westford, Mass., sat quietly in the back of a covered pickup truck that carried American flags and signs that read, "What part of illegal don't you understand?"

"We spent many years defending everyone else's rights to free speech and now it's our turn," said Miller, who is 73.

Locally, Victoria Fahlberg, Executive Director of ONE Lowell, weighed in on the issue, saying she fears the New Hampshire cases will lead to racial profiling.

"It stems from this whole attitude that came out of September 11," she said. "It gives legitimacy to people who want to get rid of all the immigrants. If they're criminals, by all means let them go through the process. But these people are being dehumanized simply because they're undocumented."

Fahlberg said she supports new reform legislation what would allow undocumented immigrants to earn their legal status....
---
Meanwhile, the State Department makes completely unfounded claims that Mexico does NOT welcome undocumented people into its own country. I'm sure that Mexico would not violate the Vienna whatevers and restrict entry into Mexico. I'm sure of it. Here are the lies that our fascist government is
spreading
:
---
The Government of Mexico requires that all U.S. citizens present proof of citizenship and photo identification for entry into Mexico. U.S. citizenship documents such as a certified copy (not a simple photocopy) of a U.S. birth certificate, a Naturalization Certificate, a Consular Report of Birth Abroad, or a Certificate of Citizenship are acceptable. However, the U.S. Embassy recommends traveling with a valid U.S. passport to avoid delays or misunderstandings. U.S. citizens have encountered difficulty in boarding flights in Mexico without a passport. U.S. citizens boarding flights to Mexico should be prepared to present one of these documents as proof of U.S. citizenship, along with photo identification. Driver's permits, voter registration cards, affidavits and similar documents are not sufficient to prove citizenship for readmission into the United States.

U.S. citizens do not require a visa or a tourist card for tourist stays of 72 hours or less within "the border zone," defined as an area between 20 to 30 kilometers of the border with the U.S., depending on the location. U.S. citizens traveling as tourists beyond the border zone or entering Mexico by air must pay a fee to obtain a tourist card, also known as an FM-T, available from Mexican consulates, Mexican border crossing points, Mexican tourism offices, airports within the border zone and most airlines serving Mexico. The fee for the tourist card is generally included in the price of a plane ticket for travelers arriving by air.

Tourists wishing to travel beyond the border zone with their car must obtain a temporary import permit or risk having their car confiscated by Mexican customs officials. To acquire a permit, one must submit evidence of citizenship, title for the car, a car registration certificate, a driver's license, and a processing fee to either a Banjercito branch located at a Mexican Customs office at the port of entry, or at one of the Mexican Consulates located in Austin, Chicago, Dallas, Houston, Los Angeles, Sacramento, San Bernardino, or San Francisco. Mexican law also requires the posting of a bond at a Banjercito office to guarantee the departure of the car from Mexico within a time period determined at the time of the application. For this purpose, American Express, Visa or MasterCard credit card holders will be asked to provide credit card information; others will need to make a cash deposit of between $200 and $400, depending on the age of the car. In order to recover this bond or avoid credit card charges, travelers must go to any Mexican Customs office immediately prior to departing Mexico. Disregard any advice, official or unofficial, that vehicle permits can be obtained at checkpoints in the interior of Mexico. Avoid individuals outside vehicle permit offices offering to obtain the permits without waiting in line. If the proper permit cannot be obtained at the Banjercito branch at the port of entry, do not proceed to the interior where travelers may be incarcerated, fined and/or have their vehicle seized at immigration/customs checkpoints. For further information, contact Mexican Customs about appropriate vehicle permits.

Upon arrival in Mexico, business travelers must complete and submit a form (Form FM-N 30 days) authorizing the conduct of business, but not employment, for a 30-day period. Travelers entering Mexico for purposes other than tourism or business, or for stays of longer than 180 days require a visa and must carry a valid U.S. passport. U.S. citizens planning to work or live in Mexico should apply for the appropriate Mexican visa at the Mexican Embassy in Washington, DC or nearest Mexican consulate in the United States.

Mexican law requires that any child under the age of 18, of any nationality, traveling into or out of Mexico must carry notarized written permission from any parent not traveling with the child. There have been cases where children, even American children, not carrying this document have been denied entry into Mexico, or have not been allowed to board a plane in the U.S. bound for Mexico. This permission must include the name of the parent, the name of the child, the name of anyone traveling with the child, and the notarized signature(s) of the absent parent(s). The child must be carrying the original letter – not a faxed or scanned copy – as well as proof of the parent/child relationship (usually a birth certificate) – and an original custody decree, if applicable.

See our Foreign Entry Requirements brochure for more information on Name of Country and other countries. Visit the Embassy of Mexico web site at Internet site: http://portal.sre.gob.mx/usa/ or contact the Embassy of Mexico at 1911 Pennsylvania Avenue N.W., Washington, D.C. 20006, telephone (202) 736-1000, Internet site: http://portal.sre.gob.mx/usa/, or any Mexican consulate in the United States for the most current visa information.
---
(0) comments
(0) comments
Saturday, May 28, 2005
(0) comments
(0) comments
Friday, May 27, 2005
(0) comments
(0) comments
Thursday, May 26, 2005
(0) comments
(0) comments
(2) comments
(3) comments
(0) comments
(0) comments
(0) comments
(7) comments
Wednesday, May 25, 2005
(1) comments
(0) comments
(1) comments
Tuesday, May 24, 2005
(0) comments
(0) comments
(0) comments
Monday, May 23, 2005
(0) comments
Sunday, May 22, 2005
(6) comments
(0) comments
Friday, May 20, 2005
(2) comments
(2) comments
(0) comments