Archives
October 2003 November 2003 December 2003 January 2004 February 2004 March 2004 April 2004 May 2004 June 2004 July 2004 August 2004 September 2004 October 2004 November 2004 December 2004 January 2005 February 2005 March 2005 April 2005 May 2005 June 2005 July 2005 August 2005 September 2005 October 2005 November 2005 December 2005 January 2006 February 2006 March 2006 April 2006 May 2006 June 2006 July 2006 August 2006 September 2006 October 2006 November 2006 December 2006 January 2007 February 2007
---
Fund free mammograms at no cost to yourself by clicking on the link, then on the pink button.
---
---
Hall of Shame (NoteUnworthy Blog Posts)
Other Blogs (sorted regionally)
Ontario Emperor Selected del.icio.us Tags
;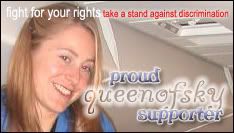 Who Links Here
Sunday, February 05, 2006
Survey of the Empire, 5 February 2006
A few items:
More on the Sheehan story:
---
Cindy Crawford (he meant Sheehan) is a "loony commie broad who shouldn't be allowed back in the country her son fought for," the angry caller shouted into my overloaded voice mail.

She's "nothing more than a hysterical, brainless woman," reader Michael Velikin wrote. The type who would be declared a witch or delirious in another era. Of course "now we know more about women's cycles and menopause, we're more sympathetic to their behavior."...

Sheehan is just angry at her dead son for being a grown-up who supported the war, Michael Modes said. Now she's just another celebrity intoxicated by her reflection in the TV mirror. He doubts that, if she could, Sheehan would trade her fame in to have her son back alive, Leonard Giaccone accused.

And several among the 200 or more e-mailers and callers commenting on Wednesday's column charged that Sheehan had no right to mourn her son so publicly since she was a "bad mother" whose ex-husband raised her son more than she did.

To Howard York of Sequim, being a non-custodial mom exposes Sheehan as "a fraud so far as the bleeding is concerned and (she) is using the loss only for political leverage."...

In the previous column, I had said that, while I had supported Sheehan's tenacious stand outside President Bush's Crawford ranch and her insistence on asking Bush for the "why" of the war, I thought she'd lost some of her credibility by lobbing the loaded word "terrorist" a week ago while visiting Venezuela.

The response was instant and overwhelming. And, in it, Seattle's deep cleavage was showing. The cleavage between those who "hate" Cindy Sheehan and those who "despise" George W. Bush, that is, because, the blowback was almost evenly divided.

Just as many readers -- maybe more -- shouted that Sheehan spoke for them so I'd better shut up about any criticism of her whatsoever. And then they held forth on what they think of Mr. Bush.

He's not only "the world's greatest terrorist," he's a "murderer, Hitler, Fascist, liar, dictator and a member of a crime family," several barrages began.

"Take off your U.S.-tinted glasses and look at the actions ordered by the ... administration. You would consider him a terrorist if he governed any other country," said Mike Meredith of Renton, who labeled himself a former Republican.

Ally Baker of Marysville was born into an Air Force family. Her dad served in WWII, Korea and Vietnam, and mom was in the armed forces for 15 years. "Cindy Sheehan speaks for me and I will NEVER shut up," she wrote. "George Bush is the biggest terrorist in the world as well as being a coke-snorting, drunken, murdering deserter."

Most readers in this "Mr. T" camp insisted that the definition of terrorist fits Bush like body armor. "How do you define the action of someone who drops bombs on urban areas knowing full well that innocent children, women and peaceful men will be killed ...?" asked Greg Logan and 60 or 70 others....

"If 13 people are killed in a village by a suicide bomber it is terrorism," Richard Lundquist said. "If the same 13 ... are killed by a predator plane what is it? Is terrorism defined by the type of weapon you can afford?"...

Only the few and the brave dared wave a flag of moderation amid the incoming.

"Is Bush a terrorist? No," Bob Libri said. "Is he a bad president? Yes."

"When arguments are based on emotions rather than reason, the debate is over and the name-calling usually begins," Bob Bouknight wrote. "And, before you know it, the L word (liberal) leads to the T word."

Sean Kenney of Auburn lamented that the political climate has caused people to speak in extremes with greater frequency than he can recall in his 33 years of life....
---
More on FIRE:
---
They've held blood drives, staged unity vigils, and offered scholarships to the children of the victims. Clearly, in the aftermath of the terrorist attacks of September 11, collegesóalong with the rest of the nationóhave shown an unparalleled generosity. They've also exhibited stunning intolerance....

Those actions came as no surprise to people who have decried similar incidents since the late 1980s. "Universities have thrown away free speech for the last 15 years, and now one stares into the abyss of what theyíve created," comments Alan C. Kors, a history professor at the University of Pennsylvania.

"We've been in this mad cycle where university administrators have felt obliged to selectively criticize or denounce the viewpoints of others," says Mr. Kors, who is president of the Foundation for Individual Rights in Education, a free-speech advocacy group. "It's not unreasonable now for students to turn to these authorities for the repression of views."...

Civil libertarians are watching those cases closely, worried that they might turn into witch hunts on a par with those of the McCarthy era. Says Professor Kors: "At moments of crisis, freedom is always in peril. If we worry about who is offended by lawful free speech, then weíre all going to be silent."
---


Links to this post: