Archives
October 2003 November 2003 December 2003 January 2004 February 2004 March 2004 April 2004 May 2004 June 2004 July 2004 August 2004 September 2004 October 2004 November 2004 December 2004 January 2005 February 2005 March 2005 April 2005 May 2005 June 2005 July 2005 August 2005 September 2005 October 2005 November 2005 December 2005 January 2006 February 2006 March 2006 April 2006 May 2006 June 2006 July 2006 August 2006 September 2006 October 2006 November 2006 December 2006 January 2007 February 2007
---
Fund free mammograms at no cost to yourself by clicking on the link, then on the pink button.
---
---
Hall of Shame (NoteUnworthy Blog Posts)
Other Blogs (sorted regionally)
Ontario Emperor Selected del.icio.us Tags
;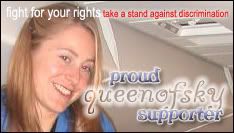 Who Links Here
Monday, February 20, 2006
Consider this - should the West ban an anti-American, anti-Semitic film?
I know I said that
Austria is not Denmark
. Turns out Germany is not Denmark either. (And I suspect that Denmark is not Denmark; don't they have laws against hate speech?)
Political Skittle
links
to
this
:
---
German political leaders and Jewish community representatives have demanded the boycott of a hit Turkish action movie that casts US soldiers in Iraq as villains.

Bavarian Premier Edmund Stoiber and the Central Council of Jews blasted "Valley of the Wolves -- Iraq" (Kurtlar Vadisi -- Irak) as anti-American and anti-Semitic and called on German cinemas to stop showing the picture.

"This irresponsible film does not encourage integration but sows hate and mistrust against the West," Stoiber told the Bild am Sonntag newspaper in a reference to the film's popularity among Germany's large Turkish immigrant community.

"I urge the cinema owners in Germany to pull this racist and anti-Western hate film immediately," he said, adding that "EU candidate Turkey should take a clear stand."...

[The film] is based on an actual event -- the arrest of 11 Turkish soldiers by a US military unit in northern Iraq in July 2003 on grounds of "suspicious activity." The men were held for two days, their heads bagged, before being released without explanation.

The incident dealt a severe and lasting blow to relations between Turkey and the United States, long-time NATO allies.

"The Turks want to see this film to a certain extent because it's a kind of repayment on the screen for the ignominy that all Muslims -- whether they are believers or not -- perceive in Iraq," said acclaimed Turkish-German writer Feridun Zaimoglu.

The film features a "Rambo"-like Turkish intelligence officer who exacts revenge for the episode, and depicts sadistic violence against innocent Iraqi civilians at the hands of the US troops.

The GIs are also seen running a trade in organs extracted from prisoners at Baghdad's notorious Abu Ghraib prison under the guidance of a Jewish US military doctor for rich buyers in New York, London and Tel Aviv.
---
Here's some more from the film's own
website
:
---
A record breaker on Turkish TV for three seasons and now a phenomenon, "Valley of the Wolves" is now preparing to shake the world with the movie…

The story begins with a true story: "The Hood Event"… On 2003, the 4th of July, allied American forces come to the unofficial, half-secret Turkish headquarters consisting of eleven people. The Turkish soldiers suppose that this an ordinary visit from their allies. But this time it is different. In the changing conjuncture, America wants to be the only power "calling the shots". To them, there is no place for Turks in the region any more…

That day, eleven soldiers are deported with hoods on their heads with no respect to their soldiership dignity and in front of the region's people…

It's all truth up to this point in the movie…

In the story based on facts, Suleyman Aslan is one of those eleven soldiers. As first lieutenant, Suleyman, can't reconcile being insulted and surrendering with his honor. Therefore, he commits suicide and leaves a letter behind.

The letter is addressed to Polat Alemdar… Polat Alemdar is a very specially trained Turkish intelligence agent. He has attended several missions in the country and abroad for a secret agency working for the state… Because of his last mission, he has no contact with the secret agency… Living by his missions, Polat Alemdar can't ignore the will of his friend who committed suicide for the sake of his duty.

He is in Northern Iraq with his men now. To die for, if needed…

They found a different situation than they expected in Northern Iraq. They were after the man who insulted the Turkish soldiers but they couldn't believe their eyes when they saw the situation there. The people of Iraq's values, personalities and history were completely being disregarded. The desired new order was forcing an unacceptable change on the people… The one who is responsible for these unendurable crimes against humanity is a special forces commander called Sam William Marshall and who was also responsible for the hood event.

In order to carry out his plan, Sam W. Marshall raids the Arabian wedding where everyone from the region comes together. He kills tens of people. All are civilians. Leila, the bride of the wedding, loses her future groom in the killings. Apart from the people who were murdered there, also a lot of people are declared terrorists and arrested.

Destiny shall intersect the paths of Polat and Leyla later for the sake of the objective that both had ventured to die for…

Sam William Marshall is now being chased by all of his sins, Polat and Leyla…

You will not forget the movie "Valley of the Wolves – Iraq" adorned with incredible action scenes and heartbreaking stories of humanity…
---
And there were...horror...
Americans
involved:
---
Billy Zane and Gary Busey have been denigrated by the American press for acting the "anti-American" Turkish film, Kurtlar Vadisi-Iraq (Valley of the Wolves: Iraq), based on a popular television series.

Two guests on Wednesday criticized the roles of Zane and Busey, during the program hosted by Joe Scarborough on MSNBC television.

Writer Grady Hendrix, contrary to Scarborough and Catholic Union Chief Bill Donahue, said during the program that not upholding the right of freedom of expression would be an anti-American attitude.
---
And someone pointed out that a U.S. show put Turks
in a bad light
:
---
The television drama series, "24" that was watched with great interest in America and was criticized for depicting Turks as "terrorist," has been compared to a Turkish film inspired by a famous television series in Turkey, Kurtlar Vadisi-Iraq (Valley of the Wolves: Iraq)....
---
But one writer hopes that Busey will
never work in Hollywood again
:
---
Last month we took singer Harry Belafonte to task for publicly praising the Venezuelan tyrant Hugo Chavez, and opined that he had joined a long list of celebrity sycophants to despotism.

Several actors and technicians in the American movie industry have now joined him in toadying to a foreign outrage -- to wit, the Turkish film "Kurtlar vadisi -- Irak" ("Valley of the Wolves -- Iraq"), which opened Feb. 3 in that country and since then in more than a dozen European ones, including Denmark. A U.S. release is yet to come.

In this movie, Gary Busey, an American actor with a crashingly mediocre credit list, plays an Jewish American doctor....

The distinction is significant because of what the film depicts him doing -- harvesting the organs of wounded Iraqis at the Abu Ghraib prison in order to send them to Israel for resale to rich people in New York, London and Tel Aviv....

In its original form in medieval Europe, [there] was a rumor that Jews captured and killed Christian children, whose blood they mixed into the unleavened bread they made for Passover. Many Jews perished in pogroms throughout the Middle Ages when the blood libel was used to explain a child's death....

This is no isolated recurrence of the blood libel in the Muslim world, where newspapers frequently run cartoons depicting Israelis drinking the blood of Palestinians. The thing even surfaced in the U.S. in the spring of 2002, when posters showing food cans labeled "canned Palestinian children meat, slaughtered according to Jewish rites under American license" appeared at San Francisco State University.

And now we have an American actor carrying forward this loathsome lie in a foreign film. It is beyond despicable.

Nor is Busey ("Lethal Weapon") the only Hollywood figure participating in this horrid production. Billy Zane ("Titanic") plays a murderous American special operations soldier, and Spencer Garrett and Tico Ortiz also appear.

All deserve special mention at the 78th Annual Academy Awards ceremony March 5:

"The envelope please -- for people who will never work in this town again."
---
Too bad KFI won't let Bill Handel

joke

about this movie.



Links to this post: