Archives
October 2003 November 2003 December 2003 January 2004 February 2004 March 2004 April 2004 May 2004 June 2004 July 2004 August 2004 September 2004 October 2004 November 2004 December 2004 January 2005 February 2005 March 2005 April 2005 May 2005 June 2005 July 2005 August 2005 September 2005 October 2005 November 2005 December 2005 January 2006 February 2006 March 2006 April 2006 May 2006 June 2006 July 2006 August 2006 September 2006 October 2006 November 2006 December 2006 January 2007 February 2007
---
Fund free mammograms at no cost to yourself by clicking on the link, then on the pink button.
---
---
Hall of Shame (NoteUnworthy Blog Posts)
Other Blogs (sorted regionally)
Ontario Emperor Selected del.icio.us Tags
;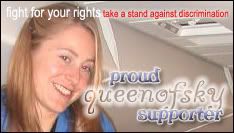 Who Links Here
Monday, February 20, 2006
Excerpts from an article written in the last millennium on television and the Olympics
Prices have probably changed, but the
issue
hasn't:
---
America contributes much more money than any other country to support the Olympics. In 1996, the Summer games in Atlanta were priced at $456 million, a figure that did not include the cost of the production itself, which has been estimated at another $150 million. All of the Western European nations combined paid $250 million in fees for the same games....

Simultaneously, the International Olympics Committee (IOC) has become increasingly dependent on income derived from American television. Even the scheduling of the games has been changed, in part, to accommodate the U.S. media. In 1994, the IOC adopted a two-year staggered schedule; the Winter Olympics in Lillehammer were followed by the 1996 Summer games in Atlanta. This eased the strain on corporations who were beginning to find the price of quality Olympic advertising prohibitive. At hundreds of thousands of dollars for a thirty-second spot, or hundreds of millions for a sponsorship package, neither the Committee nor the networks could afford to lose these clients. Spacing the Summer and Winter Olympics two years apart thus allowed sponsors to spread out their costs and also to invest in more high-profile packages. The revised schedule also granted the IOC more time to effectively allocate the revenue....

[T]he Squaw Valley games in 1960 cost CBS only $50,000 in rights fees. Twenty years later, NBC bid an astonishing $87 million for the 1980 summer games in Moscow. This price was almost four times the fee for the previous summer rights. Unfortunately for NBC, the U.S. boycott of the games destroyed hopes of a windfall and sabotaged the scheduled 150 hours of planned coverage. Still, rights fees have continued to climb. The Summer broadcast rights almost tripled from 1980 to 1984 ($87 million to $225 million) and both Winter and Summer rights have gone for $300 million or more since 1988.
---
Unfortunately, when you pay those rights, you want to show the best stuff in prime time. Which can mean
tape delay
:
---
Two young men were in a Subway sandwich shop late Saturday afternoon excitedly discussing Shani Davis' victory in the 1,000-meter speedskating competition.
"That's really cool," one man said, while asking his companion if he was going to view the race during NBC's prime-time tape replay.

"I don't think so," came the reply. "I'll watch the highlights on a sportscast."

He added he didn't like spending a lot of time watching a sports event when he already knew the results.

Such comments provide a major reason why NBC's prime-time Winter Olympics is having problems consistently beating entertainment programs on rival networks in audience ratings....

As Dick Ebersol, NBC Universal Sports chairman has noted, the network is striving to serve three constituencies - viewers, affiliates and sponsors.

And not necessarily in that order.

Ebersol has claimed surveys show that most Olympics fans want key competition broadcast in prime time for convenience reasons.

With advertisers and affiliates demanding such prime-time coverage, delays are an unshakable part of NBC's ritual.

Are Ebersol's surveys accurate?

As the age of instant information and increasing competition becomes more prevalent, viewers seem to have less tolerance with the delay policy.

Blocking our eyes and ears to results can be a pain. And finding out results early seems to diminish fan interest, particularly because NBC is up against popular prime-time programming.

The result: Prime-time viewership is down about 30 percent compared with 2002....

While prime-time ratings are below expectations, audience figures for live competition on MSNBC, CNBC and USA have boosted audience figures by 40 percent above normal daytime programming....

Still, prime time remains the battleground for viewership and advertising dollars.
---


Links to this post: