Archives
October 2003 November 2003 December 2003 January 2004 February 2004 March 2004 April 2004 May 2004 June 2004 July 2004 August 2004 September 2004 October 2004 November 2004 December 2004 January 2005 February 2005 March 2005 April 2005 May 2005 June 2005 July 2005 August 2005 September 2005 October 2005 November 2005 December 2005 January 2006 February 2006 March 2006 April 2006 May 2006 June 2006 July 2006 August 2006 September 2006 October 2006 November 2006 December 2006 January 2007 February 2007
---
Fund free mammograms at no cost to yourself by clicking on the link, then on the pink button.
---
---
Hall of Shame (NoteUnworthy Blog Posts)
Other Blogs (sorted regionally)
Ontario Emperor Selected del.icio.us Tags
;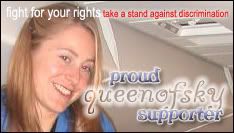 Who Links Here
Monday, February 20, 2006
How the Great Firewall of China Can Spring a Leak
Guide to Midwestern Culture
links
to this Washington Post
story
:
---
The top editors of the China Youth Daily were meeting in a conference room last August when their cell phones started buzzing quietly with text messages. One after another, they discreetly read the notes. Then they traded nervous glances.

Colleagues were informing them that a senior editor in the room, Li Datong, had done something astonishing. Just before the meeting, Li had posted a blistering letter on the newspaper's computer system attacking the Communist Party's propaganda czars and a plan by the editor in chief to dock reporters' pay if their stories upset party officials.

No one told the editor in chief. For 90 minutes, he ran the meeting, oblivious to the political storm that was brewing. Then Li announced what he had done....

The government's Internet censors scrambled, ordering one Web site after another to delete the letter. But two days later, in an embarrassing retreat, the party bowed to public outrage and scrapped the editor in chief's plan to muzzle his reporters.

The episode illustrated the profound impact of the Internet on political discourse in China, and the challenge that the Web poses to the Communist Party's ability to control news and shape public opinion, key elements to its hold on power. The incident also set the stage for last month's decision to suspend publication of Freezing Point, the pioneering weekly supplement that Li edited for the state-run China Youth Daily....

The party said last week that Freezing Point would resume publishing, but Li and a colleague were fired, making them the latest in a series of editors at state publications to lose their jobs.
---
The Post then talks about the two Lis:
---
One was the maverick editor Li Datong, 52, a tall man with a scholarly air who had spent his entire career at the China Youth Daily and helped turn the official organ of the Communist Youth League into one of the country's best papers. After the 1989 pro-democracy demonstrations in Tiananmen Square, he nearly lost his job for leading journalists in a petition drive seeking freedom of the press.

The other was the new editor in chief, Li Erliang, 50, short in stature and slick in manner, a favorite of the propaganda authorities who made his reputation running the party's official mouthpiece in Tibet. He was an outsider at the Daily, a product of the party apparatus who was sent in to get the paper's feisty staff under control.

One night soon after his arrival in December 2004, the new editor stopped the presses and tore out Li Datong's Freezing Point section because it contained an article criticizing the Chinese education system. The next morning, the chief editor went to Li Datong's office to explain, but Li was furious and refused to talk to him. He just kept writing, banging on his keyboard and ignoring his new boss, colleagues recalled.

Relations between the two men only got worse. The party's propaganda department had targeted Freezing Point in its media crackdown because it often published investigative reports that embarrassed officials, as well as essays on history, society and current events that challenged the party line....

Then, in August, Li Erliang proposed a point system for awarding bonuses to the paper's staff members. Reporters would receive 100 points if their articles were praised by provincial officials, 120 if praised by the propaganda department and 300 if praised by a member of the Politburo. Points would be deducted if officials criticized articles. Just one report that upset a party leader could mean loss of a month's salary....

Li [Datong] holed up in his apartment, and two days later, emerged with a 13,000-word letter that denounced the point system, saying it would "enslave and emasculate" the paper, cause circulation to plummet and put the Daily out of business....

Li saved his harshest words for his new boss. But he crafted his letter carefully, citing the support of generations of party leaders for the paper's journalism and even quoting Karl Marx to make the case that editors should put readers first.

He showed the letter to a few colleagues and to the reporters on his staff. Then, on Aug. 15, at 10:09 a.m., he posted it on the newsroom's computer system. "I hoped it would have an impact," he said. "I never expected what happened next."...

Pu Zhiqiang, a lawyer and advocate of journalists' rights, said he received a copy at 10:20 a.m., 11 minutes after Li posted the original. He forwarded it to 300 people by e-mail and sent it to others using Microsoft's MSN Messenger program. Then he began posting it on some of the bulletin board sites that have proliferated in China.

At 11:36 a.m., Pu put the memo on a popular forum called Yannan. Then he noticed that someone had posted a copy on another part of the site....

At 12:17 p.m., it appeared on an overseas news site run by the banned Falun Gong spiritual movement, and minutes later on others managed by exiled dissidents. These sites are blocked in China, but many people access them using software that slips past the government's firewall.

By 1:30 p.m., a prominent blogger, Li Xinde, had downloaded the memo. He said he sent it using China's top instant messaging service, QQ, to more than 20 chat groups, each with 30 to 40 members. By 2 p.m., the memo had been posted on popular university Web sites.

The document was spreading so fast that many people received multiple copies. A writer in Anhui province said that when he went online to check his e-mail at 2:30 p.m., four friends immediately offered to send him the memo on MSN Messenger. But two copies were already in his inbox, including one that had been sent to 1,000 people....

Even as Li's memo began disappearing from some Web sites, it went up on others the authorities had not contacted. Shortly before 10 p.m., it was posted on the popular Tianya forum. At 11 p.m., it became a featured item on Bokee, China's top blog and portal site.

[I]n January, propaganda officials finally shut down the section. Before doing so, they called executives from all the major Web sites to a special meeting and warned them not to allow any discussion of the action.

The news spread quickly anyway.
---
And here's the
latest
:
---
The China Youth Daily's outspoken Bingdian Weekly supplement will resume publication on March 1, five weeks after it was closed down by the Communist Party's Propaganda Department, but editor Li Datong and deputy editor Lu Yuegang have been purged.

The four-page supplement, whose title means Freezing Point, was closed down on January 24 after it published an article by Guangdong professor Yuan Weishi criticising the mainstream interpretation of historical events such as the 1900 Boxer Rebellion. The article irritated a group of historians, who complained to senior officials....

In addition to removing Bingdian Weekly editor Li and his deputy Lu, a renowned investigative journalist on the mainland, the newspaper party committee also ordered the daily, the China Youth League's mouthpiece, to publish a feature-length report in its March 1 edition attacking Professor Yuan's article.

"The China Youth Daily party committee announced that myself and Lu would be transferred to a news research institute," Li said from his office yesterday....

As well as the sackings, China Youth Daily chief editor Li Erliang was urged to make an "in-depth self-criticism" to the newspaper party committee, and the newspaper editorial committee was told to make an "in-depth self-criticism" to the China Youth League party committee....

China Youth Daily deputy editor Chen Xiaochuan will succeed Li. A senior reporter at the China Youth Daily said Mr Chen was "a veteran editor with good journalistic experience and a prudent manager and it's hard to predict how he could take over the hot potato".

He said the reopening of Bingdian could be regarded as "a partial victory" for supporters of media reform. But the purge of the two editors and the order to criticise Professor Yuan were a "typical measure to save the authorities' already damaged reputation".

A media analyst said it was a "a typical prosecution measure, to remove the original founder of Bingdian and the man who established its reputation over the past 10 years, and it's hard to predict what it will be like afterwards"....
---
Perhaps it will print the Danish cartoons.



Links to this post: