Archives
October 2003 November 2003 December 2003 January 2004 February 2004 March 2004 April 2004 May 2004 June 2004 July 2004 August 2004 September 2004 October 2004 November 2004 December 2004 January 2005 February 2005 March 2005 April 2005 May 2005 June 2005 July 2005 August 2005 September 2005 October 2005 November 2005 December 2005 January 2006 February 2006 March 2006 April 2006 May 2006 June 2006 July 2006 August 2006 September 2006 October 2006 November 2006 December 2006 January 2007 February 2007
---
Fund free mammograms at no cost to yourself by clicking on the link, then on the pink button.
---
---
Hall of Shame (NoteUnworthy Blog Posts)
Other Blogs (sorted regionally)
Ontario Emperor Selected del.icio.us Tags
;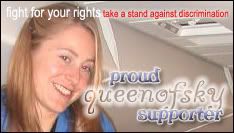 Who Links Here
Wednesday, February 01, 2006
Cindy Sheehan is not a secularist
While it appears to some that Cindy Sheehan is motivated by the limelight, others believe she is motivated by something else.
From
Surfing for Souls
:
---
Our Blessed Mother appears to little children, the innocent and the poor with her message of peace. Her words are always the same: Pray for peace. For decades She has been begging us to create peace on earth, and now we have the great opportunity to help Our Lady. We can support the peace movement.

Cindy Sheehan, a mother who lost her precious son in the war in Iraq, is in Crawford, Texas waiting to talk to George Bush, to ask him one question: What is the noble cause my son Casey died for?

Cindy Sheehan is a Catholic who is doing something for the Blessed Mother. She is allowing Our Lady to work through her, and we can do the same. We can be the voice, the hands and the feet for our Beloved Mother.

Why doesn't Mary go directly to the leaders of our world? President Bush won't talk to a poor grieving mother who is within two miles of his ranch. In fact, he drove right by her without stopping. Would he stop to listen to Our Lady?
---
Actually, Bush is Methodist. But
the Methodist hierarchy doesn't like the war either
.
Sheehan said more in an
interview
with Ronan Sheehan (no relation):
---
Casey was 24 years old when he was killed in Iraq on April 4, 2004. He was . . . the Sheehans' can be very proud of Casey. He was an altar boy for 10 years; he was an Eagle Scout; he wanted to be a Deacon in the Catholic Church--we all thought he would be a priest, but he wanted to get married and have children. He was a virgin when he died; he wanted to save that for his wife on their wedding night as a wedding present; he often told me that, and I though that was a real amazing thing. You know in the United States, that's not usual, even if boys stay virgins, they don't usually talk about it. I know a lot of kids in the U.S. lie about their sexual conquests just to say that they've had them. But Casey was very adamant. He said it was against his moral beliefs to have pre-marital sex.

He was a big brother to Andy, Carly, and Jane; he wanted to be a Chaplain's Assistant in the military, but when he got to bootcamp, they said that specialty was filled, so he would have to be a humvee mechanic or a cook, and he chose to be a humvee mechanic--and that's what his specialty was the day he was killed in Iraq....

I'm very disappointed in the Catholic Church, too, that they haven't been outspoken against--in America, I don't know about in Europe, but our American bishops, our American cardinals, have not come out strongly against the war; they talk about social issues and abortion, and gay marriage, and thinks like that which are important, but to me the most important thing as people of faith and people who are followers of Jesus Christ is peace. And what we're allowing to happen in Iraq, what's happening in the Sudan....

You know, to me, these people--they're "pro-birth", but they're not "pro-life". My country executes people--we just executed one in California today, and my understanding of the Catholic Church was that we honored life from womb to tomb, not just from womb to "out"....

I have always been against killing, but I was of the view that maybe some wars were justified, and I am now "no war"--that killing to solve problems is not justifiable, it's not the way to solve problems, it's not the solutions. To me, that my views are extremist in my country is very ironic. I would think everybody would be on board for not killing. But our government also exploits our fears; they try to demonize people and marginalize people, so many people in my country don't believe that when we kill an Iraqi baby that that's an innocent human being. It's like back in the Indian Wars when Sherman said, "The only good Indian is a dead Indian." So I just can't believe that my views are extreme because we are supposed to be a civilized society.
---
Now this raises a question - if Sheehan challenges Feinstein, will she also challenge Feinstein's abortion views?
Perhaps not
:
---
Gold star mother Cindy Sheehan has decided to run against California Senator Dian[n]e Feinstein if Feinstein does not filibuster the Supreme Court nomination of Judge Samuel Alito...."I'm appalled that Diane Feinstein wouldn't recognize how dangerous Alito's nomination is to upholding the values of our constitution and restricting the usurpation of presidential powers, for which I've already paid the ultimate price," Sheehan said....

He has supported efforts to curtail privacy rights, including not only privacy from government surveillance and arbitrary arrest, but also other constitutional rights based on privacy, such as reproductive liberty for women.
---


Links to this post: