Archives
October 2003 November 2003 December 2003 January 2004 February 2004 March 2004 April 2004 May 2004 June 2004 July 2004 August 2004 September 2004 October 2004 November 2004 December 2004 January 2005 February 2005 March 2005 April 2005 May 2005 June 2005 July 2005 August 2005 September 2005 October 2005 November 2005 December 2005 January 2006 February 2006 March 2006 April 2006 May 2006 June 2006 July 2006 August 2006 September 2006 October 2006 November 2006 December 2006 January 2007 February 2007
---
Fund free mammograms at no cost to yourself by clicking on the link, then on the pink button.
---
---
Hall of Shame (NoteUnworthy Blog Posts)
Other Blogs (sorted regionally)
Ontario Emperor Selected del.icio.us Tags
;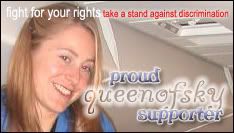 Who Links Here
Wednesday, September 13, 2006
Watch Nancy Grace, See Who Will Die
I go to an annual conference in Costa Mesa every year, and last year I was in a McDonald's with the TV on, watching one Nancy Grace. Basically, she made Dr. Phil look like a shy introvert.
Well, due to a set of unfortunate circumstances, Nancy Grace's name has
hit the headlines
:
---
Two weeks after telling police that her son had been snatched from his crib, Melinda Duckett found herself reeling in an interview with TV's famously prosecutorial Nancy Grace. Before it was over, Grace was pounding her desk and loudly demanding to know: "Where were you? Why aren't you telling us where you were that day?"

A day after the taping, Duckett, 21, shot herself to death....

Duckett's family members disputed any suggestion that she hurt her son. They said that the strain of her son's disappearance pushed her to the brink, and the media sent her over the edge.

"Nancy Grace and the others, they just bashed her to the end," Duckett's grandfather Bill Eubank said Tuesday. "She wasn't one anyone ever would have thought of to do something like this. She and that baby just loved each other, couldn't get away from each other. She wouldn't hurt a bug."

Janine Iamunno, a spokeswoman for Grace, said in an e-mail that Duckett's death was "an extremely sad development," but that the program would continue covering the case.

"We feel a responsibility to bring attention to this case in the hopes of helping find Trenton Duckett, who remains missing," Iamunno said....

On Sept. 7, Melinda Duckett gave a telephone interview to CNN Headline News' Grace, a former prosecutor known for practically cross-examining her guests. Duckett stumbled over such questions as whether she had taken a polygraph — she said she refused on the advice of her divorce lawyer — and where, exactly, she was shopping with the boy before his disappearance.
---
Robert Rector is
not pleased
.
---
It seemed clear from the outset this guy's so-called confession was some sort of sick gesture. That didn't stop the media, especially the cable TV jackals, from force feeding it to us 24/7.

And they're apparently not done yet. Nancy Grace, CNN's so-called legal expert who presides over the underbelly of America with the personality of a bouncer at a biker bar, now promises to 'investigate the next step in the decade-old investigation, and what happens to Karr, who faces child porn charges in California.' And if that isn't enough, Nancy 'investigates the past decade in the JonBenet Ramsey murder case, from her death to a former suspect's alleged confession.'
---
And Rector didn't even talk about the Duckett case. But
Caleb did
:
---
Grace reportedly pounded her fist on the table and demanded to know where Duckett was before the kidnapping and why Duckett was stumbling over the answers to Grace's questions.

I can answer both, Ms. Grace.

Her son is missing. People usually get distraught when people close to them (i.e., children) go missing. Surpirsing, I know.

Who knows why Ms. Grace felt the need to pound her fist and yell at a woman whose son just went missing. Now Melinda Duckett is dead.

Coincidence? I think not.
---
Joemama smells
murder
:
---
So basically you could say that Nancy Grace's grilling pushed her to the breaking point and she offed herself. This woman's blood is on Grace's hands. If Duckett did kill her kid then we will never know since she has taken that knowledge to the grave. If she was innocent then the so called "scream-media" that goes after any suspect without sufficient proof or evidence and convicts them on national television has just claimed their first victim. In any case we will probably never learn the fate of Trenton Duckett. The kid will just be milk carton fodder while Grace and her other "scream-media" cohorts move on to their next victim.
---
Allan Bordius
:
---
I really don't care what anybody says but Nancy Grace is beyond a vulture - this time, there's blood on her hands.
---
So, who are Nancy's
future guests
? Note that Wednesday's show is airing as I type this, so I don't know if Nancy is yelling at Anna Nicole yet.
---
Wednesday's show

The death of Anna Nicole's son is being called suspicious. Nancy investigates the bizarre details in the case. Tune in Wednesday at 8 p.m. ET.

Thursday's show

Exclusive: Nancy speaks with Owen Lafave, the ex-husband of the former middle school teacher convicted for having sex with a 14-year old student. Tune in Thursday at 8 p.m. ET.
---
But I betcha she has huge ratings right now, for the same reason that I am attracted to the car chases that are televised in Southern California every once in a while. Even before the suicide,
Grace had good ratings
:
---
The Nancy Grace Show has increased CNN Headline News 8pm hour ratings by 56% in her first month.

Posted by: Dianne Coutcher at April 27, 2005 07:08 PM
---
Here are some comments from other fans:
---
NANCY GRACE IS THE MOST OUTSPOKEN, HONEST TV CELEBRITY I HAVE SEEN SO FAR. I AM 73Y.O. & THE LEADER OF A WOMENS SUPPORT GROUP HERE IN ST. PETE, FL FOR THE PAST 15YRS. (VOLUNTEER) SHE IS A VERY KNOWLEDGEABLE,PASSIONATE & CARING TV NEWS REPORTER (EX PROSECUTOR) & I ADMIRE HER COURAGE & HONESTY. ONLY A PEDOPHILE OR CHILD MOLESTER WOULD FIND HER OFFENSIVE! IF YOU HAVE A PROBLEM WITH HER OUTSPOKENESS; PERHAPS YOU ARE THE ONE WITH THE PROBLEM!

Posted by: Lillian Latoza at April 15, 2005 12:27 PM
---
I think that Nancy Grace is one of the best talk show hosts and legal minds of the 21st century. She tells it like it is, and in my opinion she has more guts than any attorney ever thought of having. Her up-front opinions make her show interesting, and if you can't handle it, you shouldn't watch it. Don't set out to attack her, shut your TV. and mouth instead!
-Bryce Bewley (Nancy Grace FAN!)

Posted by: Bryce Bewley at April 15, 2005 02:19 PM
---
Nancy Grace is great! Thanks to her we are able to see the real world out there!! I'm sick of the apathetic individuals we are forced to watch on television, including Larry King! We live in a violent world today....there's more going on than just a war! Nancy Grace is a vehicle which allows us the opportunity to look closely at the tremendous obstacles facing us in our own culture(s), and country. My advice: if you don't like her then watch Paula or one of the other anchors.

Posted by: Carol McKinney at April 23, 2005 04:01 PM
---
Hey I'm 16 years old and I think Nancy is GREAT! Her show is awesome and if you guys don't like it.... my advice is go back to FOX "unfair and unbalance". With her ratings for CNN I do not think Nancy is going anywhere anytime soon.

Posted by: JOE Kim at April 24, 2005 12:57 PM
---
I find Nancy Grace to be honest, caring and truthful.
Remember the truth first pisses you off before it sets you free!
WE LOVE YOU NANCY
BECKY, MINDI AND MIRANDA
FRANKFORT INDIANA

Posted by: Becky at May 9, 2005 08:26 PM
---
NANCY GRACE IS THE BEST OUT THERE!!!
WHAT PEOPLE ARE NOT USED TO IN THIS COUNTRY, ARE PEOPLE THAT ARE REAL AND SPEAK THEIR MIND. EVERYONE HAS TO BE "POLITICALLY CORRECT" AND POLITE, TO HELL WITH THAT.
IT'S BY TIME SOMEONE TOOK A STAND, NANCY TELLS IT AS IT IS, WHETHER YOU LIKE IT OR NOT, SHE IS ABSOLUTELY BRILLIANT, WHATEVER SHE PREDICTS OR SAYS WILL HAPPEN IN A TRIAL DOES HAPPEN, SHE'S INCREDIBLY COMPASSIONATE, WHOEVER SAYS SHE ISN'T, OBVIOUSLY DOESN'T KNOW WHAT COMPASSION IS, MY GOD, PEOPLE GET REAL.
SHE IS THE BEST THING THAT HAPPENED IN A LONG TIME, AND, IT'S BY TIME THIS COUNTRY FACES REALITY.

Posted by: nicole at May 12, 2005 08:12 AM
---


Links to this post: