Archives
October 2003 November 2003 December 2003 January 2004 February 2004 March 2004 April 2004 May 2004 June 2004 July 2004 August 2004 September 2004 October 2004 November 2004 December 2004 January 2005 February 2005 March 2005 April 2005 May 2005 June 2005 July 2005 August 2005 September 2005 October 2005 November 2005 December 2005 January 2006 February 2006 March 2006 April 2006 May 2006 June 2006 July 2006 August 2006 September 2006 October 2006 November 2006 December 2006 January 2007 February 2007
---
Fund free mammograms at no cost to yourself by clicking on the link, then on the pink button.
---
---
Hall of Shame (NoteUnworthy Blog Posts)
Other Blogs (sorted regionally)
Ontario Emperor Selected del.icio.us Tags
;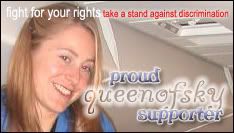 Who Links Here
Saturday, September 30, 2006
Or maybe people are just tired of the overall concept
In an article announcing that Survivor's segregated tribes had desegregated by the third episode, E Online
cited
the following:
---
Before the new season aired, major advertisers, including General Motors, Proctor & Gamble, Coca-Cola, Johnson & Johnson and Home Depot, pulled their sponsorship, taking nearly $26 million in ad revenue with them, though the advertisers and CBS claimed the mass exodus had nothing to do with the show's controversy.

Viewers, too, have jumped ship. About 17.7 million tuned in for the season premiere--the smallest audience for a Survivor premiere since its inaugural season--and 17.4 million stuck around for week two. This week's episode drew 16.6 million, according to preliminary figures from Nielsen Media Research.
---
But I half wonder if the whole Survivor concept has run out of steam. Choose an area in the tropics, put a bunch of people there, etc., etc.
But it's not the only reality show that may have lost steam. I regularly watched the first four seasons of Big Brother, but I think I only tuned in to this summer's Celebrity Big Brother once. I can understand having Dr. Will come back, but Mike Boogie?
Whoa...turns out
Boogie won the thing
:
---
STUDIO CITY, CALIF., Sept. 13 -- Mike "Boogie" Malin emerged triumphant last night as BIG BROTHER: ALL-STARS' grand prize winner of $500,000 based on the votes of his former housemates on the jury. Erika Landin will receive $50,000 as the second place winner. Another prize of $25,000 went to Janelle Pierzina for being voted America's favorite juror.

After living in the BIG BROTHER: ALL-STARS house for 71 days and 1,704 hours, Mike "Boogie" Malin, the 35-year-old restaurateur originally from Concord, N.H. and currently living in West Hollywood, Calif. and Erika Landin, the 36-year-old Pilates instructor originally from Chicago and currently living in Los Angeles, faced a jury consisting of the last seven evicted houseguests (listed alphabetically): "Chicken" George Boswell, Howie Gordon, Will Kirby, Janelle Pierzina, Danielle Reyes, Marcellas Reynolds and James Rhine. Jennifer "Nakomis" Dedmon, Diane Henry, Alison Irwin, Kaysar Ridha and Jase Wirey were also present, but were not part of the jury.

After each of the jury members had the chance to ask the finalists questions, the seven members of the jury voted live for whom they wanted to win. By a vote of 6-1, Mike "Boogie" became the grand-prize winner of $500,000. Marcellas was the only juror who voted for Erika.
---


Links to this post: