Archives
October 2003 November 2003 December 2003 January 2004 February 2004 March 2004 April 2004 May 2004 June 2004 July 2004 August 2004 September 2004 October 2004 November 2004 December 2004 January 2005 February 2005 March 2005 April 2005 May 2005 June 2005 July 2005 August 2005 September 2005 October 2005 November 2005 December 2005 January 2006 February 2006 March 2006 April 2006 May 2006 June 2006 July 2006 August 2006 September 2006 October 2006 November 2006 December 2006 January 2007 February 2007
---
Fund free mammograms at no cost to yourself by clicking on the link, then on the pink button.
---
---
Hall of Shame (NoteUnworthy Blog Posts)
Other Blogs (sorted regionally)
Ontario Emperor Selected del.icio.us Tags
;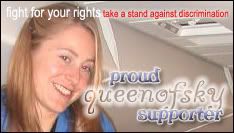 Who Links Here
Thursday, September 28, 2006
Muslim Nations Condemn al-Masri's Violent Remarks
Because Blogger is especially slow today, I went to MySpace to write my
comparison
of the
Pope's recent remarks
with
al-Masri's remarks
. If you're not familiar with the latter, here's part of the story:
---
In a new audio message Thursday, the leader of al-Qaida in Iraq called for explosives experts and nuclear scientists to join his group's holy war against the West. "We are in dire need of you," said the man, who identified himself as Abu Hamza al-Muhajir — also known as Abu Ayyub al-Masri — the leader of al-Qaida in Iraq.

"The field of jihad (holy war) can satisfy your scientific ambitions, and the large American bases (in Iraq) are good places to test your unconventional weapons, whether biological or dirty, as they call them."

He also said that more than 4,000 foreign militants have been killed in Iraq since the U.S.-led invasion in 2003 — the first apparent acknowledgment from the insurgents about their losses.

It was unclear why al-Masri would advertise the loss of the group's foreign fighters, but martyrdom is revered among Islamic fundamentalists, and could be used as a recruiting tool. The Arabic word he used, "muhajer," indicated he was speaking about foreigners who joined the insurgency in Iraq, not coalition troops.

"The blood has been spilled in Iraq of more than 4,000 foreigners who came to fight," al-Masri purportedly said on the 20-minute tape....

He urged insurgents to capture Westerners so they could be traded for the imprisoned Egyptian sheik Omar Abdel-Rahman, who was convicted in 1995 of conspiring to blow up New York landmarks.

"I appeal to every holy warrior in the land of Iraq to exert all efforts in this holy month so that God may enable us to capture some of the Western dogs to swap them with our sheik and get him out of his dark prison," the voice on the tape said.
---
In MySpace, I
wrote
about the
reaction
to al-Masri's remarks:
---
Muslim nations from all across the world voiced their immediate opposition to al-Masri's remarks.

In Washington, DC, Presidents Hamid Karzai of Afghanistan and Pervez Musharraf of Pakistan, who are in town for meetings with President George W. Bush, convened a joint press conference to condemn al-Masri. Grasping hands, the presidents declared their opposition to al-Masri's strategy. "He has a dark mentality that is against everything Islam stands for," declared Musharraf. "It is regrettable that such Hitlers arise in the birthplace of modern science and culture."

In Dhaka, Bangladesh, riot police fired rubber bullets and tear gas Thursday at demonstrators protesting al-Masri's remarks.

Hundreds of pilgrims in Mecca chanted loudly as security personnel hung al-Masri in effigy.

The response in Turkey, though more restrained, was no less passionate. "Abu Hamza al-Muhajir is a poor, forlorn, disgraced figure," declared Turkish Prime Minister Recep Tayyip Erdogan. "He is no Muslim, and shames the Muslim people when he declares himself to be a Muslim.

Islamic groups in the United States also protested the remarks. "No self-respecting Muslim scientist would stoop to such a violent act," declared Ibrahim Hooper of the Council on American-Islamic Relations (CAIR). "Al-Masri is a dog and not worthy of anyone's respect."
---
As you may have guessed, none of the above incidents occurred...



Links to this post: