Archives
October 2003 November 2003 December 2003 January 2004 February 2004 March 2004 April 2004 May 2004 June 2004 July 2004 August 2004 September 2004 October 2004 November 2004 December 2004 January 2005 February 2005 March 2005 April 2005 May 2005 June 2005 July 2005 August 2005 September 2005 October 2005 November 2005 December 2005 January 2006 February 2006 March 2006 April 2006 May 2006 June 2006 July 2006 August 2006 September 2006 October 2006 November 2006 December 2006 January 2007 February 2007
---
Fund free mammograms at no cost to yourself by clicking on the link, then on the pink button.
---
---
Hall of Shame (NoteUnworthy Blog Posts)
Other Blogs (sorted regionally)
Ontario Emperor Selected del.icio.us Tags
;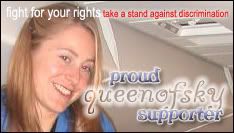 Who Links Here
Wednesday, September 13, 2006
I'm Not Your Baby Tonight
The
latest
:
---
Being Mrs. Bobby Brown no longer appeals to Whitney Houston.

The "So Emotional" singer has filed for divorce from her husband of 14 years, her rep, Nancy Seltzer, confirmed to E! News.

Houston filed the paperwork on Friday in Orange County, California, Seltzer told People magazine....

In between stints in jail for Brown and rehab for Houston, the couple's marriage endured a trial separation, rumors of infidelity, drug addiction, domestic abuse and various encounters with the law.

In December 2003, police were called to the couple's Georgia home after Brown allegedly struck Houston during a heated argument....

Then came the duo's bizarre TV turn on the Bravo reality series Being Bobby Brown, which provided viewers with far more than they needed to know about Brown and Houston's bathroom habits, but failed to demystify the inner workings of their marriage....

A few months later, Brown's sister made headlines when she told the National Enquirer that the marriage was suffering because Houston was addicted to crack and provided photos of what she said was her sister-in-law's bathroom, littered with drug residue and garbage.

However, Brown again defended his Grammy-winning wife, telling People he was "happily married."

"We are going to stand for each other for as long we live," he said. "I adore that woman. She helps me see God. I look in her eyes and I see God."
---


Links to this post: