Archives
October 2003 November 2003 December 2003 January 2004 February 2004 March 2004 April 2004 May 2004 June 2004 July 2004 August 2004 September 2004 October 2004 November 2004 December 2004 January 2005 February 2005 March 2005 April 2005 May 2005 June 2005 July 2005 August 2005 September 2005 October 2005 November 2005 December 2005 January 2006 February 2006 March 2006 April 2006 May 2006 June 2006 July 2006 August 2006 September 2006 October 2006 November 2006 December 2006 January 2007 February 2007
---
Fund free mammograms at no cost to yourself by clicking on the link, then on the pink button.
---
---
Hall of Shame (NoteUnworthy Blog Posts)
Other Blogs (sorted regionally)
Ontario Emperor Selected del.icio.us Tags
;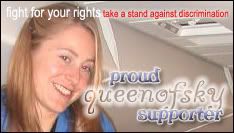 Who Links Here
Tuesday, July 04, 2006
Orson Welles, Phil Hendrie...and Gene Baxter?
From an
old L.A. Times article
at the Phil Hendrie website. I had forgotten about this little episode (no, not Orson's):
---
And how do the real talk radio hosts at KFI feel about being mocked? John Kobylt and Ken Chiampou, whose straightforward talk show precedes Hendrie, are thrilled.

"We hate talk radio," Kobylt says. "We say so on the air. But I used to just think that people who called talk radio were really stupid."

Chiampou injects: "Phil's proven it."

Concludes Kobylt: "We play off listeners sometimes. But he takes it to the extreme. We love what he's doing."

In radio lore, two cases of "pulling one over" on the public come quickly to mind: Orson Welles' historic 1939 "War of the Worlds," which had listeners really believing that Martians were landing, and, less noble, the 1990 stunt by KROQ-FM morning men Kevin Ryder and Gene (Bean) Baxter, in which accomplice deejay Doug Roberts pretended to be a caller confessing to having killed his girlfriend a few years before. The former allegedly led to some public panic, but the latter incident spurred a 10-month investigation by the Los Angeles Sheriff's Department into the supposed unsolved murder before it was found to be a hoax and the deejays were fined and ordered to perform community service.

Hendrie's show falls somewhere between the two. Importantly, it stops short--perhaps sometimes just short--of crossing the line set by the Federal Communications Commission regarding illegal broadcast hoaxes. The regulations were actually formalized in the wake of the Kevin & Bean incident, explains Chuck Kelley, chief of enforcement in the FCC mass media bureau, and are very clear.

The rules prohibit the broadcast of "false information concerning a crime or catastrophe" if the broadcaster knows it is false, if it is "foreseeable that broadcast of the information will cause substantial public harm"--the harm defined as damage to property or to the health and safety of the general public, or the "diversion of law enforcement" or other public officers from their duties--and if it does indeed cause substantial public harm. Any program accompanied by a disclaimer making it clear that it is fiction, the rule says, is not in violation.

The very number of calls Hendrie gets each night from listeners believing there is at least some truth to what they are hearing is evidence that it is not clear to everyone that he is creating fiction. But thus far, there has been no known violation of the hoax rules, Kelley says.
---
And there's this from a scholarly
document by Justin Levine
, which recounts a number of incidents involving the FCC:
---
The same month that FCC issued KSHE its fine for the nuclear attack hoax, a second incident involving station KROQ-FM in Los Angeles garnered widespread attention. The genesis of the KROQ hoax developed in June 1990 when hosts Kevin Ryder and Gene Baxter of the Kevin and Bean morning show hosted a program entitled Confess Your Crime. Baxter and Ryan [sic] asked callers to phone-in and confess any mild transgressions that they committed. In the midst of the show, an anonymous caller came on the air to reluctantly announce that he killed his girlfriend after finding her sleeping with another man. After the hosts suggested that they put him in touch with someone who could help, the caller hung up. Calls poured into the station inquiring if the call was a joke. Baxter and Ryder insisted that it was not a fabrication.

The show caught the attention of the L.A. County Sheriff's Department, which was looking to solve a number of unsolved murders with similar facts to the caller's confession. The station turned over a tape of the broadcast to help facilitate the Sheriff's Department with its investigations. Months worth of inquiries went by before the incident was exposed in April 1991 as indeed being a hoax. The caller was a fellow broadcaster Doug Roberts, a friend of Ryder and Baxter.

The public was outraged upon learning the truth. News stories profiled the furious parents of murdered daughters who were awaiting the then hopeful outcomes of their unsolved cases. The L.A. County Sheriff's Department billed the station for over twelve thousand dollars to cover the costs of their wasted murder investigations. The Infinity Broadcasting Corp.—license holder for KROQ—suspended Baxter, Ryder, and Roberts for five days without pay, directed each of them to perform 149 hours of community service, and forced them to pay the Sheriff's bill out of their pockets.
---
This is just one story in Levine's article, which also deals with recreations of War of the Worlds, fake weather reports, and all sorts of items. Recommended.
And this bit of
trivia
from Wikipedia is ironic, don't you think? (For those who don't know, before his radio/TV fame with Loveline, Adam Carolla portrayed the character "Mr. Birchum" on Kevin and Bean.)
---
Kevin and Bean were also broadcast in Fresno, California for several years, but that station began broadcasting the Adam Carolla Show when it started in January 2006.
---
It isn't that the Fresno crowd is into Carolla. They're just into Big Tad. (Jeff Foster, are you reading this blog?)
And let's throw
this
in:
---
An LA radio talk show host with a night call-in program finds his rating soar after a psychopathic killer becomes a regular caller in this low-budget thriller. Dee jay Karlin Pickett is known for being a wild and crazy guy. He is first seen working in Phoenix. He picks up a girl in a bar and shortly thereafter, she is killed. This is naturally upsetting to Pickett who then moves to LA to take a better job. Soon the antics of himself and his new side-kick Jon catch fire and they become one of the most popular shows around. Then the killer calls and announces that he has killed the woman he just slept with. No one but Detective Dimotto takes it very seriously; it is just good for ratings. When another woman dies, Dimotto moves in and solves the case, something perceptive viewers will have done long before the story's grand finale.
---
And
one more
:
---
Of course, I teared-up during "Everlong," and of course I ran into someone I knew here in my new hometown: former KROQ and JIMMY KIMMEL SHOW "intern," BIG TAD. How sweet that he told me if anyone is mean to my Baby Bird to call him and he'll beat them up (she's nearly 25 and has been married for 2 years).
---
And from
freefm
:
---
"Big" Tad Newcomb was born and raised in Orange County, where he continues to live with his mother despite the fact that he is a 30 year old man.

Tad's radio career began as an intern at KROQ-FM, where he caught the eye of sports guy and future late night talk show host Jimmy Kimmel. Jimmy was delighted by his cherubic intern and brought him to the attention of hosts Kevin and Bean. Kevin and Bean assigned Tad to do a series of ill-fated celebrity interviews.

Big Tad was a full time part of the Kevin and Bean show from 1995 until 2000, when he left (was fired) and went to work for Kimmel and Adam Carolla on Comedy Central's "The Man Show"

Tad served as production assistant for two seasons, then was promoted to music assistant for the final season of the show. After "The Man Show", Tad worked two seasons at Comedy Central's "Crank Yankers" before taking a job as a TV watcher at "Jimmy Kimmel Live".

Thanks to the merciful Adam Carolla, Big Tad is now back doing what he loves most – being stupid on the radio.
---
Know thy strengths.



Links to this post: