Archives
October 2003 November 2003 December 2003 January 2004 February 2004 March 2004 April 2004 May 2004 June 2004 July 2004 August 2004 September 2004 October 2004 November 2004 December 2004 January 2005 February 2005 March 2005 April 2005 May 2005 June 2005 July 2005 August 2005 September 2005 October 2005 November 2005 December 2005 January 2006 February 2006 March 2006 April 2006 May 2006 June 2006 July 2006 August 2006 September 2006 October 2006 November 2006 December 2006 January 2007 February 2007
---
Fund free mammograms at no cost to yourself by clicking on the link, then on the pink button.
---
---
Hall of Shame (NoteUnworthy Blog Posts)
Other Blogs (sorted regionally)
Ontario Emperor Selected del.icio.us Tags
;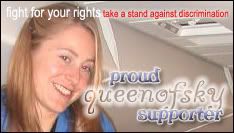 Who Links Here
Thursday, December 09, 2004
Why "Fan" is Short for "Fanatic"
Confession - I know next to nothing about Pantera, other than what's in
this
story:
---
COLUMBUS, Ohio - A gunman charged onstage at a nightclub and opened fire on the band and crowd, killing top heavy metal guitarist "Dimebag" Darrell Abbott and three other people before a police officer shot him to death....

Police identified the gunman as Nathan Gale, 25, of Marysville, 25 miles northwest of Columbus. Police said they had no information on a motive or any connection to Abbott or his band, the Texas-based group Damageplan.

Damageplan had just begun its first song at Alrosa Villa club Wednesday night when the gunman climbed onstage, started yelling and shot Abbott five or six times at point-blank range, witness Chris Couch said.

Mull said the gunman's exact statement was unclear because of the loud music. He said some witnesses reported hearing an accusation about Abbott breaking up his former band, thrash-rock pioneer Pantera, but police could not confirm whether the speaker was the gunman or a fan....

Besides Abbott and Gale, police identified the dead as Nathan Bray, 23; Erin Halk, 29, and Jeff Thompson, 40....

Couch said he believed the shooter had a plan. "It was definitely a grudge. It was against something," he said....

The tall, physically imposing Gale hung out at Bears Den Tattoo Studio, staring at people and trying to get them to talk about music and bands, manager Lucas Bender said.

"He's not wanted," Bender said. "The most pointless conversations."...

Damageplan's debut album, "New Found Power," which was released in February by Elektra, was produced by Abbott and his brother, drummer Vinnie Paul Abbott. Other band members are vocalist Patrick Lachman and bassist Bob Zilla.

Earlier, the brothers had been members of the Grammy-nominated Pantera, whose popularity soared in the early 1990s with a fast, aggressive sound.

"Damageplan carries on the tradition Pantera started, the ... hell-raising tradition we were all about," Vinnie Paul Abbott told The Dallas Morning News in October.

"It took awhile for some of the Pantera fans to accept it; we knew that was gonna be the case," he said. "Change is something that people have a hard time accepting. But me and Dime intended on doing this our whole lives."

The shootings came exactly 24 years after John Lennon was shot to death outside his New York apartment building by a deranged fan.
---
I tried to visit
http://www.panterachat.com/phpBB/
but got the following message:
---
The Server is getting hammered. Temporarily down.
Please get all your news from pantera.com
---
The last entries in the pantera.com news section were over a year old:
---
11/28/03 - PHILIP ANSELMO Slams DAMAGEPLAN: 'They're Not Doing Anything Different' Ex-PANTERA frontman Philip Anselmo has slammed his former bandmates for "not doing anything different" with their new band DAMAGEPLAN and has one again reiterated the fact that he has no desire of ever returning to his previous group. Speaking to AbsolutMetal about his current band SUPERJOINT RITUAL, Anselmo said, "I want SUPERJOINT RITUAL to be everyfuckin'thing that people maybe missed in PANTERA. Because I knew that, you know, PANTERA, not to talk about 'um, because I'm not going to, but if itdefinitely a genre of music that changed my life forever. This is where I've wanted to be for so long, musically, you know, 'cause we've been writing SUPERJOINT shit for oh god, since '93, and you know, long time coming, man. I mean to fuckin' be with them, with this fuckin' band for damn sure."...
---
11/28/03 - Ex-PANTERA Drummer: 'PHILIP ANSELMO Was Afraid Of Success'
Ex-PANTERA drummer Vinnie Paul recently spoke to Revolver magazine about the circumstances that led to the group's demise two years after the release of their critically acclaimed "Reinventing The Steel" CD.

"With the last couple of PANTERA records, we kept getting more and more narrow-minded because of Phil," Vinnie said. "He didn't want to experiment or take any chances, and it was like being in a tube that was getting to be so small you couldn't even breathe. Personally, I think the dude was afraid of"I did everything I could to get the guy squared away so he could have a good time. We had already agreed to take six months to a year off anyway, because we had been doing this for 12 goddamn years and we needed a break. But next thing I know, he's off doing DOWN with [PANTERA bassist] Rex [Brown] and talking shit about us.

"Phil has no respect for anything and just perceives other people to be less than he is. After hearing him talking so much shit, I looked at [brother/PANTERA guitarist Dimebag DAccording to Vinnie, Anselmo kept many things away from his bandmates, including his appetite for heroin. It wasn't until 1996, when he overdosed after a hometown show in Dallas that the rest of PANTERA learned of affinity for the needle....

"[In the years that followed Phil's overdose] he was very private about [the fact that he was using again]. I don't know if he was using the whole time or what, but it got to the point where I didn't know which Phil was gonna show up to the gig. One night he would walk in and be a fucking animal. The next night, I'd walk backstage and he'd be lying in the corner and he'd say he was tired. I will never take anything away from that dude from when he was at the top of his game, but where he's at right now, I think he's much less than subpar at what he does. I have a hard time watching him when I see him on MTV talking about SUPERDOPE RITUAL, or whatever they're called, and he can't keep his fucking eyes open."...
---
But back to the "fans," such as
Mark David Chapman
:
---
(Mark) bought two copies of The Catcher in the Rye and made (Japanese wife) Gloria read one. He talked of changing his name to Holden Caulfield and even wrote the Hawaii attorney general to ask about the procedure....

He brought home books from the library on one subject after another. One of them was John Lennon: One Day at a Time by Anthony Fawcett. In it he read about Lennon's life in New York. He was furious.

"He was angry that Lennon would preach love and peace but yet have millions," Gloria told Gaines. He began to talk of going to New York.

And he began, he would tell Gaines in prison, to pray to Satan. "There were no candles, no incantations," Gaines writes. "Just Mark, sitting naked, rocking back and forth at the controls of his stereo and tape recorder, splicing together his reasons for killing John Lennon from the lyrics of Beatles songs, the soundtrack of "The Wizard of Oz", and quotations from The Catcher in the Rye.

He told his Little People he intended to go to New York and kill John Lennon. They begged him not to. They said, he told Jack Jones, "Please, think of your wife. Please, Mr. President. Think of your mother. Think of yourself."

He replied his mind was made up. Their reaction was silence, Jones writes. Then, "One by one, beginning with his defense minister, the Little People rose from their seats and walked from the secret chamber inside the mysterious mind of Mark David Chapman."

On Oct. 20 Chapman read in the Honolulu Star Bulletin about Lennon's return to recording after a five-year hiatus. Lennon and his wife, the artist Yoko Ono, had cut an album called "Double Fantasy."

On Oct. 23 he quit his security job and signed out for the last time. Instead of the usual "Chappy," he wrote "John Lennon." Then he crossed it out.

On Oct. 27 Chapman went to a Honolulu gun store and, for $169, bought a five-shot, short-barrel .38-caliber Charter Arms Special. Ironically, the salesman was named Ono.

On Oct. 30, wearing a new suit and topcoat, the revolver in his suitcase, he boarded a plane for New York.
---
John wasn't the only ex-Beatle with serious fanatic problems. There was the 1999 attack on
George
:
---
A British court ordered a 33-year-old man held in a psychiatric unit Friday after he was charged with the attempted murder of former Beatle George Harrison, who was attacked by a knife-wielding intruder early Thursday morning at his Gothic Oxfordshire mansion.

Magistrates in the south England town of Oxford said Michael Abram, who was said to be obsessed with hatred for the Beatles, should be detained at a secure psychiatric unit in his home city of Liverpool, under section three of Britain's Mental Health Act. Abram was charged overnight with the attempted murder of Harrison and his wife, Olivia....

In an interview published Thursday in Liverpool's Echo newspaper, the suspect's mother, Lynda Abrams, said her son had recently become obsessed with hatred of The Beatles as he tried to overcome a drug addiction. She said he had never been violent.

"He has been running in pubs shouting about The Beatles," she was quoted as saying. "He hates them and even believes they are witches and takes their lyrics seriously. He started to wear a Walkman to play music to stop the voices in his head."

The Echo quoted her as saying that her son had been in a local psychiatric unit for problems stemming from an addiction to heroin, and she accused authorities of failing to offer him enough aid.

"The last six months, he has been really bad. I have been looking for help for him, but it is like walking into a brick wall," she said. "The system is totally and completely useless. If they had listened to me and listened to Michael over the last six months, this would never have happened."...

Police said Harrison, 56, suffered superficial injuries and a 1-inch stab wound that penetrated his chest wall in the attack, during which he and his wife struggled with, then overpowered the intruder in their 120-room Friar Park estate, holding him until police arrived.

According to news reports, Olivia, who suffered only superficial injuries and bruises, may have saved her husband's life when she stunned the intruder by hitting him on the head with a lamp after the struggle through three rooms of the couple's home....

Doctors...said the knife blade just missed his superior vena cava, a vein that drains blood from the head, upper body and arms....

The two other surviving Beatles, who lost founding member John Lennon 19 years ago when he was shot to death by a stalker in New York City on December 8, 1980, expressed shock at the attack....

In 1998, Harrison disclosed that he had been battling throat cancer for more than a year and had surgery to remove a lump in his neck. He later had radiation therapy, which he said made him think about the fragility of life.

"It reminds you that anything can happen ... that's the nature of life," he told the tabloid News of the World....
---


Links to this post: