How to Become a Personality
I believe that one of the worst insults that you can give someone is to call them a "personality." This is even worse than "celebrity," and is definitely worse than "singer." When you reach the "personality" stage, then you're known for being known. With that introduction, I
present
:
---
BRITNEY Spears caused a real stink when her smelly FEET gassed a plane full of people.

Passengers complained when the pungent pop star shed her shoes on a flight....

Britney, 23, caused a stir as she and hubby Kevin Federline, 26, flew from Los Angeles to New York....

One passenger fumed: "The smell was unbelievable. One woman had a word with the air hostess, then three or four others complained. She looked pretty embarrassed as she tapped Britney on the shoulder and asked her very politely to put her shoes back on....




The embarrassment was the second in a week for Britney. She was carried out of a Las Vegas bash, worse for drink.
---
Kin
, who cited the story, is not a fan of Mr. Spears:
---
I'm not sure which is worth. Getting on a plane with smelly feet or getting on a plane with Kevin.
---
Annika
doesn't even want to touch the topic:
---
This skankwoman update is so skanky, i'm glad Kin posted it and not me.
---
However, Annika does her bloggy duty and covers Britney, in a blog category entitled
American Skankwoman
.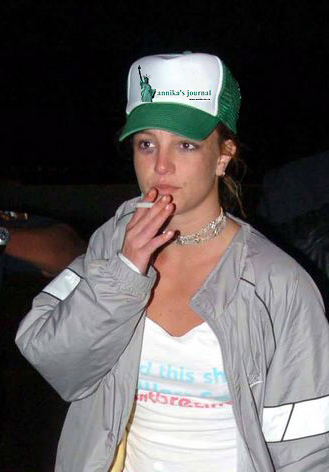 Hear here. However, even the esteemed Annika missed the missive from Britney's stepdaughter, as reported
here
and
elsewhere
and
elsewhere
:
---
-----Original Message-----
From: Kori Federline [mailto:kori@gmail.com]
Sent: Monday, September 06, 2004 5:19 PM
To: Jackson, Shar
Subject: RE: help

dear mommy,
today daddy and britney and me went shoping. britney said she is my new mommy and that she is the prettiest mommy. britney also says NO SHOES!! even when i go to pee. tonite we r going to 711 for supper.tomorrow we r going tanning. daddy is yelling at me to finish my kabala homework.i miss you.
luv kori

ps. can i get a tatoo?
---
Hmm...no shoes?
Stereogum
Kori, you're predictive capabilities are impressive.
Speaking of Stereogum, this blog continues to cover Mrs. Federline's
worship of Neil Young
, the time she
took her puppy outside
, and, of course, her
Thanksgiving
:
---
It's 10pm and Kori is sound asleep. Today, for the first time I made a roast with carrots, potatoes, corn and my favorite garlic bread. It was amazing, if I do say so myself! I used my own recipe too. My feet are really starting to sink into my new home, especially the kitchen....
---
Yet another mention of Britney's feet. Foot fetishists who are into aging ex-jailbait must be
orga
ecstatic right now. For them, I offer this
Google search
. (Three words:
A Yahoo! group
.)