Archives
October 2003 November 2003 December 2003 January 2004 February 2004 March 2004 April 2004 May 2004 June 2004 July 2004 August 2004 September 2004 October 2004 November 2004 December 2004 January 2005 February 2005 March 2005 April 2005 May 2005 June 2005 July 2005 August 2005 September 2005 October 2005 November 2005 December 2005 January 2006 February 2006 March 2006 April 2006 May 2006 June 2006 July 2006 August 2006 September 2006 October 2006 November 2006 December 2006 January 2007 February 2007
---
Fund free mammograms at no cost to yourself by clicking on the link, then on the pink button.
---
---
Hall of Shame (NoteUnworthy Blog Posts)
Other Blogs (sorted regionally)
Ontario Emperor Selected del.icio.us Tags
;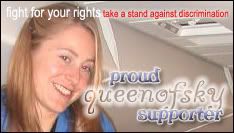 Who Links Here
Tuesday, December 07, 2004
Bush to California: Drop Dead
From
Yahoo
(
emphasis
mine):
---
The House voted Tuesday to overhaul a national intelligence network that failed to prevent the Sept. 11 attacks, combining under one official control of 15 spy agencies, intensifying aviation and border security and allowing more wiretaps of suspected terrorists.

"We have come a long way toward taking steps that will ensure that we do not see another September 11th," said House Rules chairman David Dreier, R-Calif. Now "we have in place a structure that will ensure that we have the intelligence capability to deal with conflicts on the ground wherever they exist."

The House voted 336-75 to send the Senate legislation to create a new national intelligence director, establish a counterterrorism center, set priorities for intelligence gathering and tighten U.S. borders....

"I have always said that good people need better tools. Here come the tools to help good people succeed," said Rep. Jane Harman of California, the top Democrat on the House Intelligence Committee....

Congressional approval would be a victory for Bush, whose leadership was questioned after House Republicans refused to vote on the bill two weeks ago despite his urging.

"The president was monitoring the debate on C-SPAN in the conference room on Air Force One," White House spokesman Trent Duffy said. "The president is very pleased with House passage. He knows that this bill will make America safer. ... He greatly looks forward to Senate passage and ultimately to signing the bill into law."...

The Sept. 11 commission, in its July report, said disharmony among the nation's 15 intelligence agencies contributed to the inability of government officials to stop the Sept. 11 attacks on the World Trade Center and the Pentagon....

The bill...increases the number of full-time border patrol agents by 2,000 per year for five years and imposes new federal standards on information that driver's licenses must contain....

"The president as well as his team worked with Congressman Hunter as well as all the congressional leaders on making sure that all concerns were addressed," White House spokesman Trent Duffy said....

Some Republicans, however, still don't like the measure, with 67 voting against final passage. House Judiciary Committee Chairman James Sensenbrenner, R-Wis., is upset because it doesn't prohibit states from giving driver's licenses to illegal immigrants or change asylum laws to make it more difficult for terrorists to get into the country.

"Good intelligence is useless without good homeland security," Sensenbrenner said Tuesday.

Sensenbrenner and his supporters extracted a promise from GOP leaders that their illegal-immigration provisions would be attached to a separate bill when the new Congress convenes next year....
---
Before the bill was passed, Lonewacko
cited
some concerns with it:
---
The immigration-related provisions might have been removed from the Intelligence Reform Bill. If the bill passes, illegal aliens could continue to get driver's licenses and could continue to use foreign IDs that are only of use to illegal aliens.


That's despite the fact that 15 of the 19 9/11 hijackers had a combined total of 63 driver's licenses from various states.


And, the FBI and the DOJ call those foreign ID cards - including Mexico's Matricula Consular - a security threat.


And, from Chapter 3 of the 9/11 Commission Staff Report: "...abuse of the immigration system and a lack of interior immigration enforcement were unwittingly working together to support terrorist activity..."


And, the media barely covers the immigration-related provisions. The news media rarely mentions that there's more than one group of 9/11 families, and that the "9/11 Families for a Secure America" opposes this bill unless it includes immigration-related provisions. (See also "9/11 Families Back Sensenbrenner in Intel Fight")
---
Here's the mission statement for
9/11 Families for a Secure America
:
---
9/11 Families for a Secure America is a multi-ethnic coalition of Americans both native born and naturalized.

We will expose those officials who were responsible for the policies that allowed 9/11 to occur. We will work toward their removal from office and prevent their re-election. We will recommend immigration reform and will assist in election efforts of those public officials who support stringent immigration policies and the strict enforcement of these laws.

Families who lost loved ones on September 11th know that the federal government failed to live up to its most basic obligation to its citizens - to protect them from foreign attack. There were failures in the areas of foreign and domestic intelligence. There was a failure to respond with sufficient force to the string of terrorist acts perpetrated against American citizens throughout the 1990's. And we know our government failed to maintain control of our borders. The failure to keep out unauthorized aliens led directly to the 9/11 attacks and the deaths of our loved ones.

The problem is massive (there are an estimated 10 million illegal aliens in the US) and has grown over a span of 30 years. A succession of Presidents and Congresses have permitted and even encouraged this situation. Congress, eager to evade accountability, has blamed the Immigration and Naturalization Service (INS). But the policies, regulations, funding and staffing of the INS are subject to the absolute control of the President and the Congress.

Members of both the Democrat and Republican parties who oppose immigration reform have made their own political survival more important than our national security by catering to special interests. But independent polls show that approximately 75% of Americans want drastic immigration reform immediately.
---
Their website has not been updated since November; let's see if they give up the fight, or keep on fighting.



Links to this post: