Archives
October 2003 November 2003 December 2003 January 2004 February 2004 March 2004 April 2004 May 2004 June 2004 July 2004 August 2004 September 2004 October 2004 November 2004 December 2004 January 2005 February 2005 March 2005 April 2005 May 2005 June 2005 July 2005 August 2005 September 2005 October 2005 November 2005 December 2005 January 2006 February 2006 March 2006 April 2006 May 2006 June 2006 July 2006 August 2006 September 2006 October 2006 November 2006 December 2006 January 2007 February 2007
---
Fund free mammograms at no cost to yourself by clicking on the link, then on the pink button.
---
---
Hall of Shame (NoteUnworthy Blog Posts)
Other Blogs (sorted regionally)
Ontario Emperor Selected del.icio.us Tags
;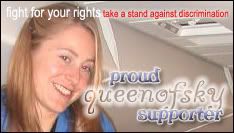 Who Links Here
Tuesday, December 14, 2004
Insular, Self-Referential, and Circular
Heh
...
From
Jon Udell at Infoworld
:
---
Just as telephones are meaningful only when connected to the telephone network, so blogs are meaningful only when connected to the blog network. Both are carriers of human communication, but...the blog network is malleable and is shaped by our use of it. It's more like a nervous system than a computer network....

The crush of information we process every day creates a terrible dilemma. On the one hand, we must conserve the scarce resource of attention. On the other hand, we need to become aware of everything that matters. It's a tricky balancing act, but one that nature's humblest creatures have adroitly mastered. The real-time visual processing performed by insects...is just one example of how efficiently biological systems can crunch data.

We can't say exactly how the trick is done, but we understand the basics: a network, a message-passing protocol, nodes that aggregate inputs and produce outputs. The blog network shares these architectural properties. Its foundation network is the Web; its protocol is RSS; its nodes are bloggers. These ingredients combine in ways that are not yet widely appreciated....

At one time, my RSS intake was mostly feeds from conventional published sources, along with a few from individuals. Now it's the reverse. I subscribe to people more than to publications...because, outside of the realms in which I'm closely involved, I can delegate the job of tracking primary sources to people whose interests and inclinations qualify them to do so.

The blog network is made of people. We are the nodes, actively filtering and retransmitting knowledge. Clearly this architecture can help manage the glut of information. More subtly, it can also help ensure that no vital inputs are suppressed because nobody has to rely on a single source. If one of the feeds I monitor doesn't react to some event in a given domain, another probably will. When they all react, I know it was an especially important event.

The resemblance of this model to the summing of activation potentials in a neural system is more than superficial. Nature knows best.
---


Links to this post: