Archives
October 2003 November 2003 December 2003 January 2004 February 2004 March 2004 April 2004 May 2004 June 2004 July 2004 August 2004 September 2004 October 2004 November 2004 December 2004 January 2005 February 2005 March 2005 April 2005 May 2005 June 2005 July 2005 August 2005 September 2005 October 2005 November 2005 December 2005 January 2006 February 2006 March 2006 April 2006 May 2006 June 2006 July 2006 August 2006 September 2006 October 2006 November 2006 December 2006 January 2007 February 2007
---
Fund free mammograms at no cost to yourself by clicking on the link, then on the pink button.
---
---
Hall of Shame (NoteUnworthy Blog Posts)
Other Blogs (sorted regionally)
Ontario Emperor Selected del.icio.us Tags
;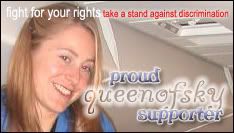 Who Links Here
Tuesday, December 14, 2004
Can You Play A Basketball Game With Six People On The Court?
From an Australian newspaper
article
(emphasis mine):
---
Long ago, when he leapt straight from Pennsylvania high school gyms to the NBA hardwood, the Los Angeles Lakers guard with astonishing talent was anointed as the Air apparent to Michael Jordan.

But, at 26, it is clear that Bryant is not interested in merely being the next Jordan. Like Tiger Woods stalking Jack Nicklaus's golf majors record, Bryant is intent on eclipsing Jordan, and all those who came before him.

But how to outshine Michael Jordan? Bryant appears to have a plan. It goes something like this: run out of town every great player and coach until there is only Bryant and a chorus of role players and then try to win a championship single-handedly. Because even Jordan had Scottie Pippen....

"I'm tired of being a sidekick," Bryant said after last season.

And so we had the spectacle of Bryant forcing the Lakers to choose between himself and centre Shaquille O'Neal, arguably the most dominant force ever in basketball. And then between him and Jordan's old coach, Phil Jackson, who some call the greatest the game has known....

Then there was the not insignificant matter of Gary Payton and Karl Malone. O'Neal was instrumental in bringing the two perennial all-stars and future Hall of Famers to the Lakers last season.

This time last year, they were called the Dream Team and some wondered whether they would ever lose a game. Not only did they lose some games, but they were embarrassed by the hard-working Detroit Pistons in the championship series in one of the biggest upsets in US sports history.

Payton didn't need to ask for whom the bells tolled; the point guard got on the first flight out of Los Angeles, landing in Boston.

Malone, who is 41 and needed knee surgery, stuck around . . . until a few days ago.

That was when Bryant effectively got rid of the only player who publicly stood up for him during the traumatic months in which Bryant faced a rape trial in Colorado....

After Malone, who took a $US17 million-a-year pay cut to come to Los Angeles last season, did not renew his contract with the Lakers, saying he wanted to see whether his knee would allow him to play one more year, Bryant hardly encouraged him to come back.

The straw which broke the Mailman's back came last week, when Bryant suggested Malone wouldn't be returning to the Lakers, even though Malone himself was leaning toward a comeback.

"It's not really fair to hold (Malone's situation) over the guys' heads that are here," Bryant said in a radio interview. "They are here giving me 110 per cent. I mean, you can't sit up here and speculate for the remainder of the season whether or not he is going to come back."

Malone told The Los Angeles Times that he didn't need to hear any more. "When your star player doesn't want you there, I take hints easily," he said. "The bottom line is, Kobe doesn't want me to play for him, and it's his team."...
---
The
Daily Breeze
(referenced by
Tony Pierce
) had information that hadn't made it Down Under yet:
---
In a shockingly candid pregame interview Sunday, Bryant admitted that rumors of a private rift between him and Malone were indeed true. He confirmed a report published earlier in the day that said his wife, Vanessa, had accused former teammate Karl Malone of making a pass at her.

Malone, through his agent Dwight Manley, strongly denied that he had "come on to Vanessa" or said "several inappropriate things" to her at a Nov. 23 Lakers game....

Friction between the Malones and the Bryants apparently heated up that night and was the real reason Malone later came out and said he would not play for the Lakers this season if he decides not to retire. The public exchange in which Malone reacted angrily to Bryant comments about his possible comeback was only a small part of the story.

Surprisingly, Bryant said he could coexist with the 41-year-old Malone if he returned to the Lakers. Malone ruled that out recently, but the comments apparently explained why Bryant said he would welcome back Malone even after the incident took place.

"If (General Manager Mitch Kupchak) decided he wanted Karl, I could accept him as a teammate," Bryant said. "I would have to, for the good of the team."

At the same time, Bryant emphasized that it would not be a comfortable situation (and in reality obviously isn't going to happen now). He emphasized the damage had been done.

A Los Angeles Times piece that ran Sunday and detailed Malone telling Vanessa he ''was hunting for little Mexican girls" when she asked "Hey cowboy, what are you hunting?" made it seem as if there could possibly have been a misunderstanding.

Through his agent, Malone told the Los Angeles Times "he never hit on Vanessa, nor would he. ... In fact, when he first heard about the accusation, he said 'you have to be kidding me.' "

Bryant wasn't buying that, either. He made it crystal clear he trusted his wife and didn't think Malone was an innocent man.

"There was a lot more than just a couple of comments," Bryant said. "It was so bad Vanessa felt she had to call Karl's wife and say he was (out of control).

"I'm not rolling with that (that it could be a misunderstanding). There was other stuff. I believe it was very inappropriate. ... It happened."...
---
Tony Pierce
editorialized
on the matter:
---
dude, im going to have to apply for the ever increasingly necessary job of telling you to shut...up.

i dont care if karl malone put his fingers to his lips, looked at your woman and licked them with his big crazy tounge.

which he didnt do, by the way.

i dont care if karl malone lapdanced your beautiful wife while you were driving the lane.

which he also didnt do.

karl malone, because hes a semi-truck driving hick, was wearing cowboy boots and a cowboy hat...when your wife asked him what he was hunting for

and karl malone said, im hunting little mexican girls....

and when she became outraged and when she called karls wife and when he called you allegedly he didnt deny it.

cuz hes a man.

who was kidding.

now if you remember, karl malone hasnt always said the smartest things. remember when he told the press once magic announced that he had HIV that he didnt want magic playing in the nba....

yes he apologized....
---
But the
Moonies
are editorializing also (again,
emphasis
mine - and, to be fair, I don't know Tom Knott's religious beliefs):
---
Kobe Bryant has come to be a mindless twit intoxicated by a powerful shot of unchecked power.

There is no grace in this increasingly tortured soul. There is no humility. No modesty. No sense of perspective at all.

This former Grant Hill/Michael Jordan archetype who spoke Italian and smiled with the best has evolved into a self-absorbed hypocrite, aided and abetted by the enabling partnership of Jerry Buss and Mitch Kupchak.

Bryant has fallen hard the last 18 months, hurtling into the abyss of tawdry headlines that blared the toxic stew of cheap sex, ruined relationships, the permanent exile of Shaquille O'Neal and the Zen master and now this latest fiasco involving Karl Malone and what he did or did not say to the woman wearing the $4 million rock....

Bryant eventually found himself embroiled in an ugly divorce, as only it could be with his runaway ego. The divorce, as orchestrated by the adulterer, involved the center and coach instead of the wife.

So here we are again, with Bryant looking ever absurd in his highly public spat with Malone....

What seems clear is Vanessa, the wife, questioned Malone about his cowboy get-up, complete with a hat and boots. To be honest, the question is odd, given the previously close relationship of the two couples.

A cursory check of Malone's outside interests shows he is a gun-loving, rig-driving outdoorsman who is inclined to have dirt and grease underneath his fingernails. A close friend should know that, rendering the question unnecessary unless it was posed to elicit a flirtatious response.

To hear Malone's agent tell it, Vanessa said, "Hey, cowboy, what are you hunting?"

To which Malone said: "I'm hunting for little Mexican girls."

Vanessa, of course, fits that bill.

Now we do not know if locker-room banter has been a dimension of the relationship involving the two couples....

Bryant has implied that Malone is a swinger of sorts on the road, just as he told Colorado investigators, true or not, that Shaq is forever buying his way out of his sexual indiscretions.

The latter point was hardly germane to Bryant's legal issue. Its unintended effect was to reveal the twisted, petty thought process of Bryant. The Malone fallout reveals it yet again.

If anyone could appreciate the fragility of the human condition, it should be Bryant....

[See] how Bryant compromised his wife's honor last year, in big, bold headlines that played out in rich detail on Court TV. Worse, in his national mea culpa on television soon after the news hit the fan, Bryant dragged his wife to the podium, in a stand-by-your-man scene that came across as narcissistic, weak-kneed and just generally pathetic of the starring actor....

He is a weenie, is what he is, all too eager to flaunt the new pecking order of the Lakers.

Of his teammates, Bryant recently said: "They are here giving me 110 percent."

There you have it: Bryant as star player, coach, general manager and team president all rolled into one....
---
I don't know if Tom Knott appropriated that line from
Rich Marotta
(who uses it almost daily), or conceived it independently. Anyway, let's continue:
---
From a craven-free precinct of the NBA, courtesy of the Miami Herald, comes the musing of what you imagine is an amused Shaq: "I thought him and Karl were best friends. Karl was always the liaison between me and that guy."

That guy.

It is best to keep a safe distance from that guy.
---


Here's some more from Shaq's perspective:


---
"I'm very surprised how it came out," O'Neal said. "I thought [Bryant] and Karl were best friends. Karl was always the liaison between me and that guy. I was under the impression they were closer than what they were."

O'Neal said Malone would often display his mischievous side around teammates as well as around O'Neal and the center's wife, Shaunie.

"He's a legend," O'Neal said of Malone's playfulness. "And if you don't like Karl Malone, there's something wrong with you.

"I know Karl's not that type of person. But I know Karl's hurt. I can tell he's hurt."

Twelve days from his Christmas showdown with his former Lakers foil at Staples Center, O'Neal spoke for several minutes without mentioning the words "Kobe" or "Bryant."

"I don't say his name," he said.

But O'Neal hardly shied from the conversation, seeming to take pleasure that Bryant-related controversy has remained long after his July departure from the Lakers.

"It's funny because now that I'm gone, the sunglasses are off," he said. "Now you can see everything very clearly. When I was there, you had sunglasses on in a dark room, and you couldn't see much. Now the sun's out. Now you see everything. I was the filter."...

Malone appears to be the latest caught in a personality clash with Bryant, with O'Neal and former coach Phil Jackson discarded in offseason by the Lakers.

"I knew I was dog meat," O'Neal said. "Luckily, I'm the high-priced dog meat that everybody wants. I'm the good quality dog meat. I'm the Alpo of the NBA."
---


I think Shaq misses Phil. The Big Aristotle sounds more impressive than the big Alpo.




Links to this post: