Archives
October 2003 November 2003 December 2003 January 2004 February 2004 March 2004 April 2004 May 2004 June 2004 July 2004 August 2004 September 2004 October 2004 November 2004 December 2004 January 2005 February 2005 March 2005 April 2005 May 2005 June 2005 July 2005 August 2005 September 2005 October 2005 November 2005 December 2005 January 2006 February 2006 March 2006 April 2006 May 2006 June 2006 July 2006 August 2006 September 2006 October 2006 November 2006 December 2006 January 2007 February 2007
---
Fund free mammograms at no cost to yourself by clicking on the link, then on the pink button.
---
---
Hall of Shame (NoteUnworthy Blog Posts)
Other Blogs (sorted regionally)
Ontario Emperor Selected del.icio.us Tags
;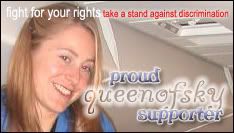 Who Links Here
Tuesday, April 04, 2006
Why bother using Myspace to network?
I received an unexpected
response
to my
Burger King post
:
---
Burger King serves up slices of minced animal-people.

On would expect their ads to be creepy.

posted by Alcuin Bramerton : Tuesday, April 04, 2006 8:13:15 AM
---
Obviously, this raises the question - who is Mark Mess? Or
whatever
:
---
Alcuin Bramerton is a human being seeking to operate happily in the post-religious world. The New Spirituality interests him. His friend, Flutterby, is not in physical incarnation on the Earth-plane at present, but he advises Alcuin on spiritual matters. Unreported by the mainstream media, a man in a grey suit is standing by the yoghurt shelves in a supermarket in Cornwall. He is looking for morphine suppositories. This man is not the promised messiah. At the same moment, at another remote location in southern England, a man with false teeth is eating a cheese soufflé for lunch in Salisbury. He bites on something hard. There is a second pair of false teeth in the cheese soufflé. Incidents of this kind illustrate how difficult it can be to determine the exact size of God in becquerels per cubic light year.
---
Or,
Ed
without the pictures, I guess.
I went to Pauly's
blog
, and found that many of the entries link to other entries, and that most entries don't have comments - except for the most
recent
one. Turns out I'm not the only one who got a visit:
---
Kung Pow Pig said...
It's a real pleasure reading such strangeness.

6:46 PM
---
Anonymous said...
Wow you are extremely creepy.

11:55 PM
---
Normies said...
i am speechless your mighty creepy one.

6:25 AM
---
Anonymous said...
YOU LOOK LIKE AN IDIOT! DO NOT COMMENT ON MY BLOG JACKASS!

3:07 AM
---
Lucas said...
I still have not seen your response to my post on your "unwisdom of belief" blog. Could it be that you were frightened away by having no logical response? Or do you just now want to admit that you are a illogical wannabe pholosopher. Can't wait to see the next round of asinine writings

9:31 AM
---
Anonymous said...
U R BIZARRE!!!!!BY THE WAY U LIKE THE IDIOT

7:42 AM
---
drunkenmonkey9 said...
U are one extremely gay fagget so dont u ever come near my blogs again or i will fucking cut u into pieces.

7:44 PM
---
Anonymous said...
go worship the devil some more u frickin psycho idiot piece of dump. u suck i hate u

3:35 AM
---
Me said...
I can't tell if you are one very creative writer or you actually believe this stuff. Or both. Anyway, whatever the case may be, I really like your blog.

11:44 AM
---
Anonymous said...
brilliant....think i m falling in love with you...more than your writing...its the unpredictabilties of your thought process...uncertainities of the new horizons you explore...that impress me...quite
rivetting!!!!

8:57 PM
---
ruth said...
Yuck! mandiri ka. ang sama mo, ginagamit mo pa c Godsa kalokohan mo, stop it, that's a devil made. nagpapaalipin ka. stop. masama yn. karama might come. beware. God will judge you..
DEMON!

10:22 AM
---
Semperviva said...
yer cool..come back again!!!!! i'm coming back here too... peace

9:29 AM
---
Semperviva said...
ditto what kungpowpig said up there

9:30 AM
---
indilove said...
a prayer for the wild at heart, kept in cages.

1:20 PM
---
Qur`ans to fire in Finland and in Danmark said...
Qur`ans have put into fire in Finland in last weekend

Smoke still exist

Qu`rans have been burned in last weekend in Finland

Pedofile rapist prophet Muhammed is the most succesfull pedofile in history

Sikamaisen hyvää ruokahalua kaikille sianlihan ystäville - Koraanin lehdillä tulisijat tuleen

Tampereella on jo sianlihamakkaroita ja sikaruokia käristelty koraanilla sytytetyissä tulisijoissa todistettavasti mm. Seppo Lehto tulisijassaan 2005 ja 2006

Muslimit tietävät tämän jo http://koraani.blogspot.com/ joten ; ) hyvää viikkoa

Seppo Lehto Let`s put more qurans into fire in Tampere

8:12 AM
---
jugs said...
hey have u read any of osho's novels.if u can help me in that. i want to read one which one should i start with.

2:02 PM
---
Christopher King said...
Thanks for visiting my blawg this morning. Methinks you and I have a better grasp on reality than most, so some throw stones.

Peace.

Nice art, too.

And yeah we need to stop drugging our children. THat shit is both under and over-prescribed, what a mess.

2:26 AM
---
collinhead said...
watchers? thats vaguely creepy. thanks for the comment.

6:18 AM
---
collinhead said...
i've been reading your blogs and they are very interesting. thanks for commenting on my blog.

3:13 AM
---
Q said...
OK! You got my attention with an off-the-wall comment on BravoBox.

Please visit Quvra

Can I also just say how hysterical it is that someone asked you to not comment on their blog, but posted anonymously?

5:23 AM
---
Ontario Emperor said...
Heh.

7:40 PM
---
So I got to wondering what Pablo said to anger Lucas and drunkenwhatever so much. I started with
Lucas
:
---
why i am me

i am me because if i was anyone else i could not be me, allow me to elaborate. if for example i was born to a family in germany and my name was hans, then i would not be lucas who i currently am, but instead would be hans who i am not but if I was born to that family then who i am would be hans. to make this simple for those of you that do not understand we'll just leave it at this: i am me and no one else and you are you and no one else...yet.
---
This post elicited
this
comment:
---
Alcuin Bramerton said...
But who were you in your last life? And who are you now at your higher level of being?

10:50 AM
---
Then I began
wondering
if Lucas and Alcuin were the same person:
---
sara said...

what you commented on my blog was very mean. do you get off going around upsetting people (that you don't even know?) just because you don't have manners doesn't give you the right to unleash your idiocy on complete strangers, who've never done anything to you.

6:49 AM
---
So I'm dropping drunkenwhatsit and heading over to Sara's place. Actually, I'm
not
:
---
Profile Not Available

The Blogger Profile you requested cannot be displayed. Many Blogger users have not yet elected to publicly share their Profile.

If you're a Blogger user, we encourage you to enable access to your Profile.
---
On to spelling-challenged
drunkenmonkey9
.
---
Dillan Meerholz
Gender: male
Industry: Education
Occupation: Student
Location: prince george : B.C : Canada

How do you pronounce the 'g' in bologna?
their is no g in bolona is their?

Interests
Sports NOT school chillen

Favorite Movies
Cheech and Chong napolian dynomite Barbershop
---
By the way, it turns out that
many
people like the movie "napolian dynomite." And they said California schools were bad.
So what did Frank do to Dillan? Well, Frank
commented
with a koan. Since Inland Empress has not told me what a koan is yet, I had to
look it up
:
---
A koan (pronounced /ko.an/) is a story, dialog, question, or statement in the history and lore of Chan (Zen) Buddhism, generally containing aspects that are inaccessible to rational understanding, yet that may be accessible to intuition. A famous koan is, "Two hands clap and there is a sound; what is the sound of one hand?" (oral tradition, attributed to Hakuin Ekaku, 1686-1769, considered a reviver of the koan tradition in Japan).
---
Perhaps, "When Dalai Lama endorses Hewlett Packard, is he endorsing Hewlett, or Packard, or the
garage
?" I mean, he
is
endorsing HP, isn't he?
---
The Dalai Lama to be HP's brand ambassador
Indo-Asian News Service
Shimla, April 4, 2006
---
Wow. Let's read more:
---
Tibetan spiritual leader the Dalai Lama could soon be the brand ambassador of Himachal Pradesh, state Tourism Minister GS Bali said in Shimla on Tuesday.

---
Oops.
---
But while the Himachal Pradesh government maintains that the Noble peace prize winner is set to be its brand ambassador, the Tibetan government-in-exile hasn't so far responded on the matter.

Sources in the Tibetan government-in-exile confirmed that the matter did come up at the meeting on Monday.

"Hoardings and brochures of the Himachal Pradesh tourism department will display pictures of the Dalai Lama urging foreign tourists to visit the hill state," said Bali.

"But naturally the Dalai Lama cannot be a conventional brand ambassador as he is a spiritual leader," he said.
---
He
can't
?
---
Pope John Paul II never said "It is as it was" after watching Mel Gibson's film on the passion of Jesus, said the pope's longtime personal secretary, Archbishop Stanislaw Dziwisz.

"The Holy Father told no one his opinion of this film," the archbishop told Catholic News Service Jan. 18....

The alleged papal quote has appeared in hundreds of newspapers around the world as an unequivocal endorsement of Gibson's controversial film even though papal spokesman Joaquin Navarro-Valls refused to confirm the pope said it.
---
But, returning to the original topic, does the Pope eat hamburgers? I don't know that, but I do know that one Colorado Catholic church used hamburgers as an
outreach tool
(
emphasis
mine):
---
St. Thomas More isn't the largest congregation in the Archdiocese of Denver by chance. A steady program of bricks-and-mortar expansion has followed virtually every spiritual blessing bestowed on this parish community. St. Thomas More Center is known for its commitment to worship, prayer, education, recreation, and community. The impressive campus is testament to the values of our people.

St. Thomas More now numbers 5,827 families – representing nearly 19,353 individuals – and grows by an average of 20 new members per week. In 30 years, the parish has changed dramatically from the humble beginnings on 40 acres in the undeveloped prairie south of Denver.

The parish officially began back in 1971 as Mission South East, but its foundation was officially set in February 1974, when construction of the Community Center, including the Mission Room and Worship Area, began on 40 acres at Quebec Street and County Line Road. The 300-seat chapel was completed in December of that same year, enabling the 1,000-member parish to have a true church home.

Two weeks later, the parish opened the Padre Restaurant, the first for a U.S. Catholic church. It was a pet project of founding pastor Rev. Frederick McCallin and soon became a community gathering place. Among its featured early menu items: a Pope hamburger "blessed with cheddar cheese" and a variety of alcoholic beverages dubbed "Holy Spirits."

In January 1982, the parish began construction of the current church sanctuary or worship area and connecting Cloister Walk, completing the project with a Mass of Dedication on June 21, 1983. Over the next six years, St. Thomas More added new facilities for recreation, including the gymnasium, tennis courts, and expansive outdoor playing fields. The Youth Center, dedicated in 1988, was the last project of Father McCallin's 17-year tenure as pastor.

That same year, the parish's popular Cloister Cove religious gift shop opened in December, thanks to the efforts of Ray O'Shea and a team of volunteers. The store offering "gifts for all seasons" has been a vital part of St. Thomas More's ministry, providing funds to help complete many needed projects. In 2001, the Cloister Cove was expanded to more than double its previous size, offering an even greater selection of books and religious goods....
---
Too bad the Dalai Lama can't eat the featured items at the Padre restaurant.



Links to this post: