Archives
October 2003 November 2003 December 2003 January 2004 February 2004 March 2004 April 2004 May 2004 June 2004 July 2004 August 2004 September 2004 October 2004 November 2004 December 2004 January 2005 February 2005 March 2005 April 2005 May 2005 June 2005 July 2005 August 2005 September 2005 October 2005 November 2005 December 2005 January 2006 February 2006 March 2006 April 2006 May 2006 June 2006 July 2006 August 2006 September 2006 October 2006 November 2006 December 2006 January 2007 February 2007
---
Fund free mammograms at no cost to yourself by clicking on the link, then on the pink button.
---
---
Hall of Shame (NoteUnworthy Blog Posts)
Other Blogs (sorted regionally)
Ontario Emperor Selected del.icio.us Tags
;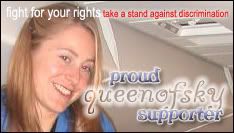 Who Links Here
Tuesday, January 31, 2006
GoDaddy - Is 14th time a charm?
From
Hot Points
, Bob Parsons' blog:
---
Today we had our 13th submission for a Go Daddy advertisement for this year's Super Bowl rejected by ABC....

Upon learning of the rejection we immediately sent ABC a 14th submission. It is my sincere hope that this just might be the one that gets approved. As we understand it, the deadline for approval is January 31, 2006. So we are going right down to the wire.
---
And in response to accusations by
certain people
that rejection would be the best thing, Parsons states (
emphasis
his):
---
This is no publicity stunt.
I've been accused a number of times of orchestrating a publicity stunt. While I've been pleased with the media attention that this has attracted, it has always been my intention to simply get a commercial approved and nothing more. If we are fortunate enough for ABC to approve the current submission, we will indeed have an ad airing during this year's Super Bowl.
---
I still hold by my earlier statement, however. Parsons is going into the negotiations with ABC with the knowledge that he doesn't have to air an approved Super Bowl commercial. Over at Megacorp, where Manic Marketer is ordered to get a commercial on the Super Bowl, Manic Marketer knows he/she will be fired if the commercial doesn't get on. In this case, the boss is running the show, and the boss will be sitting pretty if the commercial doesn't air on traditional TV.
Again, Parsons' strategy won't work for everyone. As I
noted
earlier (
emphasis
mine):
---
Look at the worst case, in which GoDaddy doesn't get a commercial on the Super Bowl (whoops, the Big Game) and ends up putting the commercial on its website. Sure, they won't get the Super Bowl audience, but they will get an audience of those people who are most likely to use GoDaddy's domain name registration services. And they don't have to pay $2 million or $5 million or whatever to ABC.
---
Meanwhile, despite some clunker ads in recent years, the commercials themselves have eclipsed the game for
some people
:
---
"When companies are paying about $80,000 per second to advertise during Super Bowl XL, you know they want to leave a lasting impression on the 130 million viewers," John Antil, associate professor of business administration in the University of Delaware's Alfred Lerner College of Business and Economics and a Super Bowl advertising expert, said.

"Audiences for Super Bowls have become as interested in the 30 minutes of ads as they are in the NFL championship game," Antil said, noting that about 58 percent of viewers have indicated they would rather miss part of the game than miss any of the commercials.

"With all the hype these 30-second ads receive, both before and after the game, it is no wonder that viewers expectations have become so high," Antil said....

After surveying various sources, Antil said he found the cost of ads this year seems to be more varied than in the past. "Initially, sales were brisk, with companies reportedly paying as much as $2.6 million for a 30-second spot," he said. "But to sell the remaining slots, ABC may be willing to sell a fourth quarter spot for as little as $1.7 million. Since some media buyers are willing to risk waiting to see if the network will sell heavily discounted time, ABC still has plenty of time to sell any remaining spots. One year, a buyer reported that he signed a contract for a 30-second spot in the car on the way to the game."

Though the actual price for Super Bowl spots is difficult to determine, it appears that the average price this year will be about the same as last year, $2.4 million, Antil said. Though ad prices normally increase every year, this year ABC must compete for advertising dollars with the Turin Winter Olympics, which will begin only five days after the Super Bowl....

Even the NFL has recognized the entertainment value of Super Bowl commercials, Antil said, and the professional football league is assembling a 30-minute show consisting solely of Super Bowl ads and is showing it only hours after the game on the NFL Network.

As well, the league has begun to take a more active role in controlling what airs during the broadcast, Antil said. Las Vegas has been trying to get ads into the Super Bowl broadcast for years but because of the NFL's anti-gaming rules, the league will not budge. Also, Antil said the NFL does not plan to renew an $18 million sponsorship agreement with Lavitra [sic] as its commercials have become more risqué and have been targets of criticism from the public and politicians.
---
And, unfortunately, Levitra can't count on Internet advertising, because it wouldn't necessarily reach its target audience. (Note to self: insert geek joke here.)
It turns out that, despite "1984," the Super Bowl
isn't
a hot target for tech companies any more:
---
The Super Bowl can be a field of dreams for advertisers, but almost all tech and telecom companies will -- as per their game plans the last five years -- be warming the bench.

Only CareerBuilder.com, a leading job posting service, GoDaddy.com, a Web services company, and telecom firms AT&T (NYSE:T)and Sprint Nextel (NYSE:S)will suit up for Sunday's Super Bowl telecast....

With 30-second slots for the latest Super Bowl going for $2.6 million, most Internet companies are priced out of the game, says David Card, an analyst for Jupiter Research. But it's not just the money. Most prefer to advertise online, he says. "The perception is that you don't need the big bang," Card said. "You can do it incrementally on the Web."...

Monster, like many Internet companies, rode the Super Bowl to build a brand name. With an audience of over 100 million, the Super Bowl is America's most-viewed TV event of the year.

This year, Monster is pushing ahead with the same strategy as last year: placing TV and radio ads on local stations in various markets. At this point, most people have heard of Monster, Kelley says. So Monster's focus is getting them to use the service.
---


Links to this post: