Archives
October 2003 November 2003 December 2003 January 2004 February 2004 March 2004 April 2004 May 2004 June 2004 July 2004 August 2004 September 2004 October 2004 November 2004 December 2004 January 2005 February 2005 March 2005 April 2005 May 2005 June 2005 July 2005 August 2005 September 2005 October 2005 November 2005 December 2005 January 2006 February 2006 March 2006 April 2006 May 2006 June 2006 July 2006 August 2006 September 2006 October 2006 November 2006 December 2006 January 2007 February 2007
---
Fund free mammograms at no cost to yourself by clicking on the link, then on the pink button.
---
---
Hall of Shame (NoteUnworthy Blog Posts)
Other Blogs (sorted regionally)
Ontario Emperor Selected del.icio.us Tags
;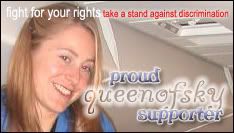 Who Links Here
Tuesday, January 24, 2006
Consolidation
Two consolidation stories in the news. First,
the fifth and sixth networks
:
---
Two small, struggling television networks, UPN and WB, will shut down this fall, and their parent companies plan to form a new network called The CW using programming and other assets from each of them....

Both UPN and WB had struggled to compete against larger rivals in the broadcast TV business, including Walt Disney Co.'s ABC, News Corp.'s Fox, General Electric Co.'s NBC and CBS Corp.'s CBS.

The new network will launch in the fall, the executives said, when both UPN and WB will shut down. It will be a 50-50 partnership between Warner Bros. and CBS, and the network will be carried on stations owned by the Tribune Co., a minority owner of WB....

Among the Tribune's TV stations that will join the new network are its flagship WGN in Chicago as well as WPIX in New York, and KTLA in Los Angeles. The Tribune Co. will relinquish its 22.5 percent stake in WB and will receive a 10-year affiliation agreement with the new network.

Leslie Moonves, chief executive of CBS Corp., said the new network will air 30 hours of programming seven days a week aimed in part at young audiences....

The new network gets its name from the first letters of its parent's names — C for CBS and W for Warner Bros.
---
Speaking of Disney,
they want Pixar
:
---
The board of Walt Disney Co. has authorized Chief Executive Robert Iger to make an offer to buy Pixar Animation Studios Inc., and that is expected by Tuesday, a source familiar with the matter said late on Monday.

Pixar's board is expected to consider the offer on Tuesday as well, said the source, who did not disclose financial terms....

Pixar shares closed at $58.27 on Monday on Nasdaq, putting its market value at just under $7 billion. The shares have risen about 12 percent in the last month, partly on speculation that Disney would buy the computer animation company that created such hits as "Toy Story," "Finding Nemo" and "The Incredibles."...

The Wall Street Journal has reported that Disney is considering an all-stock offer, which would make Pixar Chief Executive Steve Jobs the company's largest individual shareholder.

The Journal reported late on Monday that the offer under consideration would give Jobs, who has a controlling stake in Pixar, a seat on the Disney board....

Although Disney has not produced a blockbuster animated film on its own in years, the six films Pixar and Disney made since the 1995 release of "Toy Story" have grossed more than $3.2 billion.

Jobs had feuded publicly with Iger's predecessor, Michael Eisner, and broke off negotiations for a new distribution agreement with Disney about two years ago.

Iger, who succeeded Eisner as Disney's CEO in October, made a priority of smoothing over relations with Jobs and was in the midst of renegotiating the distribution pact, which expires in June with the release of "Cars," when takeover rumors surfaced.

Jobs, who is also chief executive of Apple Computer Inc., has already led a revolution in digital delivery of content by providing legal downloads of music through Apple's iTunes Music Store and by striking a deal with Iger and Disney to offer video downloads of ABC television shows.

A deal that would give Jobs a Disney board seat could also put him in a position to lead Hollywood's move onto the Web....
---
It may also put him into a position to oust Iger altogether. Remember the last time that a big company bought a Jobs-owned company? Yup, when Apple bought NeXT. Jobs eventually became Chairman of Apple again. Hope Iger's preparing his resume.



Links to this post: