Archives
October 2003 November 2003 December 2003 January 2004 February 2004 March 2004 April 2004 May 2004 June 2004 July 2004 August 2004 September 2004 October 2004 November 2004 December 2004 January 2005 February 2005 March 2005 April 2005 May 2005 June 2005 July 2005 August 2005 September 2005 October 2005 November 2005 December 2005 January 2006 February 2006 March 2006 April 2006 May 2006 June 2006 July 2006 August 2006 September 2006 October 2006 November 2006 December 2006 January 2007 February 2007
---
Fund free mammograms at no cost to yourself by clicking on the link, then on the pink button.
---
---
Hall of Shame (NoteUnworthy Blog Posts)
Other Blogs (sorted regionally)
Ontario Emperor Selected del.icio.us Tags
;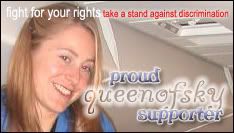 Who Links Here
Thursday, January 26, 2006
Do Not Enjoy Life in the Suburbs (Electric Sobo and Undercover for Today's Readers)
About the thought in the title - Electric Sobo was an early 1980s band that played no gigs and had no relevance to future music. I played keyboards. But the thought resonated.
Here's part of what Jennifer
said
on January 22:
---
When I first wrote about the street peeing incident, someone [in her blog] suggested I try to contact Christian business owners in [Dayton] about the possibility of providing restroom access to the homeless. I got the Dayton Christian Blue Pages to do just that, and found to my dismay that NONE of the Christian-run businesses in Dayton are located downtown. No – they are in the suburbs! (I'm sure there are businesses owned by Christians in this area who aren't advertised in the Blue pages, but how do I find them?)
---
(By the way, the Dayton Christian Blue Pages has a website
here
. It seems comparable to our
local
directory.)
I commented:
---
The...thought in my head is an indictment of all of us (or most of us). I live a very suburban Christianity, where the churches out here distribute Christian business directories that cater to suburbanites. I don't know if the business directory publishers even try to find Christian businesses in urban areas, and even if they did, would we go shop there? American Christianity has become very skewed. I'll probably ruminate more on this...
---
It's not necessarily that suburbanism is bad. Like money, beer, or Bible-reading, suburbanism is not bad in and of itself. But when we make suburbanism (or money, or beer, or Bible-reading) our god, ignoring the true God, that can be a problem.
Gil
comments
on the suburban Christian issue (and tangentially on homelessness) in response to some questions:
---
I ended the response with what I felt was the reality of the North-American vision of what "home" was. I do believe that our living space, and what we put into it and the amount of time spent maintaining it and the stuff in it can become an idol, and that idolatry is encourage[d] by the society around us. I feel like the Christian American Dream is just the secular American dream with a little fish stamped on the corner.

20. What do you feel is the importance of the home in the Christian scheme of things?

I am not sure I understand the question. Do you mean the home as an institution, as a concept, my home, your home? By the Christian scheme of things do you mean the middle class white suburban Christian scheme of things or do you mean the lower class ghettos of the Third World Christian scheme of things?

The home means different things to different cultures, and they each partake of the image of God and the sinful nature. It is our job to remember that our Savior didn't have a home. "Foxes have their dens and birds have their nests, but the Son of Man has no place to lay his head." And to carefully examine our homes and concepts of home for divergence from His Kingdom's culture.

The home, as I have felt called to live into it, is a place where rest, nurture and hospitality occur. I think that other people may be called to live a home life that looks different than mine, for example not everyone has the gift of hospitality.

The home can be an important place, but can also become an idol that takes our attention off of God.
---
GeckoTemple
chronicles
suburban Christian dining:
---
I started the day at the Christmas Bazaar at Em's mom's old church in PoCo. I got almost all my Christmas baking done in 15 minutes. Oh, and I got a pie. It's our anniversary, right? Pie is good for anniversaries.

Em's mom treated us to bizarre bazaar food. Man, I could really, really tell I was in a suburban Christian church.

We started off with the soup course, which appeared to be a hearty Minestrone featuring ground beef and tomato skin. Lovingly cooked for hours, the pearl barley was definitely too mushy to mutiny. (I didn't get this. I just stayed very still while our septugenarian waitress brought it, and she didn't get me any. See, God listens.)

The main course was a choice. We could choose either a delicate medley of egg, Miracle Whip, and salt, gently shaved canned ham, or lovingly decanted canned salmon. Naturally, we got the choice of a very health-conscious generic brown bread, or the always palatable Wonder Bread. The Save-On brand margarine teased lovingly at the tastebuds with every bite. All sandwiches were thoughtfully prepared beforehand and left to blend flavours while waiting to be so eagerly consumed. The bread, in the time-honoured Tuscan manner, had that slightly gritty edge that suggests it has been out on the counter for awhile.

Dessert was also a choice. There were cherry or lemon tarts. My lemon tart was a symphony of flavour, a dollop of Shirriff Lemon Meringe mix perching pertly in a pre-form Tenderflake tart shell. The topping, a spoonful of off-center Dream Whip, completed the meal.

It was really an experience that will stick with me for a long time to come.
---
dent
considered
the issue last Christmas season:
---
Posted by Kirk Ross in Current Events, Economy on Sunday December 11, 2005

For those of us who grew up in the suburban Christian tradition, this is the time of year to make gestures through the purchase of gifts and then quietly wonder how to reconcile that with one's faith.

Awash in plenty, expecially considering those who have lost this year from tsunamis, hurricanes and conflict, the missus and I are trying to channel the Christmas mojo elsewhere.

One of my favorites for this is Heifer International Foundation, because it's rather fun to buy a goat for someone far away (less messy, too). The e-cards are a stitch as well—at least they will be for my goofy family.

So that's my alt.christmas suggestion. Any others?
---
(Incidentally, that particular suggestion was controversial.)
---
Hi. Heifer Intl sounds really good, but the bottom line is that you are not giving out cuddly pets, you are giving out animals that will be killed and eaten. It's a brutalizing experience for the animals and the children. Yes, hungry people need protein, but why does it have to involve violence? Go to www.mercycorps.com and look for the small donation "kits" for providing rice, garden seeds, and garden tools. Mercy Corps has a lot of great donation options that don't involve slashing the throat of a helpless animal. And do check out PETA's list of cruelty-free charities and cosmetic companies before you do your Christmas shopping.

Comment by gertrude — December 13, 2005 @ 3:11 pm
---
Torture the plankton, people. Mash it in your teeth. Inflict death upon the plankton. But I digress.
Otaku Lizard, a returning short-term missionary, points out that anti-suburbanism can also
be
a god:
---
Another part [of a book] suggested that returning missionaries sometimes have an elevated opinion of themselves compared to the rest of the Church. I think I've been guilty of this as well, and have only begun to accept this about myself. As missionaries, it's easy to think that what we do is somehow more important than what the typical, suburban, Christian mother, who has never been overseas, does with her children. This really isn't the case at all. It's all the same work; it just depends on where one finds God's Call on their life, and what they do with that call.
---
Let me go off on a tangent and talk about the
creation
of the Undercover album "Branded." Why? Undercover was working in the suburban environment, but not trying to be part of it. Starting with punk outfits and singing "You'll have to excuse us, we're in love with Jesus" and setting "Holy, Holy, Holy" to a fast beat, they eventually evolved, partially because of the vocal strengths of new singer Sim Wilson, but also because of what was happening in Mister Taylor's mind:
---
Christian rock workhorses like Petra, White Heart and DeGarmo & Key were in their heyday, looking for different ways to repackage the same spiritual truths into a three minute arena rock jingle. And while, at the time, these were pretty important records to young people everywhere (including me), the real breakthrough came from the next wave of songwriters who were struggling to express their whole faith-all of it: the doubt and the patience; the hope and frustration; the cries of praise and the cries of anguish. It was a wholly Scriptural and wholly honest look at Biblical truths, drawn from the darker Psalms and Ecclesiastes and the book of Jeremiah (you know, they didn't call Jeremiah "the weeping prophet" for nothing). There is no better benchmark in the maturity of Christian music than Branded. Having broken ground as a punk outfit, churning out gospel tracks set to anxious dance music and messages that could fit on a bumper sticker, the members of Undercover knew it was time to dig deeper. "Things in people's lives around me didn't seem to support what we were writing about anymore," keyboardist and songwriter Ojo Taylor had told me that summer. "We saw a lot of kids hurting and I found I had to do more than just throw Romans 8:28 at them."...

Throughout the course of the album, Undercover proved themselves able to match the more mature themes and struggles with a more mature style of music-dark and stylish, moody and ambient. Their new direction was more flexible, as well; whereas the pogo punk of yore held few options, the new music allowed for a much more expressive emotional pallet. As such, Branded is the perfect soundtrack for a flawed human life, all the while stretching toward the Light. "The Bible says we are to walk in the light," Taylor had said, "so we bring ourselves to the light and say, "Okay, look at us, here we are. Maybe you can identify with me because I have the same problems you do." Just as the anguished Psalms resulted from real-life struggles with everyday existence, Branded's own lamentations were drawn from personal experience, too. "I tried for ten years as a super-fundamental Christian to make everything I was taught fit into life. After meeting more and more kids and seeing my own failures and realizing that life is tough...I said, "Hey, I can't make it fit anymore. There has to be more to Christianity than I've been taught."...

As a fixed point in history, Branded is a true work of art with deep spiritual repercussions-it will always have its place in Christian rock history. More importantly, its deft blend of atmosphere and message gives the music a life beyond any trend or fashion statement. Many bands have since trod these same Scripturally accurate, spiritually honest hallways and in some way, each of these bands must acknowledge their debt to one of the true turning points in the growth and health of Christian music. Branded has lasted. It will last.
---
More

here

.



Links to this post: