Archives
October 2003 November 2003 December 2003 January 2004 February 2004 March 2004 April 2004 May 2004 June 2004 July 2004 August 2004 September 2004 October 2004 November 2004 December 2004 January 2005 February 2005 March 2005 April 2005 May 2005 June 2005 July 2005 August 2005 September 2005 October 2005 November 2005 December 2005 January 2006 February 2006 March 2006 April 2006 May 2006 June 2006 July 2006 August 2006 September 2006 October 2006 November 2006 December 2006 January 2007 February 2007
---
Fund free mammograms at no cost to yourself by clicking on the link, then on the pink button.
---
---
Hall of Shame (NoteUnworthy Blog Posts)
Other Blogs (sorted regionally)
Ontario Emperor Selected del.icio.us Tags
;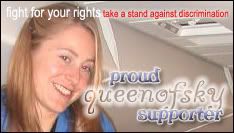 Who Links Here
Saturday, July 02, 2005
History of Another Southern Organization
Let's move from the
history of the PRI
to the
history of NTN
:
---
NTN Communications is the brainchild of two executives from the Houston Oilers football team. The spark that lit the fire in the two men - Don Klosterman, executive vice president and general manager of the Oilers, and Dan Downs, ticket and stadium manager -- came in 1967. They conceived of an interactive strategy game that fans could play during a live football game.

They obtained a copyright, but for the most part the idea stayed in their heads for the following 15 years. Technology finally caught up with them in the early 1980s. The pair decided to create their own interactive broadcasting company and offer QB1 -- their interactive football strategy game -- as its first product.

Klosterman and Downs, along with several new partners, incorporated NTN Communications in April 1983. The NFL granted NTN a license a year later. By January 1986, players in 12 locations played QB1 during the Super Bowl.

In early 1987, NTN introduced trivia to the network and started delivering it 15 hours a day, seven days a week. One of the first games, Countdown, introduced a premiere format for trivia games - giving players a question, five possible answers, a series of clues and a limited time to choose correctly.

Just like today, the owners of taverns, restaurants and sports bars across the United States and Canada paid NTN for the service, which increased traffic and lengthened the stay of customers, resulting in higher profits for those hospitality locations. Advertisers on the NTN iTV Network reached potential customers inside those locations by running spots during intermissions and between questions.

During the late '80s and all through the '90s, NTN added dozens of new interactive trivia and sports games. There are now well over 3000 hospitality locations in North America that subscribe to the service. Millions of people inside those businesses are exposed to NTN and its advertisers every month.

Each location receives a computer and satellite dish, along with several wireless Playmakers. The patrons use the Playmakers to answer trivia questions that appear on a television in the location. During QB1, one television set displays a live football game, while NTN players attempt to predict the next offensive play by interacting with a second TV. Players compete locally and on a system-wide level.

NTN has continued to develop its technology and its business relationships in order to stay ahead of the competition as the years have passed and new platforms have gained prominence. Ventures have included everything from supporting interactive games for major networks, to creating games for the Internet, wireless devices and emerging interactive television networks.

NTN Communications created a subsidiary called Buzztime in December 1999 to concentrate on creating and distributing games, while the NTN iTV Network focuses solely on the company's private network serving hospitality locations nationwide....
---


Links to this post: