Archives
October 2003 November 2003 December 2003 January 2004 February 2004 March 2004 April 2004 May 2004 June 2004 July 2004 August 2004 September 2004 October 2004 November 2004 December 2004 January 2005 February 2005 March 2005 April 2005 May 2005 June 2005 July 2005 August 2005 September 2005 October 2005 November 2005 December 2005 January 2006 February 2006 March 2006 April 2006 May 2006 June 2006 July 2006 August 2006 September 2006 October 2006 November 2006 December 2006 January 2007 February 2007
---
Fund free mammograms at no cost to yourself by clicking on the link, then on the pink button.
---
---
Hall of Shame (NoteUnworthy Blog Posts)
Other Blogs (sorted regionally)
Ontario Emperor Selected del.icio.us Tags
;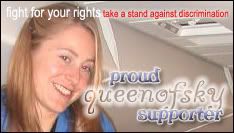 Who Links Here
Monday, October 30, 2006
More on the IOC decision
How is the International Olympic Committee's decision to hold the swimming finals in the morning (in an apparent sop to NBC) affecting the athletes?
From
Al Jazeera
:
---
The International Olympic Committee's (IOC) decision to hold swimming finals in the morning at the Beijing 2008 Olympic Games to suit US television schedules is unlikely to change Swimming Australia's Olympic trials schedule.

US television rights holder NBC had been lobbying heavily for early finals in Beijing to coincide with prime-time viewing hours in the United States, with many observers feeling the IOC caved to the broadcaster rather than taking athletes' preferences in to consideration.

Alan Thompson, Australian head coach, had anticipated the IOC's decision, but his swimmers are unlikely to have a practice run at the upside-down schedule at their national trials, which normally aim to simulate the Olympic program, reports said.

Glenn Tasker, Swimming Australia chief executive, said he expected opposition from coaches, but could not see how the trials could be run successfully with main events held in non-peak viewing times.

"We have only discussed this informally, but internally our discussions have been, 'If we turn our trials upside down, we will struggle to make them commercially viable'," Tasker told The Melbourne Age on Saturday.

"We swim our trials at the Sydney Olympic Aquatic Centre, which is still the best pool in the world, but when you go to the best pool in the world, you pay a fairly steep price for it.

"If we swam finals at 10 o'clock in the morning, our athletes would be swimming in front of next to no one. There would be no atmosphere, we wouldn't get a gate, so commercially it would hurt us.

"It would hurt the athletes from having no atmosphere. So without finalising our discussions, I would be very loath to change our trials," Tasker added.
---
Of course, we have to ask - do the Australian officials care about the "atmosphere," or about the gate receipts?
Swim News
reports
a slightly different story:
---
Many of the world's top swimmers will rise as early as 4am, train hardest at dawn not dusk, eat three breakfasts a day, skip lunch, have dinner at noon, sleep in recovery suits and spend much of their time in the China time zone in the lead-up to the Beijing Olympics following the International Olympic Committee's decision to switch finals from their traditional evening slot to mornings in the pool in 2008.

Bill Sweetenham, performance director of Britain, assembled a think-tank of coaches, swimmers, sports scientists and support staff at Loughborough, England, on Friday for three days of talks aimed at planning a response to an IOC decision that has incensed the world swimming community.

The outcome of the talks and expert advice from specialists in sleep and diet is likely to be a radical overhaul of training, eating and sleeping regimes, while the domestic race calendar will be turned on its head, with finals held in the morning at "five or six" events, including the national championships, BBC allowing....

[T]he USA has already announced that it is sticking to evening finals for its Olympic trials.
---
And before one accuses the IOC of being money-grubbing evil people, remember how
high minded
they are:
---
The IOC has often declined higher offers for broadcast on a pay-per-view basis or because a broadcaster could reach only a limited part of the population, as this is against Olympic Broadcast Policy. This fundamental IOC Policy, set forth in the Olympic Charter, ensures the maximum presentation of the Olympic Games by broadcasters around the world to everyone who has access to television. Rights are only sold to broadcasters who can guarantee the broadest coverage throughout their respective countries free of charge.
---
Of course, these free of charge broadcasters can then choose what they want to broadcast. Any attempt by the IOC to demand that international Olympic coverage be - well, international - would immediately be met with replies of censorship.



Links to this post: