Archives
October 2003 November 2003 December 2003 January 2004 February 2004 March 2004 April 2004 May 2004 June 2004 July 2004 August 2004 September 2004 October 2004 November 2004 December 2004 January 2005 February 2005 March 2005 April 2005 May 2005 June 2005 July 2005 August 2005 September 2005 October 2005 November 2005 December 2005 January 2006 February 2006 March 2006 April 2006 May 2006 June 2006 July 2006 August 2006 September 2006 October 2006 November 2006 December 2006 January 2007 February 2007
---
Fund free mammograms at no cost to yourself by clicking on the link, then on the pink button.
---
---
Hall of Shame (NoteUnworthy Blog Posts)
Other Blogs (sorted regionally)
Ontario Emperor Selected del.icio.us Tags
;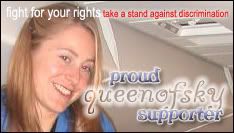 Who Links Here
Friday, October 20, 2006
Adoption, Reed College, Nurture, and Nature
I've been blogging a lot about college in one of my other blogs, but I never got around to excerpting from this
Steve Jobs address
.
---
I dropped out of Reed College after the first 6 months, but then stayed around as a drop-in for another 18 months or so before I really quit. So why did I drop out?

It started before I was born. My biological mother was a young, unwed college graduate student, and she decided to put me up for adoption. She felt very strongly that I should be adopted by college graduates, so everything was all set for me to be adopted at birth by a lawyer and his wife. Except that when I popped out they decided at the last minute that they really wanted a girl. So my parents, who were on a waiting list, got a call in the middle of the night asking: "We have an unexpected baby boy; do you want him?" They said: "Of course." My biological mother later found out that my mother had never graduated from college and that my father had never graduated from high school. She refused to sign the final adoption papers. She only relented a few months later when my parents promised that I would someday go to college.
---
Incidentally, Frederic Alan Maxwell
provides
the other half of the adoption story:
---
While this anecdote made a compelling opening for Jobs' bravura speech to a football stadium full of new college graduates and their parents, the details that Jobs left out are even more intriguing. The missing piece is the identity of his biological father, whose strange story, uncovered here for the first time, provides fresh insight into the sources of character that have made Steve Jobs one of the greatest icons of American business....

And it turns out that Jobs, arguably the most fascinating figure in both Silicon Valley and Hollywood, can make yet another claim to exceptionalism: he is the most prominent living Arab-American. His biological father, Abdulfattah Jandali, immigrated from his native Syria at the age of 21 in 1952.

His identity was outed, albeit obscurely, by Jobs' sister, Mona Simpson, the critically-acclaimed, best-selling novelist. She was born two and a half years after Jobs to the same parents, who chose to keep and raise their second child.
---
I'll return to this shortly, but back to Jobs and college.
---
And 17 years later I did go to college. But I naively chose a college that was almost as expensive as Stanford, and all of my working-class parents' savings were being spent on my college tuition. After six months, I couldn't see the value in it....So I decided to drop out and trust that it would all work out OK. It was pretty scary at the time, but looking back it was one of the best decisions I ever made. The minute I dropped out I could stop taking the required classes that didn't interest me, and begin dropping in on the ones that looked interesting....

And much of what I stumbled into by following my curiosity and intuition turned out to be priceless later on. Let me give you one example:

Reed College at that time offered perhaps the best calligraphy instruction in the country. Throughout the campus every poster, every label on every drawer, was beautifully hand calligraphed. Because I had dropped out and didn't have to take the normal classes, I decided to take a calligraphy class to learn how to do this. I learned about serif and san serif typefaces, about varying the amount of space between different letter combinations, about what makes great typography great. It was beautiful, historical, artistically subtle in a way that science can't capture, and I found it fascinating.

None of this had even a hope of any practical application in my life. But ten years later, when we were designing the first Macintosh computer, it all came back to me. And we designed it all into the Mac. It was the first computer with beautiful typography. If I had never dropped in on that single course in college, the Mac would have never had multiple typefaces or proportionally spaced fonts. And since Windows just copied the Mac, its likely that no personal computer would have them. If I had never dropped out, I would have never dropped in on this calligraphy class, and personal computers might not have the wonderful typography that they do. Of course it was impossible to connect the dots looking forward when I was in college. But it was very, very clear looking backwards ten years later.
---
Back to one of the tangential ramifications of the Frederic Alan Maxwell
material
:
---
The family's saga is also a revealing case study in the classic debate of nature vs. nurture. Jobs' personality—his intelligence, creativity, ambitiousness, charm, egomania, iconoclasm, and risk-taking—seems drawn almost entirely from those of his birth parents, whom he never knew growing up, rather than the adoptive parents who raised him.
---
And
Mona Simpson
?
---
Mona Simpson was born in Green Bay, Wisconsin, in 1957; when she was ten, her parents separated and she moved with her mother to California....

After getting her B.A. in creative writing at Berkeley, she did an M.F.A. at Columbia, where she began work on Anywhere But Here. Upon finishing her M.F.A. she worked for several years as an editor at the Paris Review. Since the enormous success of Anywhere But Here, Simpson has written The Lost Father and A Regular Guy, which have contributed further to her impressive critical reputation.
---
In an article that was written at the time of Jobs' return to Apple, the
dots were connected
:
---
Adopted as a baby, Jobs was reared in a middle-class household in Los Altos by Clara, an accountant, and Paul Jobs, a machinist for a company that made lasers. (Both of them are deceased.) Steve remembers Paul as a "genius with his hands." He bought junkyard cars for $50, fixed them up and sold them to students for a profit. "That was my college fund," Jobs says. He was clearly close to his adoptive father. Asked what he wants to pass onto his children, Jobs answers: "Just to try to be as good a father to them as my father was to me. I think about that every day of my life."

But, Jobs says, since he was a teen-ager he had made occasional efforts to locate his biological family. He had nearly given up when he discovered, at the age of 27, that his biological parents had another child later whom they had kept, his younger sister. For reasons of privacy, Jobs explains, he won't discuss his biological parents or how he ultimately tracked down his sister.

As it turns out, his sister is the novelist Mona Simpson, whose new book, "A Regular Guy," is about a Silicon Valley entrepreneur who bears a striking resemblance to Steve Jobs. After they met, Jobs forged a relationship with her, often visiting her in Manhattan, where she lived and still maintains an apartment. Theirs is a connection that, to this day, neither Jobs nor Simpson have discussed in the press, and now do so sparingly. "My brother and I are very close," Simpson says. "I admire him enormously."

Jobs says only: "We're family. She's one of my best friends in the world. I call her and talk to her every couple of days."

For years, the two kept their relationship to themselves. Then, in 1986, George Plimpton, for whom Simpson had worked at The Paris Review, gave a party for her first novel, "Anywhere but Here." Simpson arrived with her mother, Joanne, and Steve Jobs. "I had known Mona for quite a while," recalls Amanda Urban, Simpson's literary agent. "She had said she had a brother who worked in the computer industry. But that party was the first time I learned that her brother was Steve Jobs."

Simpson and Jobs decline to discuss the circumstances that led their biological parents to put Steve up for adoption. When he was born, his parents were unmarried; they had married by the time Mona was born, two and a half years later. She grew up in Green Bay, Wis.; according to a biographical blurb in a literary magazine, her father was a political science professor and her mother was a speech therapist. Simpson's novels tend to be populated by eccentric mothers and absent fathers (her second book is "The Lost Father"); her parents separated when she was 10, and she moved to Los Angeles with her mother as a teen-ager.

Jobs will say nothing about his biological father, but says that he does keep in touch with Joanne Simpson and invites her to some of his family gatherings. (She declined to comment for this article.) He seems grateful for her long-ago decision to have him and put him up for adoption. "There was never any acrimony between us," he says. Yet, biological roots aside, Jobs holds a firm belief that Paul and Clara Jobs were his true parents. A mention of his "adoptive parents" is quickly cut off. "They [were] my parents," he says emphatically....

"A Regular Guy," published last fall by Knopf, has received mixed reviews. It is about a Silicon Valley biotech entrepreneur named Tom Owens who becomes wealthy and famous and then loses control of his company to more practical business types. But the novel is primarily a dissection of relationships, the central one being the uncertainly developing bond between Owens and Jane, his out-of-wedlock daughter who shows up at his doorstep, unbidden, at the age of 10. Owens is an eccentric egotist: he's too busy to flush toilets, doesn't believe in deodorant and lives in a couple rooms in a sprawling mansion. He treats people, including Jane, with an emotional coolness that borders on cruelty. Eventually, though, Owens slows down, marries and embraces family life. "It's a lot more important than work," he says.

Given the similarities between Tom Owens and Steve Jobs, most of the book's reviewers have mentioned the Simpson-Jobs family tie. (Though never officialy confirmed, the relationship has been well known in publishing circles.) It would be hard not to notice: Owens is a vegetarian, blue-jeans-wearing iconoclast who believes in the virtues of market competition in business, education and elsewhere; ditto Jobs.

How much of himself does Jobs see in Tom Owens? "About 25 percent of it is totally me, right down to the mannerisms," he says. "And I'm certainly not telling you which 25 percent." Simpson must have known that people would make the comparison, often to Jobs's detriment; does he feel she exploited or betrayed him? "Of course not," he says with a dismissive wave. "It's a novel."
---


Links to this post: