Archives
October 2003 November 2003 December 2003 January 2004 February 2004 March 2004 April 2004 May 2004 June 2004 July 2004 August 2004 September 2004 October 2004 November 2004 December 2004 January 2005 February 2005 March 2005 April 2005 May 2005 June 2005 July 2005 August 2005 September 2005 October 2005 November 2005 December 2005 January 2006 February 2006 March 2006 April 2006 May 2006 June 2006 July 2006 August 2006 September 2006 October 2006 November 2006 December 2006 January 2007 February 2007
---
Fund free mammograms at no cost to yourself by clicking on the link, then on the pink button.
---
---
Hall of Shame (NoteUnworthy Blog Posts)
Other Blogs (sorted regionally)
Ontario Emperor Selected del.icio.us Tags
;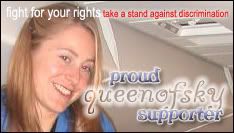 Who Links Here
Monday, October 16, 2006
Have they called Jane K. Fernandes a Fascist yet?
From the
Gallaudet University website
:
---
Dr. Jane K. Fernandes, Gallaudet University Provost since 2000, was introduced on May 1, 2006, as Gallaudet's ninth president. She will take office in January 2007. Celia May Baldwin, Interim Chair of the university's Board of Trustees made the announcement at a campus convocation this afternoon after the full board elected Dr. Fernandes president over the weekend....

"Gallaudet is extremely fortunate to have Dr. Jane Fernandes as our next president," said Celia May Baldwin, chair of the University's Board of Trustees. "Jane has a deep understanding of how this university works, having served in senior leadership positions here for more than a decade. It would be difficult, if not impossible, for the Board to find anyone with greater breadth or depth of experience. The executive positions she has held at both the K-12 and University levels – and the notable accomplishments she has made in these positions - make her uniquely qualified to lead Gallaudet.

"Jane has proven her leadership skills time and time again, often having to make very difficult decisions, and we believe that this has prepared her well for the presidency. We are thrilled to have someone of her caliber succeed King Jordan and believe that she will be an outstanding president of Gallaudet."
---
Here are excerpts from the first post at the blog of the
Gallaudet University FSSA Coalition
:
---
Memorandum

To: Gallaudet University Board of Trustees

From: Coalition of Organizations for Students of Color

Date: Monday, May 01, 2006
Dear Interim Chair Baldwin,

We are puzzled by your memo of April 29th to the campus community inferring that you found the PSC search process to be satisfactory from the Board of Trustees perspective. It appears to us that the Board of Trustees is clueless as to the issue that is frustrating us. Let us try again to inform you of our most pressing concern:

1. The PSC sent a message, intentionally or not, that a person of color with a PhD and all the necessary qualifications for the job cannot ever hope to compete against a white man who does NOT have a PhD or the necessary higher education experience.

2. This message, and not whether the PSC was diverse or not is our primary concern. Besides, we are not so naive as to believe that a white woman does not enjoy "white privilege" and we feel insulted to suggest that a white woman would satisfy the "diversity requirement" even though we all are confident that Dr. Fernandes is indeed a dedicated and determined advocate for social justice.

3. It is the MESSAGE you have sent to our entire community, and which we feel contradicts the hard work Dr. Fernandes and the Diversity Fellows as well as the entire campus community has put in to address the issue of Racism and Audism that we are concerned about.

4. We fear that this sets a precedent for units and departments on campus who have had a history of rejecting candidates of color for positions citing a white candidates "better" interview (which we believe is a subjective exercise in that a good interview says nothing about a persons actual performance on the job but merely suggests the person has more information on responding to the questions).

5. As a result, we are concerned that we will not be able to get a fair opportunity when applying for jobs here since employees on campus could use the precedent you have sent. That message is the reason for our loss of trust in the Board of Trustees commitment to diversity and fear that we will never have a fair opportunity as long as you insist that you sent the right message to us.

Thank you for your effort even if we are a bit disappointed that you are unable to truly understand what people of color, students, faculty and staff experience here and outside of Gallaudet University. Why do you think we are so under represented at schools for the deaf and other agencies/organizations serving the deaf? It is because there are others who find it as hard as it appears you do, to get it. You do not seem to understand the power of "white privilege" in oppressing us and we hope that this letter helps you see where we are coming from.

Sincerely,
Coalition of Organizations for Students of Color
David Musa King
Arlyn Penaranda
Niesha Washington
Anita Mazucca
---
Flash forward to
October
:
---
At least two dozen people were arrested Friday night as students continued to block the entrance to the nation's only liberal arts university for the deaf and hearing-impaired in a protest over its incoming president.

Hundreds of Gallaudet University students have blocked access to campus buildings since Wednesday, and the incoming president has refused to step aside....

A large group of students and some faculty members are demanding the resignation of Jane K. Fernandes, who was appointed in the spring to succeed Jordan in January.

Fernandes has said some people do not consider her "deaf enough" to be president. She was born deaf but grew up speaking and did not learn American Sign Language, the preferred method of communicating at Gallaudet, until she was 23....

Those who are against Fernandes' presidency say she isn't open to different points of view and that the selection process did not reflect the student body's diversity.
---


Links to this post: