Archives
October 2003 November 2003 December 2003 January 2004 February 2004 March 2004 April 2004 May 2004 June 2004 July 2004 August 2004 September 2004 October 2004 November 2004 December 2004 January 2005 February 2005 March 2005 April 2005 May 2005 June 2005 July 2005 August 2005 September 2005 October 2005 November 2005 December 2005 January 2006 February 2006 March 2006 April 2006 May 2006 June 2006 July 2006 August 2006 September 2006 October 2006 November 2006 December 2006 January 2007 February 2007
---
Fund free mammograms at no cost to yourself by clicking on the link, then on the pink button.
---
---
Hall of Shame (NoteUnworthy Blog Posts)
Other Blogs (sorted regionally)
Ontario Emperor Selected del.icio.us Tags
;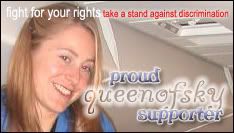 Who Links Here
Wednesday, August 31, 2005
Biometrics blogs
(2) comments
Trapped in the Closet? I thought he was accused of HETEROSEXUAL affairs
KROQ's Kevin and Bean (who used to work with Tami Heide) devoted a portion of this morning's show to
R. Kelly's "Trapped in the Closet"
:
---
Since the indictment, he has released several songs maintaining his innocence, along with other tunes that border on the pornographic, playing up his image as a self-proclaimed "Sexual Super Freak" and using public interest in his case to keep listeners curious about how far he'll go in his music.

"Trapped in the Closet" is Kelly's boldest step yet....In a masterful marketing move, the elaborate story-song was released to radio and on Kelly's Web site in installments, building suspense as listeners wondered what would happen next in the 16-minute soap opera, which he has described as "a ghetto 'Desperate Housewives.' "

Over a minimal musical backing, Kelly tells the story of six characters caught in a web of adulterous affairs, singing each role himself. In part one, the main character, who is never named, wakes up in bed with Kathy, a woman who isn't his wife. He tries to leave, but Kathy's husband comes up the stairs, so he winds up hiding in the closet.

The central character is discovered when his cell phone rings, and he threatens Kathy's cuckolded husband, a minister named Rufus, by pulling a pistol. At the moment when it seems as if violence is inevitable, Rufus drops that bombshell that he has been cheating as well -- and his homosexual lover, a man named Chuck, arrives at the door.

The narrator leaves Rufus, Kathy and Chuck to sort things out. On the way home, he is stopped for speeding. When he finally arrives, he makes love to his own wife, but he discovers a condom in their bed. Part five ends when the narrator learns that his wife has been cheating on him, too -- with the police officer who stopped him earlier....

The songwriter may have had a more self-serving motive for crafting the mini-opera: In addition to titillating listeners, the song seems to say that "everyone" has some scandalous sexual secret hidden in their closet. The key line is delivered by Minister Rufus when his wife attacks him for sleeping with a man: "Please, you can't judge me."...
---
Something else to
keep in the closet
:
---
FOX uncovers .. Michael Jackson is a closet Klingon

With 2 former jurors calling him guilty, 11 former Neverland ranch hands calling him a child molester and his own sister Janet going "Oh Michael", Michael Jackson, King of Pop, according to FOX news is in fact a Klingon, masquerading as a human.

Last month FOX, ratings floundering sent over a dozen homegrown "FOX paparazzi's" out to discover the real Michael Jackson. Sources say that FOX succeeded in it's goal. Slated to air next Sunday, "JACKSON, OH MY LIVING GOD!" is expected to draw over 120 viewers from ABC'S much anticipated "Desperate Housewives do the Miami Dolphins" episode....
---
The last story was from The Spoof, which has also published
this piece
:
---
Pop idol, rock star, dancer, fashion maven, sex goddess, alternative lifestyle queen, movie actress, fitness enthusiast, mom, spiritual seeker, and equestrienne, Madonna has been through every phase. Now that she's bored again, Madonna wants to try a new type of lifestyle change - death....
---
(0) comments
What were you thinking?
(0) comments
Tuesday, August 30, 2005
Time for my mid-life crisis
(1) comments
Allow Me To Get A Little More Orthodox For A Brief And Shining Moment
(0) comments
Hee Haw Replaced The Smothers Brothers, Waldorf Critics, and Celebrity Love Matches Via Biorhythms
(0) comments
Van Earl Wright, Fifteen Years Ago
(0) comments
We Covered This In College
(0) comments
Yes, Starfish, In This Millennium I Truly AM a Fount of All Knowledge
(0) comments
Wish I had found this site BEFORE my vacation
(0) comments
More on KFI, KECA, KEHE, and KABC (go gargle with razor blades)
(0) comments
Vacation - Alanreed, TX, August 2, 2005
(0) comments
Saturday, August 27, 2005
On Blessing Your Refrigerator
(0) comments
Friday, August 26, 2005
(2) comments
Donald Mitchell is a Newspaperman, I Guess (or, Forward to the Future)
(0) comments
The Forces Line Up
(0) comments
Assembly
(0) comments
Van Earl Wright Limbo and Lingo
(0) comments
Hellp Me
(0) comments
Groan
(0) comments
HIPAA Restrictions
(0) comments
Base Closure Pontification Continues
(0) comments
RFP for New York Subway Cell Phone Service
(0) comments
Well, it beats plastic surgery
(0) comments
US Route 20
(0) comments
Thursday, August 25, 2005
Depeche Mode Precious
(1) comments
Danny Bonaduce Show Premiere Date
(0) comments
Money is a gas
(0) comments
And I thought my Slim Whitman - Brian Eno theory was questionable
(0) comments
Wednesday, August 24, 2005
More on Bob Parsons and the Super Bowl
(0) comments