Archives
October 2003 November 2003 December 2003 January 2004 February 2004 March 2004 April 2004 May 2004 June 2004 July 2004 August 2004 September 2004 October 2004 November 2004 December 2004 January 2005 February 2005 March 2005 April 2005 May 2005 June 2005 July 2005 August 2005 September 2005 October 2005 November 2005 December 2005 January 2006 February 2006 March 2006 April 2006 May 2006 June 2006 July 2006 August 2006 September 2006 October 2006 November 2006 December 2006 January 2007 February 2007
---
Fund free mammograms at no cost to yourself by clicking on the link, then on the pink button.
---
---
Hall of Shame (NoteUnworthy Blog Posts)
Other Blogs (sorted regionally)
Ontario Emperor Selected del.icio.us Tags
;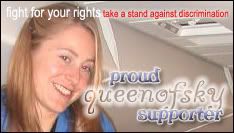 Who Links Here
Tuesday, August 01, 2006
Well, David went undercover at times
I just
compared
O-Joe Taylor and King David:
---
Probably the best contemporary Christian album that I can think of...is Undercover's Branded from the late 1980s. You'll recall that Undercover started with ditties like "you'll have to excuse us, we're in love with Jesus," and then reworked "Holy Holy Holy" as a fast guitar song. Branded is a forward step in both musical and lyrical maturity, and the lyrics (see link) approach the power of the Psalms....
---
But judge for yourself. Here are
lyrics
from two of the songs:
---
CRY MYSELF TO SLEEP

It's hard to fall asleep
When I hate the life I lead
And it's hard to face the day
Cuz the night's not far away
Cry, cry myself to sleep

It's easier telling lies
When I'm dying inside
Than to open up my heart
And have it torn apart
Cry, cry myself to sleep

God in heaven above
Has compassion and love
His hands wet with my tears
He's been drying them for years
Cry, cry myself to sleep x2

And if I would hide myself
Let no one know who I am
Would I die a lonely man

If I would hide myself
Let no one know who I am
Would I die a lonely man
Cry, cry myself to sleep x2
---
COME AWAY WITH ME

When you were lying in your bed,
You didn't see me there.
Hopeless pain and desperation,
Hanging in the air.
I was hoping, you would call my name.
I was hoping I could help to ease the pain.

When you were crying in your bed,
You [It] tore my soul apart.
Could you feel the words of love I gently
Whispered to your heart.
I watched you cry yourself to sleep.
I watched you, I felt you, cry yourself to sleep

Come away, with me.
Come away, with me. (4 times altogether)

I was hoping, you would call my name.
I was hoping I would hear you call my name.

The power of the ocean and the
Mighty wind and rain,
Mean nothing to me now as I look
Down and see the lonely tears of pain.
Can you hear me now
Can you hear the words I whisper to you now.

Come away, with me.
Come away, with me. (8 times altogther)

[It] is written in lyric sheet, but not sung
---
Here's some of the
background
behind the lyrics for Branded:
---
Having broken ground as a punk outfit, churning out gospel tracks set to anxious dance music and messages that could fit on a bumper sticker, the members of Undercover knew it was time to dig deeper. "Things in people's lives around me didn't seem to support what we were writing about anymore," keyboardist and songwriter Ojo Taylor had told me that summer. "We saw a lot of kids hurting and I found I had to do more than just throw Romans 8:28 at them."...Throughout the course of the album, Undercover proved themselves able to match the more mature themes and struggles with a more mature style of music-dark and stylish, moody and ambient. Their new direction was more flexible, as well; whereas the pogo punk of yore held few options, the new music allowed for a much more expressive emotional pallet. As such, Branded is the perfect soundtrack for a flawed human life, all the while stretching toward the Light. "The Bible says we are to walk in the light," Taylor had said, "so we bring ourselves to the light and say, "Okay, look at us, here we are. Maybe you can identify with me because I have the same problems you do." Just as the anguished Psalms resulted from real-life struggles with everyday existence, Branded's own lamentations were drawn from personal experience, too. "I tried for ten years as a super-fundamental Christian to make everything I was taught fit into life. After meeting more and more kids and seeing my own failures and realizing that life is tough...I said, "Hey, I can't make it fit anymore. There has to be more to Christianity than I've been taught." Branded, a concept album that could easily have been subtitled Guilt, Anxiety, and Freedom, his the lowest emotional point with the aptly titled Darkest Hour, an anguished cry from the bottom-pointing out in the last verse how Christ Himself was in the Garden of Gethsemane crying out and sweating blood. And there, at the bottom, we find what is truly excellent about Branded-there is a light at the end of the tunnel. Come Away With Me, as lovely a song ever written by a modern rock band, is the tender response our Lord has for anyone with a broken heart.
---


Links to this post: