Archives
October 2003 November 2003 December 2003 January 2004 February 2004 March 2004 April 2004 May 2004 June 2004 July 2004 August 2004 September 2004 October 2004 November 2004 December 2004 January 2005 February 2005 March 2005 April 2005 May 2005 June 2005 July 2005 August 2005 September 2005 October 2005 November 2005 December 2005 January 2006 February 2006 March 2006 April 2006 May 2006 June 2006 July 2006 August 2006 September 2006 October 2006 November 2006 December 2006 January 2007 February 2007
---
Fund free mammograms at no cost to yourself by clicking on the link, then on the pink button.
---
---
Hall of Shame (NoteUnworthy Blog Posts)
Other Blogs (sorted regionally)
Ontario Emperor Selected del.icio.us Tags
;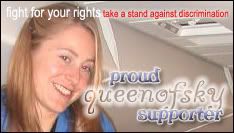 Who Links Here
Tuesday, August 15, 2006
Eating in the middle of LAX
Doing some
research
, in case I spend a very long day at LAX this Saturday.
---
The Encounter restaurant is situated within the famous Theme Building located at the center of the Los Angeles International Airport.

209 World Way
Los Angeles International Airport
Los Angeles, CA 90045

Telephone Number:
310-215-5151 for reservations and general information...

Encounter's hours are: Sunday, Monday and Tuesday from 11:00 a.m. to 9:00 p.m. (last dinner hour); Wednesday, Thursday, Friday and Saturday from 11:00 a.m. to 9:30 p.m. (last dinner hour). The Bar closes nightly at 10:00 p.m. It is located at 209 World Way at LAX. To get there, be sure to enter at the airport lower level (arrivals) and proceed past the third signal until you see the Encounter signage. Valet parking is available. For more information and reservations, call 310-215-5151.
---
Here's some more
background
:
---
At the center of Los Angeles International Airport stands the landmark Theme Building which is home to the spectacular Encounter Restaurant and Bar. With 135-foot high parabolic arches and a futuristic design, the structure is certainly unique and has become one of the most recognizable buildings in the U.S.

The building is surrounded by lush gardens, including a courtyard with plaques commemorating the opening of the new jet-age airport in 1961 and LAX's first employee in 1928, Henry Bakes. The Theme Building was completed in August 1961 at a cost of $2.2 million; and the Encounter Restaurant, with its space-age interior and spectacular exterior lighting, opened in January 1997, serving fantastic cuisine and offering 360 degree views of the airport....

Everything (Else) You Ever Wanted to Know About the Encounter:

Q: Who designed the Encounter?
A: The interior of the restaurant was designed by Ed Sotto and Ellen Guevara for Walt Disney Imagineering (WDI). WDI designer Michael Valentino created the interior of the building and exterior lighting program. (WDI is the master planning, creative development, design, engineering, production management, and research and development subsidiary of the Walt Disney Company.)

Q: What is the building's history?
A: The Theme Building was part of an overall $50-million "Los Angeles Jet Age Terminal Construction" project, which began in 1960. The building itself was completed in August 1961 at a cost of $2.2 million. On December 18, 1992, the Los Angeles City Council designated the Theme Building a City Cultural and Historical Monument.

Q: Who is the architect?
A: The original construction of the Theme Building was a joint venture between Paul R. Williams, Pereira & Luckman, and Robert Herrick Carter; and the general contractor was Robert E. McKee.

Q: How is the building constructed?
A: With giant 135-foot-high parabolic arches, the Theme Building was the first structure in the U.S. to utilize supporting steel arches of this design. Approximatetly 900 tons of structural steel was required for the building. Steel fabrication of the building was performed by Kaiser Steel's Montebello Fabricating Division. Fabricated sections include four upper arch sections, four lower sections, four horizontal legs, and tension and compression rings.

Q: Does the restaurant or bar rotate?
A: No, the airport does (just kidding!). Seriously, no it doesn't rotate; but this is a good thing, as patrons frequently like to keep an eye on the comings and goings of their airline. This could get quite confusing as your view changed from one terminal to another.

Q: Is there an outside "Observation Deck"?
A: Actually, there is. But, unfortunately it has been closed to the public since September 2001 by airport officials for security reasons.

Q: Who manages the Encounter?
A: The restaurant was created and is operated by a joint-venture partnership between CA One Services, Inc. and Connie Bass, a Los Angeles entrepreneur and operator of the Ultimate Symphony Event Planners, a full-service event planning and gourmet catering service. CA One provides food, beverage and retail operation in more than 30 U.S. airports. It is a wholly owned subsidiary of Delaware North Companies, Incorporated, which is based in Buffalo, N.Y.

Q: Is it expensive to dine at the Encounter?
A: No. The Encounter offers a variety of dishes, including our Bar Menu & Full Dinner Menu, with prices ranging from $6. and up (and don't forget Happy Hour discounts!). And Chef Bennett has introduced a new Prix Fixe Menu, with a special three-course selection at only $33.

Q: Do I need a reservation?
A: Absolutely not. But we do like to recommend that you make a resvervation if time permits.

Q: Must I pass through Airport Security to dine or have cocktails at the Encounter?
A: No. The Encounter is not within a screened security area of LAX.

Q: Where do I park when visiting the Encounter?
A: The restaurant offers "Valet Parking" for $6. Just pull up to the building entrance and our valet will park your vehicle in our adjacent "Valet Only" parking lot. You may also self-park in one of the parking structures within the airport's Central Terminal Area. But as rates at CTA lots have risen (anything over an hour is at least $5.), and metered parking has become scarce, why bother?... let us make it easy for you!
---


Links to this post: