Archives
October 2003 November 2003 December 2003 January 2004 February 2004 March 2004 April 2004 May 2004 June 2004 July 2004 August 2004 September 2004 October 2004 November 2004 December 2004 January 2005 February 2005 March 2005 April 2005 May 2005 June 2005 July 2005 August 2005 September 2005 October 2005 November 2005 December 2005 January 2006 February 2006 March 2006 April 2006 May 2006 June 2006 July 2006 August 2006 September 2006 October 2006 November 2006 December 2006 January 2007 February 2007
---
Fund free mammograms at no cost to yourself by clicking on the link, then on the pink button.
---
---
Hall of Shame (NoteUnworthy Blog Posts)
Other Blogs (sorted regionally)
Ontario Emperor Selected del.icio.us Tags
;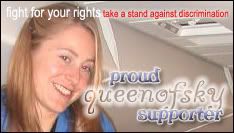 Who Links Here
Saturday, May 06, 2006
Full circle - Disney nudes from the 1940s to 2006
Don't think Kara Monaco will be
appearing
in the
Camdens' finale
:
---
A former Walt Disney World dancer who used to dress up as Cinderella and Snow White was named Playboy magazine's Playmate of the Year on Thursday.

Kara Monaco, 23, an aspiring actress from Lakeland, Florida...was Miss June in 2005.
---
More on Kara's
Disney career
:
---
Kara is a former cast member at the Magic Kingdom. She worked in costume and danced in parades at Disney World as seven different characters including Snow White, Cinderella, Alice in Wonderland, and the Little Mermaid. Kara's sun-kissed good looks caught Playboy's attention and the blond stunner went on to become Miss June 2005....

[Kara] is a native of Orlando, Florida and a 2001 graduate of Lake Brantley High School. She is a featured instructor on two Envy series workout videos and has appeared on CSI: Miami and in the pages of Men's Fitness. She is currently based in Los Angeles where she is pursuing modeling and acting work.
---
And one of her ex-classmates took notice of her well
before
her Playboy career:
---
Kara Monaco [30 Aug 2004|12:00am]

_toesinthesand

Do any of you guys remember Kara Monaco? She graduated in 2001 with me. Anyway, I talked to Ian Perry the other day (he's in the Marines right now and just got married, for anyone curious) and he told me that she's in this month's issue of FHM! The one with the Olympic girls on the cover. She's on page 48, in the feature section "Ex-Girlfriend." It's really funny. I saw it the other day, she looks a lot different (well, I could tell it was her...but she's definitely grown up). I didn't know her much at all aside from who she was, but it was weird seeing someone from my high school baring half her ass crack in a men's magazine. Hm, oh well. 0:-)
---
Back to Disney. If you go to Disney fan sites where the members consider themselves better guardians of Walt's legacy than Eisner, you can bet that this sparked some
discussion
- namely, that this whole episode was a concerted attack by Playboy on All Things Good And Wholesome:
---
Park Hopper

Guys, if your wife or girlfriend catches you checking out this month's Playboy centerfold, you can say that you're just doing Disney World research.

The current Playmate of the Month is an Orlando gal who played Cinderella during a four-year stint as a Cast Member at WDW. She also played Snow White and the Little Mermaid, though she's quoted in local news reports as saying "I most liked being Cinderella. "All the little girls love Cinderella."

And I imagine a lot of their dads have a newfound appreciation of princesses, too.
---
Dana

OM! I have nothing against Playboy. To each their own, but was it necessary for her to mention her employment there? Makes you wonder if she got the centerfold due to the fact that she once worked at what is considered one of the most wholesome places on Earth......ok I'll stop now before I say something nasty.
---
Dana

I thought it was just me who was annoyed with the whole idea.

Guess not.

WHy we gotta bring Disney into the bad stuff?!?

To sell more magizines I guess. I would think that most individuals would associate Cinderella with trips to WDW and time spent with their families. The princesses represent a wholesome goodness. I guess some men find that erotic. Now when I go see the princesses I'll be staring down the men and wondering what they really think.....bad joke sorry. If the girl was so hot and covergirl material, why does where she worked have to come into play? Anything to throw a stone at disney and make them look bad. What do you think scares people the most about disney? Do you think they just can't understand their image or desire for perfection and they feel compelled to show any and all imperfections they can muster whether fake or true? It's really a pity. It's almost like people don't like the idea of "goodness"....they feed off negativity and bad publicity. What a world we live in.
---
queensmama

I agree that there was no reason to bring her past of working as a CM up.
---
Disney6

I know Walt is turning over in his grave over this situation. Enough said.
---
dznygrl

Hmmm. In MHO, I think her employment history would have been better left unsaid. It's not a matter of being PC or anything, it's a matter of pride. And to me, working for Disney symbolizes wholesomeness and a sense of pride in being "show-appropriate" to the public. It's about representing a prestigious company.

If she wants to pose for Playboy, fine. I would just think that someone who loves creating magic for little girls would have more pride than to intertwine 2 very different types of "show" like that.
---
Yeah, good old wholesome Disney. You remember what I said about this subject
previously
:
---
This 1937 film is an occult thriller that includes a reverse "Three's Company" domestic set-up (one woman, many men), as well as a poisoning.

This 1940 film includes an extended sequence entitled "Pleasure Island."

This film, also from 1940, promotes non-Christian religions such as sorcery and the worship of the Greek gods.

This violence-packaged 1942 film is very upsetting to children.

This 1953 film is a favorite of suspected child molestors.

Do you love the occult lyrics in Led Zeppelin movies? Well, check this 1963 film for more of the same!
---
Cody Lowe made the same point
a little more elegantly
(
emphasis
mine):
---
When the AFA and others were boycotting Disney, they pointed with pride to the early Disney films as examples of a wholesome Christian past that Walt Disney himself helped create. But even a cursory knowledge of the Disney film catalog exposes the truth that Walt was careful to almost never delve into matters of religion.

His films were peopled with witches and goblins and ghosts and fairies (the magical kind), and humans who were at the mercy of spells and incantations. In his most artistically lauded creation, "Fantasia," Walt included a sorcerer, a satyr, naked women, and had a set of secular lyrics written for "Ave Maria" to conclude the film.

A Christian champion? Hardly. In fact, it's hard to imagine that Wildmon, et al, would not be roundly condemning those early films if they were just being issued.
---
And in 1970 the geeks at MIT
thought
that Fantasia featured too much gratuitous sexuality (like Playboy?).
---
Disney's compulsion to imitate reality suggests that Fantasia
be examined on psychoanalytic grounds. When it is mentioned that Disney was an archconservative, that his workers were under-payed, and in fact hit the Disney studio with a long and bitter strike at one time, that Disney hoarded money, and always feared financial collapse, and that Disneyland will not admit animals or hippies, and is staffed by smiling youths who will suck up litter within a half minute after it leaves the hand of the offender, one should not be surprised to find signs of anality in Disney films.

In fact, Fantasia is replete with derrieres. Beethoven's Pastorale displays sexless cherubs with puffy little anuses, and centaurs and centauresses with loving attention payed to their horsey haunches. The Nutcracker includes fairies With slim, Vogueish rumps. Ponchielli's Danze of the Hours features ostriches, rhinos, and elephants, all of whom have prominent buttocks, which are in evidence throughout their ballet....During the Walpurgis Night on Bald Mountain, flames erupt, which are seen to consist of dancing, naked women-a rather interesting symbol for many things, prominent among them fear of the female genitilia....At any rate, one of these flaming females makes a dive at the audience. Her breasts, seen for a fraction of a second, feature vivid scarlet nipples.

One of the rhinoceri in The Dance of the Hours takes a break, and curls up on a divan for a nap, her tiny tu-tu utteriy incapable of covering the acreage of her rump. She tries in vain to pull it over the exposed flesh, finally giving it up as hopeless.

Why does Disney consider this to be funny? What humor the situation possesses can only derive from the sick gag of giving the animal kingdom the human characteristic - of shame. Yet there is more: Disney's laugh is in his depiction of what is under a dress as ugly.
---
And, in the same way that feminists oppose Hefner, they also oppose one of Disney's earliest creations (and one of Kara Monaco's previous jobs),
Snow White
:
---
Kathy Maio, a feminist journalist in Boston USA, looks at the way Disney's animated movies present women, race, and other cultures.

Maio doesn't think Disney's heroines have changed very much since the days of Snow White: they are all happy housewives. She thinks this does not give a good message to young girls today....

Snow White was the heroine of the first full-length animated film, Snow White and the Seven Dwarfs, in 1937. Snow White is young, pretty, virginal, sweet-natured and obedient. She doesn't mind housework because she is sure that a rich young man will soon come and take her away.

When Snow White is afraid, she runs away and falls down in tears. When she finds shelter in a dirty little house in the woods, she immediately cleans it from top to bottom. When she lives there, she continues to do the housework: the group of (small) working males who live in the house clearly need a 'mother' to clean for them, so this is Snow White's natural role.

Snow White's only enemy is her wicked and powerful step-mother. (Another typical Disney character is the evil older women, who has a lot of power. She is always destroyed.)

Snow White's wicked step-mother tricks Snow White into eating a poisoned apple and she falls into a coma. The dwarfs cannot help her. Snow White must wait until she is rescued by the kiss of a handsome prince, and then she rides off happily with her new love.

This is typical of Disney's movies. Young women are naturally happy home-makers; they wait (like Snow White in her coma) until a man comes along to give them life.
---
So if Kara Monaco marries a rich man, the circle of life (heh) will be complete.



Links to this post: