Archives
October 2003 November 2003 December 2003 January 2004 February 2004 March 2004 April 2004 May 2004 June 2004 July 2004 August 2004 September 2004 October 2004 November 2004 December 2004 January 2005 February 2005 March 2005 April 2005 May 2005 June 2005 July 2005 August 2005 September 2005 October 2005 November 2005 December 2005 January 2006 February 2006 March 2006 April 2006 May 2006 June 2006 July 2006 August 2006 September 2006 October 2006 November 2006 December 2006 January 2007 February 2007
---
Fund free mammograms at no cost to yourself by clicking on the link, then on the pink button.
---
---
Hall of Shame (NoteUnworthy Blog Posts)
Other Blogs (sorted regionally)
Ontario Emperor Selected del.icio.us Tags
;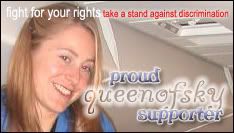 Who Links Here
Sunday, May 21, 2006
Lordi, Lordi, Lordi! Surprise Eurovision Winner
More about Hollywood later, but let me interject this late-breaking
story
that actually broke a day ago:
---
Finnish heavy metal band Lordi kept their promise to "bring rock to Eurovision," handing their country its first title in the annual song contest's 51-year history with an explosive victory in Athens.

The masked, horned quintet finished comfortably ahead of Russian hearthrob Dima Bilan and Bosnia-Hercegovina folk group Hari Mata Hari, smashing through a field of ballads and pop songs, mostly sung in English, with their fire-spewing, firework-exploding entry 'Hard Rock Hallelujah.'...

Thirty five countries participated in this year's event, with 24 acts making it to Saturday's grand final. Previous contest winners have included British '60s songstress Lulu, Swedish pop superstars Abba and diva Celine Dion who represented Switzwerland.

The final tally saw Finland muster 292 points, ahead of Russia's 248 and Bosnia-Hercegovina's 229 in a voting system based on public phone and text voting in the participating nations.

"We are the winners of Eurovision," Mr Lordi chanted, appearing to taunt Lithuania's LT United group, who also took part in the competition.

The monster goth band's selection has embarrassed millions of Finns back home, but the band insisted on Sunday that had been voted to represent the country on the strength of a 42-percent majority vote.

The heavy metal entry enticed maximum votes from Finland's neighbours Denmark, Norway and Sweden, but also cast a spell on voters in Estonia, Iceland, Poland and Britain.

Mr Lordi hailed the result as "a victory for open-mindedness," expressing the hope that the pop-dominated contest will see a broader variety of music represented in future.

He also took the opportunity to insist that his band has nothing to do with Satanism, an accusation levelled by religious groups on the basis of some of their lyrics....

By right of victory, Finland will now host the 2007 Eurovision contest.
---
But perhaps this was not wise, becuase now
Russia is mad
:
---
One day after five Finns in monster masks edged out a Russian heartthrob at Europe's largest and most-watched pop music contest, some Russians complained Sunday that the vote was skewed against their country.

Some callers to the Ekho Moskvy radio station proclaimed Dima Bilan's superiority to the Finnish group Lordi; one aggrieved woman said the result was the latest in a series of anti-Russian moves by Europeans.

"'We are First!' That's exactly how many Russians are reacting to the results to the international contest, Eurovision Song Contest 2006," the anchorwoman for state-run Channel One -- which broadcast the contest live -- said as the channel led its noontime newscast.

"Many specialists considered the vote for the victor to be a protest vote," she asserted.

"The sense is that the contest was more about circus performers, clowns and pyrotechnic effects, and not a song contest," Yuri Aktsyuta, a top music producer at Channel One, said in televised comments.

"I will never believe that the song by the Finnish group Lordi was better and stronger as a song than ours," he said. "I think that Russia was the winner and the voting was a protest vote, to some extent, but it was unclear what the protest was for."
---
Or maybe Europe just wants to rock out. Gene Simmons would understand.



Links to this post: