Archives
October 2003 November 2003 December 2003 January 2004 February 2004 March 2004 April 2004 May 2004 June 2004 July 2004 August 2004 September 2004 October 2004 November 2004 December 2004 January 2005 February 2005 March 2005 April 2005 May 2005 June 2005 July 2005 August 2005 September 2005 October 2005 November 2005 December 2005 January 2006 February 2006 March 2006 April 2006 May 2006 June 2006 July 2006 August 2006 September 2006 October 2006 November 2006 December 2006 January 2007 February 2007
---
Fund free mammograms at no cost to yourself by clicking on the link, then on the pink button.
---
---
Hall of Shame (NoteUnworthy Blog Posts)
Other Blogs (sorted regionally)
Ontario Emperor Selected del.icio.us Tags
;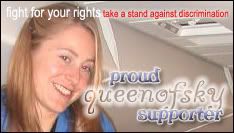 Who Links Here
Wednesday, June 30, 2004
(0) comments
(0) comments
Cut Costs and Make Your Employees Happy?
The
Aviation Now jobs website
includes a survey that is typical of the ones that companies themselves give to their employees. Here are two of the questions:
8. Do you feel secure in your current job?
Yes
No
Somewhat

9. Do you feel valued as an employee?
Yes
No
Somewhat
I would bet that a lot of companies are getting numerous "no" responses to these questions. And they may even be wondering why they're getting these no responses.
The answers are out there, especially for companies with unsatisfied employees after one (or more) layoffs. Here's an excerpt from
an article in the Blue Ridge Business Journal entitled "The dangers behind cutting employment"
:
A study of 5,479 "changes in employment" found that those companies that simply reduced headcount didn't achieve much profit....Consider the impact of downsizing on the emotions of those who keep their jobs, whom the company must rely upon to shoulder more responsibility....At first, people feel relief that it wasn't them. Then they feel bad for feeling good while others, whom they know and care about, suffer. Then comes anger over what happened to their colleagues. Finally they fear future job cuts may affect them. "If they've done it once, they can do it again" is the thinking. None of these feelings drives greater efforts....[Planners] might even expect that fear would increase motivation, and it may in the very short term. In the long run, anxiety and anger sap energy and creativity. Quite often the company winds up with a compliant work force, one that will do exactly what it is told but not one that does the extras nor takes the risk of creative thinking. High fear and creativity are incompatible.
The BBC aired a radio program on this topic. Here are some of the
highlights
:
In their book, "Competing for the Future", which came out in 1995. Hamel and Prahalad start off by pointing out that you can improve your results in two ways: by cutting your costs, or by increasing your outputs.

But too many companies focus on the cost-cutting. So why don't people concentrate more on the output than the costs? Because their strategic vision is too narrow. It is defined by what the competition is doing.

It is, says Hamel, important to think about what is NOT there. That done, you need a strategy for doing something about it. A "Strategic Intent", forces one to think beyond the present and to contemplate new worlds.
And finally, here are
some comments from Robert Sutton
:
Bankruptcies, involuntary job transfers, forced and unpaid vacations, layoffs, hiring freezes, tiny or nonexistent bonuses, pay cuts and business travel on the cheap—they've all become facts of organizational life for most of us. Don't even think about holding an office party: You just might have to pay for it yourself....

...I am especially surprised by how many firms turn to layoffs rather than less drastic measures at the first hint of trouble....studies all suggest that layoffs send a negative signal to the market. True, payroll is reduced, but there are hidden costs, such as severance pay, reduced productivity and less innovation, fueled by employee fears that any risky ideas or out-of-the-box thinking—even ideas that could help the company boost profits—might put their jobs at risk.

A careful case study of Analog Devices...showed that a once-thriving total quality management (TQM) program ground to a halt after a 12 percent layoff in 1990 because "people didn't want to improve so much that their job would be eliminated." Indeed, Hewlett-Packard listed Analog as one of its best suppliers in 1987, but listed it as one of its worst after the layoff....

...Psychological research on negative events and case studies of troubled companies suggest four basic management guidelines that matter most:

• Prediction. Be sure to give employees as much information as possible about what's happening and who will be affected....

• Understanding. Give people detailed information about why actions, especially those that could upset and harm them, had to be taken....

• Control. Give people as much influence as possible over what happens to them, when it happens and how....

• Compassion. Convey concern for the emotional distress and financial burdens that laid-off workers face....
(0) comments
Tuesday, June 29, 2004
(0) comments
Friday, June 25, 2004
(0) comments
(1) comments
(0) comments
(0) comments
(0) comments
Thursday, June 24, 2004
(0) comments
Wednesday, June 23, 2004
(0) comments
(0) comments
(0) comments
Tuesday, June 22, 2004
(1) comments
Monday, June 21, 2004
(0) comments
(0) comments
Sunday, June 20, 2004
(0) comments
(1) comments
Saturday, June 19, 2004
(1) comments
Friday, June 18, 2004
(3) comments
(1) comments
(0) comments
Thursday, June 10, 2004
(0) comments
Wednesday, June 09, 2004
(0) comments
Tuesday, June 08, 2004
(0) comments
(1) comments
Wednesday, June 02, 2004
(0) comments
(0) comments
(0) comments
(1) comments
(1) comments
Tuesday, June 01, 2004
(0) comments
(1) comments