Archives
October 2003 November 2003 December 2003 January 2004 February 2004 March 2004 April 2004 May 2004 June 2004 July 2004 August 2004 September 2004 October 2004 November 2004 December 2004 January 2005 February 2005 March 2005 April 2005 May 2005 June 2005 July 2005 August 2005 September 2005 October 2005 November 2005 December 2005 January 2006 February 2006 March 2006 April 2006 May 2006 June 2006 July 2006 August 2006 September 2006 October 2006 November 2006 December 2006 January 2007 February 2007
---
Fund free mammograms at no cost to yourself by clicking on the link, then on the pink button.
---
---
Hall of Shame (NoteUnworthy Blog Posts)
Other Blogs (sorted regionally)
Ontario Emperor Selected del.icio.us Tags
;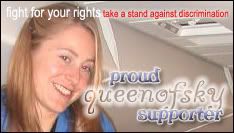 Who Links Here
Friday, February 02, 2007
Compared to Belarus, Boston is nothing
So the officials in
Boston
hate
Peter Berdovsky
(a/k/a
Zebbler
) and want to throw him in the slammer.
One would think that this is the worst thing that ever happened to Berdovsky in his life.
It
isn't
:
---
A native of Belarus, [Berdovsky] was finishing up the academic year as an exchange student at Arlington High School when he approached a fellow classmate about a growing concern.

"I had been reading articles on the brutality and increasing dictatorial behavior in Belarus," he said. "Tears came to my eyes, and I had a choice … to live my life or stay subdued. I had already been detained for political activity, and I felt a lot freer here."

Before his visit to Arlington, his democratic beliefs landed him against a wall, staring at the wrong end of a soldier's gun.

"A swat team came out of nowhere as my friends and I were leaving a local coffee shop," he said. "They jumped out of their Jeeps, lined us up against the wall while reloading their automatic weapons pointed to our heads, searched us all and took a few of us in for interrogation.

"They went through my journals and told me that my poems were too 'free thinking,' and that I should stop all of my political activities. I got threatened by them later as well, as a way to keep me in check I guess."

For fear of persecution upon his return, Berdovsky shared his hopes for political asylum with confidant Josh Rich, who later explained his situation to his father Michael....
---
Yes, that
Michael Rich
. So in case people thought that Berdovsky used the phone book to choose a lawyer for his current troubles - he didn't.
---
In late June 1996, the Rich family took in Berdovsky, supporting him financially with help from the Social Action Committee of First Parish Unitarian Universalist Church of Arlington.

"My wife had the idea to bring Peter's financial needs to the attention of the First Parish Unitarian Universalist Church of Arlington. We arranged a presentation for the Social Action Committee in regards to our sponsorship request, and the committee rallied behind Peter's case. Peter later became a member of the youth group and spoke at a credo service about his faith journey, which helped prompt greater interest in Belarus and Social Action," said Rich.

Rich also sought to get Peter readmitted to AHS as an undocumented alien following the expiration of his visa.

"That fall, I had a meeting with the superintendent, playing a dual role as father, and given my law background, the role of education lawyer, and the superintendent agreed to readmit Peter," he said.

As both the Rich family and Arlington united behind Peter, Berdovsky was still in need of an immigration lawyer. Rich arranged to get an attorney through the Political Asylum Project, a Boston-based nonprofit organization whose specialty is immigration law.

Following initial interviews with the INS (now Immigration and Customs Enforcement), which found against Berdovsky, the case was appealed to immigration court....

The process took just more than a year between the time his application was filed, and when Berdovsky learned his fate.

"Getting the asylum was surreal," Berdovsky said. "I walked out of the courtroom feeling a changed man. I was looking around me on a sunny day in the heart of downtown Boston with a feeling like I finally belonged."
---
Perhaps.



Links to this post: