Archives
October 2003 November 2003 December 2003 January 2004 February 2004 March 2004 April 2004 May 2004 June 2004 July 2004 August 2004 September 2004 October 2004 November 2004 December 2004 January 2005 February 2005 March 2005 April 2005 May 2005 June 2005 July 2005 August 2005 September 2005 October 2005 November 2005 December 2005 January 2006 February 2006 March 2006 April 2006 May 2006 June 2006 July 2006 August 2006 September 2006 October 2006 November 2006 December 2006 January 2007 February 2007
---
Fund free mammograms at no cost to yourself by clicking on the link, then on the pink button.
---
---
Hall of Shame (NoteUnworthy Blog Posts)
Other Blogs (sorted regionally)
Ontario Emperor Selected del.icio.us Tags
;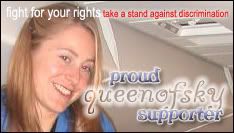 Who Links Here
Thursday, November 30, 2006
Maps of War
(1) comments
I'd like to buy a room for $250, Pat
The
latest
from David Allen:
---
Naming the Ontario Library children's room after writer Beverly Cleary, the most famous person to ever live in Ontario, was an idea floated in this space earlier this year.
Cleary worked at the library for a year in the 1930s and decided to become a writer based on success at Chaffey Junior College, in the days when it shared an Ontario campus with Chaffey High. So why not honor her?

Two residents with a connection to Cleary proposed the renaming to the Library Board, which posted a notice so anyone with an objection could object. When no one did, the change was recommended to the City Council.

On Tuesday, the matter was placed on the council's consent calendar, reserved for items believed to be a slam-dunk.

Well, the idea of a Beverly Cleary Children's Room certainly did get a unanimous vote.

In opposition.

"While I certainly agree with all the great things that were said about Miss Cleary," Councilman Alan Wapner began, he felt that "before we start naming rooms, that we have a policy on naming rooms."

He asked city officials to research options for how to name facilities, "including the options for" - uh-oh - "maybe having naming rights purchased by companies or individuals."...

By the way, it's been two years to the month that the council deservedly named the library's history room after former mayor Bob Ellingwood - with no policy discussed before or since....

I approached Wapner for conversation.

"I'm not a Cleary basher!" Wapner announced with a smile. "I read her books. I'm just all about policy."

He added: "The only reason this came up is because you wrote about it in your column."

He says that like it's a bad thing.

I asked for his thoughts on naming the children's room for Cleary.

"To be honest, I don't think she made enough of a contribution to the city of Ontario compared to other people," Wapner said.

"My understanding is she lived in the city a short time and worked at the library," he said. "That in itself doesn't merit having a room named for her."...

Maybe next year Ontario can take a fresh look at honoring Cleary. April 12 will be the Carmel resident's 91st birthday, which could be a nice tie-in.

But based on Tuesday's mention of naming rights, I do have one worry.

What if the City Council agrees to a Beverly Cleary Children's Room - but asks her to pay for the privilege?
---
We have to face the fact that, even though Paul Vincent Avila is not on the City Countil, said Council is not always blessed with brains. So they may go the naming route.
Look forward to the Coca Cola Room, or the Nike Room, or the Terminator IV Room, in your local library some time soon.
(0) comments
A new definition of "speed bump"
(0) comments
Tuesday, November 28, 2006
Pry These YouTube Videos From My Cold Dead Fingers
(1) comments
Monday, November 27, 2006
When Marketing and Legal Types Don't Mix
(0) comments
Thursday, November 23, 2006
Michael Richards and the Racism of Paul Rodriguez
(2) comments
Traveling and Ignorance
(0) comments
Wednesday, November 15, 2006
The Theatrical Event
(1) comments
Followup on Military Transformation
(0) comments
Thursday, November 09, 2006
November 11
(1) comments
Wednesday, November 08, 2006
Donald Rumsfeld Resignation and the Doctrine(s) of Military Transformation
(1) comments
21st Century Schizoid Man
(0) comments
And on the state level...
(0) comments
Selected San Bernardino County election results
(0) comments
Tuesday, November 07, 2006
Why I didn't vote for Paul Vincent Avila for Ontario (California) City Council, Part Two
(0) comments
Hablaba Voting, and My Voting
(0) comments
Preparing for 2006 Election Results
(0) comments
Monday, November 06, 2006
Like the F B I and the C I A and the B B C B B King and Doris Day Matt Busby
(0) comments
Ethnic music for gamblers, or ethnic cleaning for infidels? A belated update on the Annie Jacobsen story
(0) comments
Friday, November 03, 2006
Presidential Medal of Freedom
(0) comments